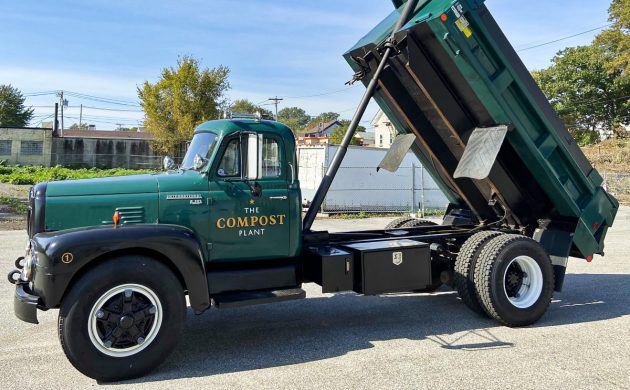 International Harvester built everything from farm equipment to the Scout, and all the way up to long haul semi-tractors. In the early 1950s, they were well known for their medium to heavy-duty trucks, such as this R-185 that is being offered as a Barn Finds Auction. Many were built into fire trucks, as they were dependable and could be outfitted for a wide range of applications. This example started life as a fire engine but was converted to a work truck by its second owner. The seller, its third owner, put it to work hauling compost but their business has changed recently the truck is no longer being used. It's been well cared for though and is in great working condition, it simply needs a new owner that will drive and enjoy it. So, if you'd love to have it, you can find it in Providence, Rhode Island and you can bid below!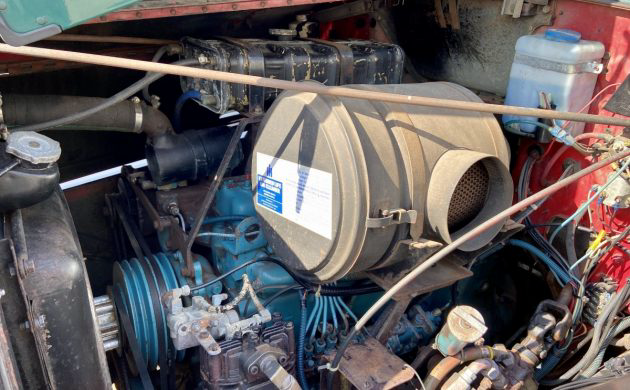 As with most fire engines, this truck didn't see much use during its time as the fire truck for a small Rhode Island town. Since it was kept in service well into the 1980s, it was updated with an International DT-466 turbo diesel engine, Dana front, and rear axle, an air brake, and an Eaton 5-speed transmission. It was also equipped with a two-speed auxiliary transmission, but that was removed due to a bearing failure. A new driveshaft was made and installed by the seller to get it back on the road and they state that the gearing is enough to cruise at 55 miles per hour with a full load in the bed.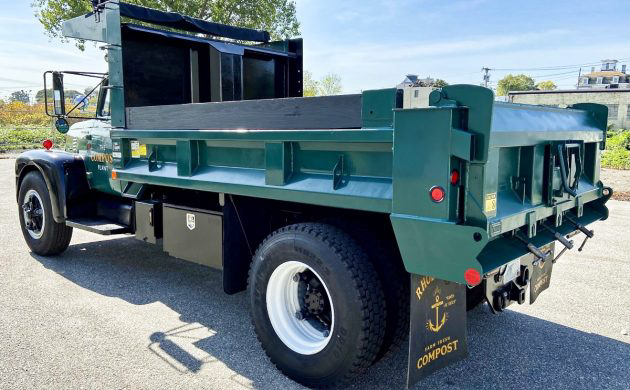 After it was retired as a fire truck, the second owner purchased it and converted it to a dump truck. The seller purchased it from them in 2013 and it had just 12,000 miles at the time. It is currently showing 67k miles, which is still extremely low for one of these trucks, especially one with a diesel engine. Fitting the 12' Beau-Roc dump body apparently required shortening the frame a bit. Everything is said to work as it should and appears to have been completed nicely. The seller provided us with a hefty list of service, repairs, and upgrades they have done to the truck during their ownership, which you can view below.
Six new wheels and tubeless tires
New air brake canisters for all four corners
New front and rear brake drums and shoes
New rear springs and cross-link
New double-disc clutch
Re-cored radiator
Resealed expansion tank
New belts
New start/stop electronic solenoid
New muffler
New main seal in the transmission
Rebuilt wiper motor
Installed a second hydraulic pump at PTO
Reupholstered bench seat
New side-mounted toolbox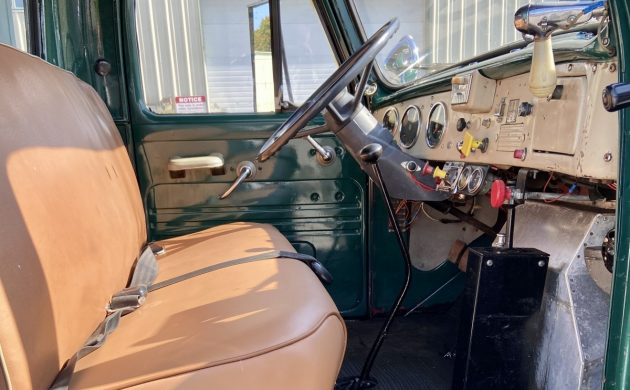 As you can see, the interior is in nice condition and looks ready for the road. There are a few add on gauges, plus controls for the two PTO driven hydraulic pumps. The heat is said to work and features a three-speed blower motor, plus there is a large scoop vent to bring in fresh air on those hot days. Both searchlights are said to function but the driver's side doesn't move easily. Hopefully, it just needs to be taken apart, cleaned, and properly greased. The truck is also equipped with an air horn and a city-friendly horn. All of the gauges are said to work except the tachometer, but the seller believes replacing the ending unit would resolve that issue.
I'm going to let the seller tell you more about the truck's hydraulics in their own words. From the seller – There are two separate hydraulic pumps, running off two separate PTOs, one is air controlled and powers the dump bed, the second is manual and used to power a bin lifter that is no longer installed on the truck. This second pump is available to run a separate hydraulic system that the buyer may wish to add at a future date.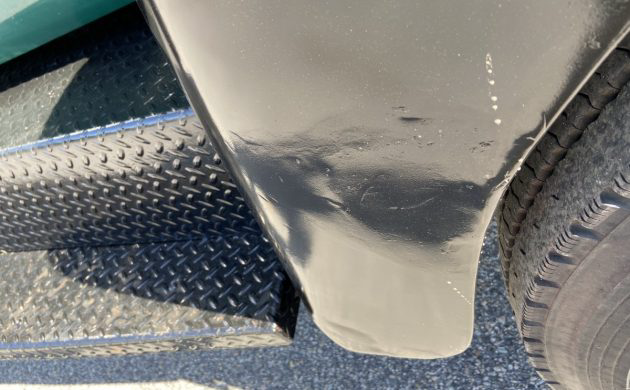 The seller notes that there is some rust in the lower corners of the front fenders, but they treated and patched those areas. The cab has some bubbles starting to form in the passenger side corner and there is some rust around the windshield. They note that the windshield is leaking, so when you have that out to reseal it, you may want to address the rust issues. The floors were showing some surface corrosion when the seller bought it, but they treated it with POR-15. The frame and dump both look to be in good condition, the seller notes that the floor of the dump is solid. They also point out that there's a dent in the back of the cab and on the driver's side front fender. Both look like they could be popped out without damaging the paint.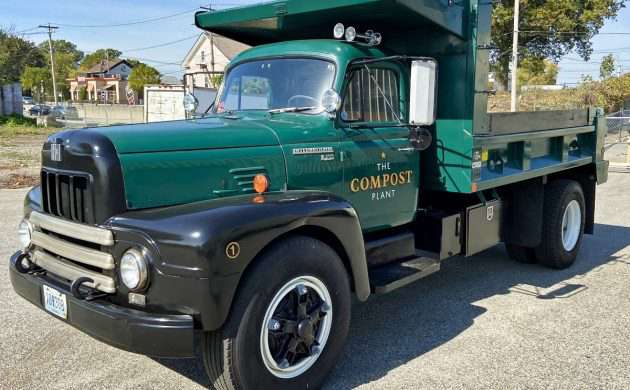 Talk about a beast of a truck! While it might not all original, the engine is a serious upgrade that would make this a truck you could drive in modern traffic. The seller says it's a blast to drive and I believe it. Since it's located in Rhode Island, who doesn't issue titles for older vehicles, it's being sold with a bill of sale and the current registration. Titling it in another state won't be an issue. So, if you'd love to give this truck a new home, be sure to bid and if you have any questions leave them in the comments below!
Location: Providence, RI
Mileage: 67173
VIN: FD15570F
Title Status: Clean
Bid On This Vehicle
High Bid: $5,000 (Reserve Not Met)
Make An Offer
Ended:
Nov 3, 2020 1:00pm MDT
Top Bidder: tomhebes@gmail.com
Buyer Premium: 5%
tomhebes@gmail.com bid

$5,000.00

Nov 3, 2020 7:01pm

bravenrace bid

$4,900.00

Nov 3, 2020 6:48pm

bravenrace bid

$4,800.00

Nov 3, 2020 6:47pm

bolecv8 bid

$4,600.00

Nov 3, 2020 5:14pm

bravenrace bid

$4,500.00

Nov 3, 2020 1:41pm

bolecv8 bid

$4,200.00

Nov 3, 2020 1:17pm

bravenrace bid

$4,100.00

Nov 3, 2020 12:57pm

bolecv8 bid

$4,000.00

Nov 3, 2020 12:36pm

tomhebes@gmail.com bid

$3,600.00

Nov 3, 2020 12:18pm

bravenrace bid

$3,500.00

Nov 2, 2020 8:41pm

tomhebes@gmail.com bid

$2,900.00

Nov 2, 2020 6:59pm

bravenrace bid

$2,800.00

Nov 2, 2020 2:30pm

tomhebes@gmail.com bid

$2,700.00

Nov 1, 2020 8:27pm

56NOBRAKES bid

$2,600.00

Nov 1, 2020 5:08pm

tomhebes@gmail.com bid

$2,100.00

Nov 1, 2020 2:57pm

tomhartzelt bid

$2,000.00

Oct 31, 2020 5:46pm

Overthere bid

$1,600.00

Oct 29, 2020 10:05pm

56NOBRAKES bid

$1,500.00

Oct 29, 2020 1:19pm

Timhendricks5@gmail.com bid

$850.00

Oct 29, 2020 11:50am

Boomerdjc bid

$700.00

Oct 29, 2020 4:25am

tomhebes@gmail.com bid

$600.00

Oct 28, 2020 7:18pm

w8n4fri bid

$500.00

Oct 28, 2020 6:58pm

tomhebes@gmail.com bid

$350.00

Oct 28, 2020 6:14pm

fjt226 bid

$250.00

Oct 28, 2020 3:56pm