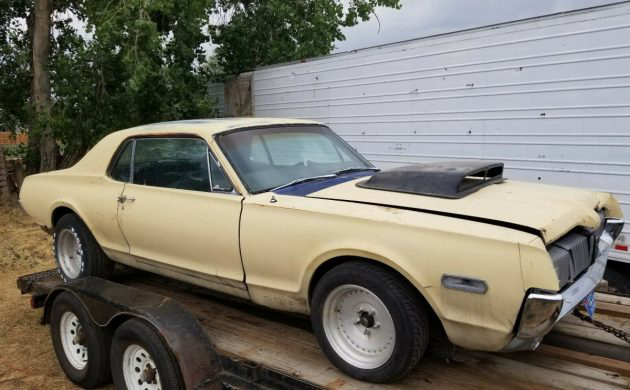 The seller calls this 1968 Mercury Cougar a "wannabe" Eliminator, and while it may not be the real deal, it certainly seems to have the goods under the hood to make it a formidable opponent on the strip. The look is spot-on with those Centerline-style wheels, gigantic hood scoop, and wide stance out back. The seller notes the Cougar is powered by a 462ci MEL series Lincoln V8, good for an impressive 485 lb.-ft. of torque, according to the seller. Since the listing claims it was running 2.5 months ago, I'm assuming that means the thundering mill is currently quiet. Find the Cougar here on eBay with bids to $3,250 and the reserve unmet.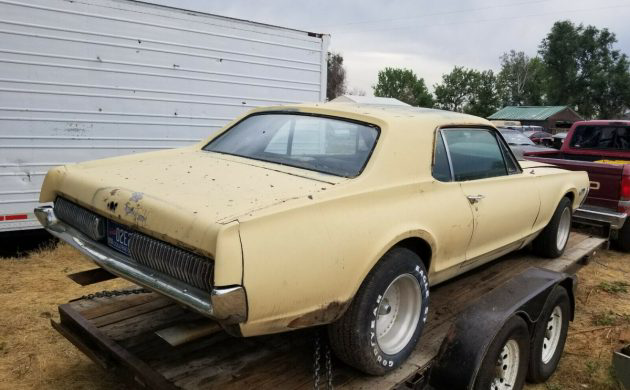 The body looks to be in very fair shape, with no major cancer spotted the provided photos. It looks like there could be some ugliness hiding in the lower rear quarters, but it's tough to sell for sure from the pictures. The trunk floors are said to be solid, and the seller merely references that there's rust in "….the usual places." So, do with that what you will. The Cougar is located in Colorado, a typically safe spot for finding vintage tin that hasn't been ravaged by rust. Overall, nothing looks so bad that you couldn't just drive the Cougar as-is and leave it ratty for quite some time. Hopefully, the floors are solid.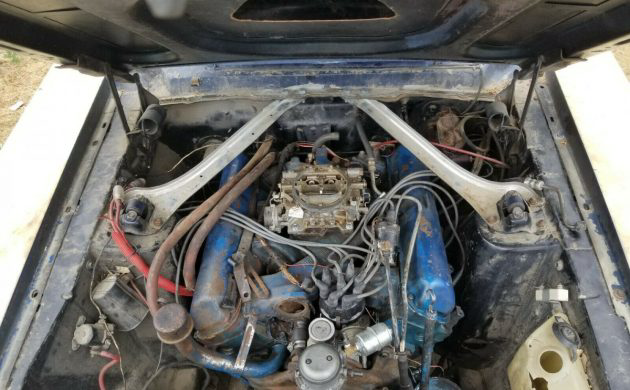 Normally, when we see one of these ex-drag cars, the engine bay is a ghostly place with the high-powered mill yanked out years ago in favor of a project that was more interesting at the time. Not here, as the engine bay looks surprisingly complete, and again, there's that mention of it still running not too long ago. No word on what has transpired since that time that it's not listed as currently running, but hopefully it won't take much to fire up again. The seller notes some other desirable tweaks, including a twin header back exhaust system and a B&M shifter, and that the engine is paired to a C6 automatic transmission. No word on whether this was just someone's casual backyard build or actually used at the drag strip.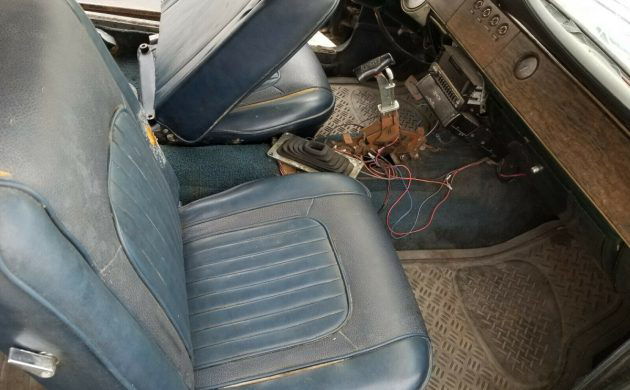 The interior isn't bad, but it's certainly a project car inside. Messy wiring abounds along with some questionable arrangements around the transmission tunnel. The wood trim on the dash is tired but a nice touch in what would otherwise be considered a bruiser of a muscle car. Seats look good too, front and rear, and pastel yellow over blue is a sharp combo. Aside from tidying things up inside, you'll also need to install and connect the headers, driveshaft, and cooling and fuel systems. While it's every part of being a total project, this Cougar looks like it has the makings of being a good time once it's fired back up and running happily, whether that's down Main Street or the 1/4 mile.