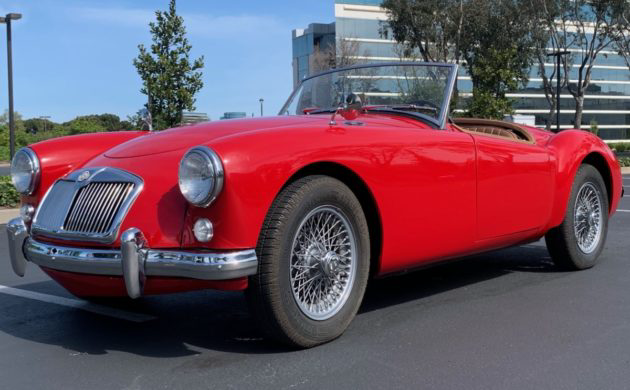 Location: San Carlos California
Mileage: 89,600 (new speedo reading). Original miles closer to 36,000
Title Status: Clean
VIN: HDK4317991
Seller's Description: 1956 MGA Red Convertible- I am representing this MG for the owner. He is not computer savvy. I have the car in my possession. Purchased in Northern California by the current owner on January 8th, 2007. This MGA has been restored back to its original stock condition, with a couple upgrades added for performance and comfort. When the car was purchased in 2007, there was a lot of work that needed to be done. Restoration began almost immediately after this purchase. The car was restored in 2007 and then sat for nearly 15 years untouched in the latest owner's garage. I was referred to Barnfinds by member fjcappy, who has nothing but great things to say about this site.
eBay Description Condition report:
Body and Paint: The paint is not original. The car was repainted in 2007 with what I believe to be a 2-stage paint. There are some minor flaws. There is some minor bubbling in the paint (more photos in a separate Google album upon request) and a few small chips in the paint. No paint breakage and no cracking that I can find. These can be easily touched up or professionally fixed. The driver's side door does not line up perfectly, but closes and latches fine. All other doors and compartments close well and latch perfectly.
Chassis: The chassis shows wear, but all parts underneath the car are clean and solid. No squeaking or rattling when driving at high speeds. New wheels and tires have been added less than 3,000 miles ago. Wheels are Daytona 60 spoke. They have been powder coated for extra protection.
Motor and Transaxle: This MGA has an MGB engine in it with a replaced speedometer/odometer which reads 89,600 miles. However, we have confirmed through original receipts that the engine has closer to 36,000 miles on it. The starter has been upgraded which helps this car start right up and allows for minimal choke use upon cold starts. The motor runs exceptionally well with a new carburetor kit. The engine bay is very clean. All parts have been cleaned and/or replaced. No signs of rust or excessive oil leaking (although the car does leak some oil).
Interior: The interior of this car is excellent. The leather is in great condition with no tears and no cracking/fading. The car has a brand new (used once) original tan soft-top and attachable windows which are tucked behind the seats in a new leather bag (pictures upon request). The heater has been fully rebuilt and is totally operational. All gauges were fixed upon restoration and seem to read accurately. The tonneau cover for the cockpit is in great shape, with no tears. All of the fasteners and nipples for fixing the cover to the car are new and functional. The carpet is in excellent shape as well, with no fraying or ripping along the edges.
Trunk: The inside of the trunk was fully repainted and shows no signs of rust, chipping, or major wear. The spare tire has a soft cover which is attached to the inside of the trunk. The original jack and full size spare are both included.
Documentation: This car will come with service records from the current owner which reflect much of the entire restoration project. Pictures upon request. Documents included: Car title, service records, owner's manual, owner identification cards. Oil changes were done regularly. The service receipts are in the Google album for your review.
My overall impression is that this car is in excellent condition. It is a true barn find, with tons of work done to bring it back to stock and then sat for years untouched. Been garaged most of its life.
I have a full separate Google Gallery with over 125 pictures and some videos showing this 1956 MGA in more detail. Please text me your email address and I will send you and invite. I have a clean Carfax for this car as well that I can email to you.
My number is 650-995-6807.
Seller's Listing: Here on eBay
List your car here on Barn Finds for only $50!