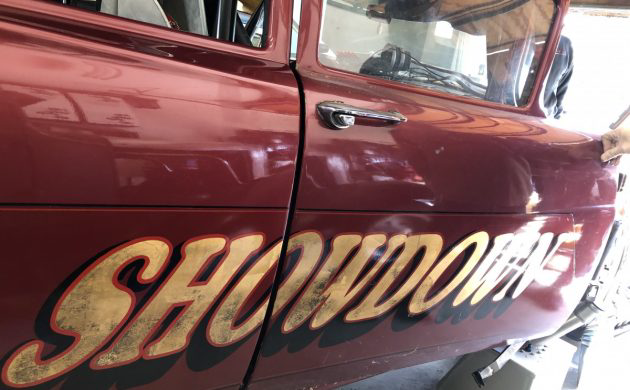 Seller's Description: This is a race car that needs assembly. All parts are included.
1957 Ford 300 Custom SHOWDOWN
• SHOWDOWN was first owned by Larry Knapp "The Racer". It was his car in high school and the color of the car at that time was Lincoln Midnight Blue. In 1963 Larry was introduced to racing at San Fernando and soon turned his high school car into his race car, the SHOWDOWN. He raced the 57 continuously for many years before selling it to Craig Cove. Craig raced the SHOWDOWN for many years and in the 90's he sold the SHOWDOWN to Pete Marcus. Pete changed the color of the car to maroon. Pete had the car for a short time due to his untimely death at the age of 30. The current owner, Rik Brown purchased the car from Pete Marcus' widow. Rik transported the car to Seattle, dismantled it to make some modifications but never got around to completing his project and putting SHOWDOWN back on the racetrack.
• Showdown has a new Ford High-Performance Big Block 598 engine with Bellhousing, Lenco 4 Speed Transmission, Brake, Clutch Pedals, Headers, Bucket Seat, Parachute, and other accessories. Best ET 8.19 @166.
• The Estimated Value for the Engine and Bellhousing is $35,000. The estimated value of the Lenco transmission is $5,000, and the estimated value of the Maroon Showdown Body and Frame is $18,000.
Price: $60,000
Location: Seattle, WA
Mileage: 0
Title Status: Clean
Seller's Listing: Here on estatesales.net
List your classified here on Barn Finds!