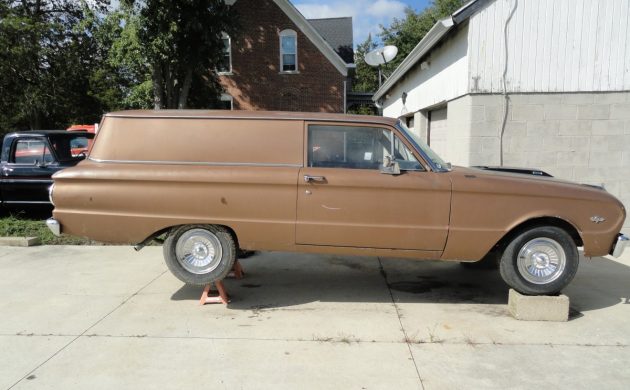 Seller's Description: These cars are not found in this condition often, and when you do find them the price is far higher.
This is a driver quality vehicle, I used this car during summer as daily driver, vacation car and as its intended purpose a utility vehicle. These cars were used as a mom & pop grocery store car, jobbers vehicle for plumbers, carpenters and so on. They were a 6 cyl,3 speed built for economy. This car in its life was upgraded and received a 289 V-8 and C-4 transmission with a 8 inch rear end, thats the way I got it in '08. Its been repainted from Fords poppy red to Fords tan in the past as well. Original color can be seen vividly underneath and throughout many areas of the vehicle.
Description of the car now.
The good stuff:
Reconditioned ATK 302 less than 750 miles, Edlebrock.
Reconditioned C-4 transmission about 750 miles.
Aluminum radiator with assist fan (I drove it in southern western states), shroud and fan combo.
8 inch differential
All new wiring throughout w/ LEDs installed in many places.
5 lug rims w/ new tires, including spare.
Custom dash and Rally Pak.
Bucket seats.
Electric rear window.
Drum brakes front and rear with duel master cylinder.
Stuff needing improvement:
Bucket seats are not four pointed.
Rust the four-letter word. Very clean however some bubbles are seen on the panel beltway and at 1 exhaust tip area paint has peeled. Pictures show how nice the underneath of the car is.
Glass shows wear of 50 plus years and the front windshield is cracked passenger side top.
Bumpers, grille, and stainless are driver condition.
Chipped paint and shows some surface rust.
The entire interior needs to be replaced/reupholstered.
The hood was a prototype and has LEDs installed for directionals and scoop lighting.
Additional items that come with the vehicle.
The front bench seat frame.
Rear bench seat. Not OEM installed, deliveries never had a rear seat.
Original Falcon console
Spare tire cover.
Original bumper jack (NEVER USE THIS)
**NOTE** Like all used cars a thorough inspection of all systems needs to be accomplished before driving.
The buyer is solely responsible for all shipping and vehicle transportation in whatever method you choose.
Price: $11,000
Location: Mendon, Ohio
Title Status: Clean
List your classified here on Barn Finds!