SOLD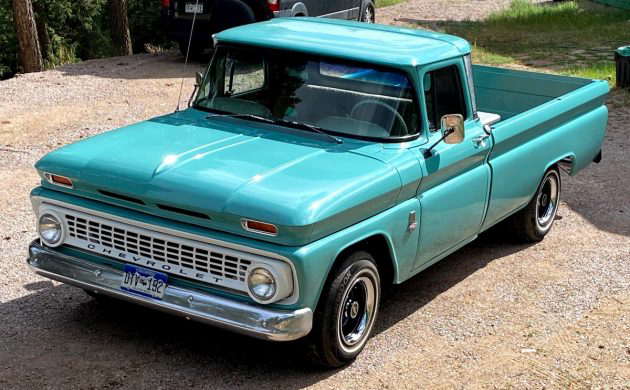 Seller's Description: 1963 Chevrolet C10 longbed
VIN: 3C154F112791
(3 = 1963, C = 2wd, 15 = 1/2 ton 127″ wheelbase, 4 = Pickup, F = Flint Assembly)
This truck originally had a 230 CI I-6 engine and three-speed manual column shift transmission. The engine has since been swapped for a freshly rebuilt 292 I-6 that was modified as follows during the rebuild process:
– bored 0.060 over and align honed
– crank polished
– new pistons
– flywheel resurfaced
– new 11" Sachs clutch
– Howards Cams 151021-10 cam (Lift: .502 / .502, Dur @ .050: 213 / 213, CL: 106)
– new all aluminum radiator
– cylinder head machined as follows:
– new 1.84/1.60 valves and hardened seats
– lump port kit installed (12bolt.com)
– new rockers, pushrods, lifters, and valve springs
– Clifford intake manifold
– Edelbrock 500cfm 4bbl carburetor (model 1404, with jet & meter rod kit)
– Ductile iron exhaust manifolds (12bolt.com)
The rear crank seal drips a little oil. Some might call this a nod to authenticity but really it's just that the two-piece main seals are a pain to get just right.
The exhaust system is a true 2.25" dual exhaust with a Cherry Bomb glass-pack feeding a three chamber muffler for each side. The result is a nice low rumble with no drone. The ignition is a GM style all-in-one EFI distributor. The original alternator has been replaced with a similar style 80amp unit with an internal regulator so there is no buzz-box voltage regulator. The old voltage regulator case now hides the relays for the rewired headlights. This was done so the dash headlight switch does not handle the full load of the headlight bulbs.
The brake system was upgraded this year to dual circuit power brakes with front disks and original rear drums. This was done using McGauphy's stock height disk brake spindles with new Chevy calipers and drilled/slotted rotors. The front end was refreshed at the same time including: new wheel bearings, new ball joints, and new tie rods. The brake booster is a dual diaphragm 7" unit with an external vacuum reservoir. These brakes are great! I live in the mountains and appreciate the added confidence these give over the original single circuit manual drum brakes.
Suspension updates include front and rear anti-sway bars (from CPP) and new KYB shocks front and rear. The wheels are 1980s vintage 15"x8" Chevy rally style with trim rings and center caps. The tires are Hankook 235/75R15 whitewall radials.
The truck was painted in 1989 and has held up well with a few small paint chips here and there. The body is very clean with solid cab corners, cowl, door posts, and doors. The bed wood was likely replaced when the the truck painted and is very good. I added the locking tool box (or trunk) in the bed a few years ago. There is a Curt receiver hitch that I've never used and the spare tire is mounted to a winch assembly under the back of the box. The original spare tire carrier was gone when I got the truck 10 years ago.
Inside the cab, the seat was recovered at some point with nice diamond quilted fabric. I have added modern lap and shoulder belts with retractors for the driver and passenger. I also added a small tachometer under the dash.
This isn't a 99 point show truck; it's a fun and solid driver that gets lots of thumbs-up on the road.
Price: $12,500
Location: Livermore, CO
Mileage: 77,000
Title Status: Clean
VIN: 3C154F112791
List your classified here on Barn Finds!