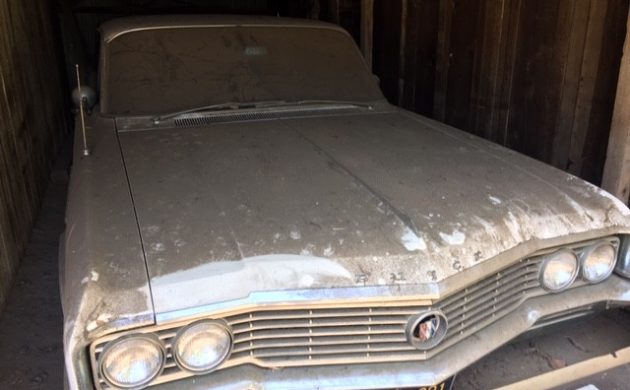 Seller's Description: 1964 Buick Wildcat Electra 225 pillarless 4-door, 1 owner from new with only 33,000 original miles. This Buick has been sitting in a barn for about 30 years. It has not been started, or run in that time. We have maintenance receipts documenting the mileage.
Condition report:
Body: Covered in years of dust. The paint is original and where I wiped it off looks very nice. The chrome and stainless is pitted. I see no evidence of rust. The skirts are in the trunk.
Interior: The headliner has disintegrated and has fallen onto the seat. The seats look excellent but are sticky. They will require a major scrubbing. The car features some nice options such as power seats, power windows, and tilt wheel. Dash is in excellent condition.
Chassis: The barn is small so getting under the car is tough. I took the pictures in the gallery from above. I do not see any rust on the chassis with the exception of the 1 pic of the front cross member. I can not tell if its rust or dirt. All 4 tires are flat.
Trunk: Shows like a 5-year-old car. Excellent condition. The spare tire is blown. Jack is complete and looks excellent.
Engine: Looks like there has been some critter nesting. The AC is completely intact. We do know it was not parked due to a mechanical issue, but the buyer will be needing to completely recommission the drive train. On eBay, I mentioned that I was not sure if there are fines due. The owners sent me over the 2019 California Non-Cert and said they have 2020 so there should be no fines.
Location: Santa Ana, California
Mileage: 33,273
Title Status: Clean
VIN: 8K1150710
Seller's Listing: Here on eBay
List your classified here on Barn Finds!