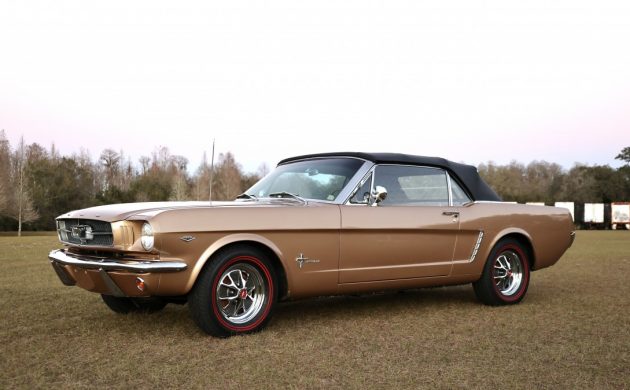 Seller's Description: This is a museum quality original paint survivor. Prairie bronze exterior was clear coated at 63k miles to preserve the which was popular around that time 2008. The car is all original metal of course and there are no rust or corrosion issues of any kind. The chrome inside and out is as new. Really the most amazing example I've seen. I bought my first one 40 years ago and have been to dozens of shows and have seen hundreds of cars. This car is about as good as they get. I recently had the engine pulled for an engine compartment detail. While out we replaced anything that needed it. New timing gear and whatever else is needed. Oil pan gasket rear main seal etc. I have all receipts. The car is a documented low mile car. The Interior is just amazing. The glass and chrome are all original. The windshield has appropriate wear for 68k miles but is original car-lite. Factory options include AC which is freezing cold and heat which is hot hot. Rare bench seat option car with power steering, deluxe seat belts, power top, backup lights, am radio, and tinted windshield. The exhaust and tires are new as well. The undercarriage is outstanding and completely original. While as honest and straight as the rest of the car it has not been detailed. I like to drive my cars so I've never bothered. It drives better than any I have ever driven. There is absolutely no play anywhere in the steering or suspension. The car never reaches 1/4 on the temperature gauge even with AC while sitting in traffic on the hottest of days. This car would win the best of show at any show I've ever been to. If you have any questions please feel free to reach out. Why am I selling? 1968 gt fastback cobra jet car. Otherwise, this is a lifetime car. I have all documentation for the car including repair invoices that track mileage, original window sticker, owner's manual, etc. I can be reached at 813-777-7628. I have a very fair number in mind and reserve the right to sell the car outside of the auction. Please call with any questions.
Price: $43,000
Location: Tampa, FL
Mileage: 68,000
Title Status: Clean
VIN: 5408C753538
Seller's Listing: Here on eBay
List your classified here on Barn Finds!