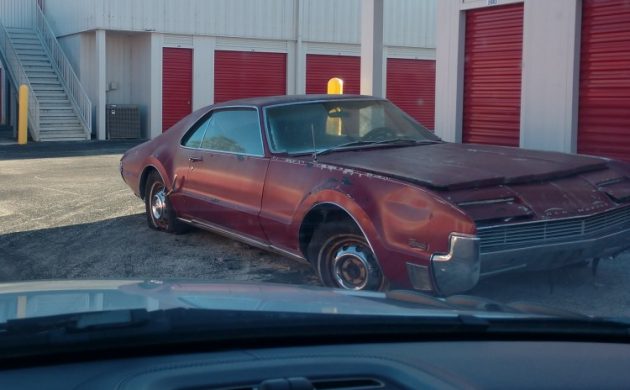 Seller's Description: This is a 1966 Oldsmobile Tornado. The car was found in Upstate NY built prior to 1966. The car was "lost" for over 40 years until it surfaced last year, in Tampa Bay Florida, in an old Farmer's ranch (Port Richey). Unfortunately, time has not been kind to the car. It has Plenty of rust in all the wrong places. If this car did not have its historical value, as a Tornado I would pull the engine and transmission, and a few other pieces, and send it to the scrap yard. But because of the historical nature of the car, it's being listed for anyone wanting to attempt a restoration. If restored it could bring between 10,000-25,000. Maybe it's too high or too low. A Tornado these days is going anywhere from (yes you can always find the 2,000-4,000 drivers) though any these days are becoming harder to find. 25,000-35,000, This car comes with a bill of sale only, and does have an old NY title, I believe that is what it is, I will send those docs with it. Plus lot of paperwork and correspondence with GM in the 1970s regarding various issues between the car owner and GM. These will accompany the car when sold. Again lots of rust but, both the interior and most of the exterior is there, it will need some trim pieces, the front bumper is damaged. The side driver's glass is broken along with the side back window glass. For anyone looking for a classic historical car, this is worth it. Anyone looking for a parts car, this is your car. If looking to restore as a daily driver, maybe look at another and use this for a great parts supplier. Even with stating this ad that the car has rust and the low price, Bar finders commenters feel the need to criticize and degrade what obviously is a good parts car or candidate for restoration. If you have a car for sale that need work or alot of work place your ad in classified not "featured" for the pundits to attack. If you want opinions and unsolicited comments, then the "Featured" section will give you that "why did I ever want sell this" feeling when they are done trashing your car for you.
Price: $1,600
Location: Titusville, Florida
Mileage: 67,000
Title Status: Missing
VIN: 396876M522449
List your classified here on Barn Finds!