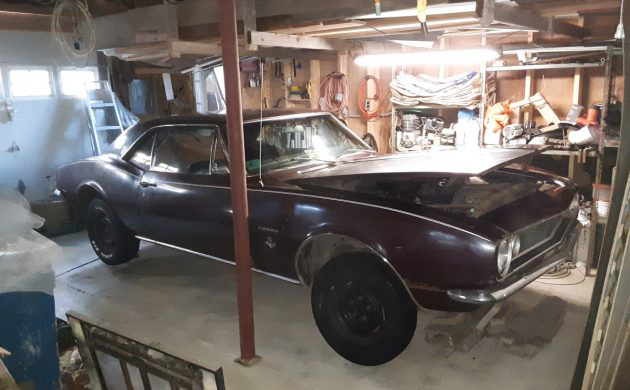 Seller's Description: 1967 Camaro, original owner.
327 V8 (210 HP) 4 speed, posi-traction
Original engine, transmission, rear-end and frame.
Engine rebuilt at approx 180,000 miles and current odometer reading (2)25,805.
Car has been garaged since 2002 and is ready for full restoration.
SS gas tank cap is an add on (originally from the Gold Rush '68 camaro).
Driver seat and back seat in pristine shape with new right seat cover in box in back seat
FAQs
Q: Do you have a pic of the trim tag that is on the driver's side of the cowl under the hood, the body tag inside the driver door and also a picture of the Identi plate?
A: Yes. Ask me and I will email them.
Q: Is this a numbers matching car?
A: Not exactly sure what that means. I have pictures of the ID tag on the driver side door jam and the ID tag under the hood on the firewall. The original engine was pulled out and rebuilt by an engine service in Norfolk VA so if there is a number it should be correct. The transmission, drive shaft and rear-end are original as well as the frame.
Q: Are the floors rotted, trunk , frame rails?
A: A hole in the front passenger side floor was fixed years ago which is still intact and other than that the floors inside are in good shape. Trunk floor has some holes but it is far from rusted completely. Largest is about 1/2 x 1 inch. Frame has surface rust but is in good shape.
Q: Does the motor smoke/run?
A: Engine is not running, last time I turned it over at least one of the cylinders did not have good compression, that was probably 5 years ago.
Q: Is there a spare tire?
A: Yes. That and the original bumper jack are in the trunk.
Asking $15,000 or best offer.
Price: $15000
Location: Tiverton, RI
Mileage: (2)25805
Title Status: Clean
Seller's Listing: Here on craigslist
List your classified here on Barn Finds!