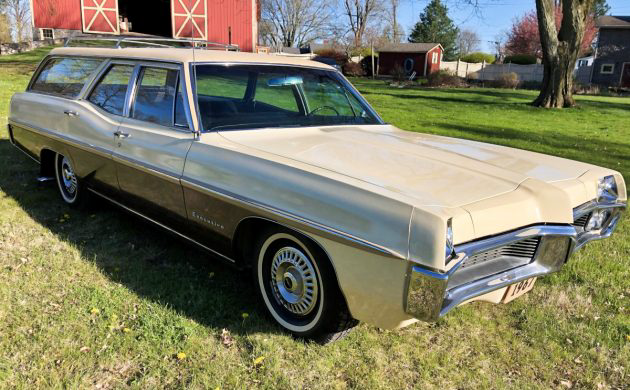 Seller's Description: Surfer and Safari alert! This rare unrestored beauty is back on the market. It was listed here on BF back in May, but due to Covid-related personal issues, it was unable to be sold. The wait is finally over, and she's looking for a new home. Some additional investigation has revealed that this West Coast build came off the assembly line in February on 1967, which makes it officially 54 years old.
A big thanks to Adam Clarke for his previous review & analysis of this survivor seen below (with a few edits):
We have seen quite a selection of classic station wagons over the years here at Barn Finds. Their condition has ranged from pristine through to "could you direct me to the nearest crusher please?" This 1967 Pontiac Safari is something a bit special. This is an unrestored survivor, and its condition does have to be seen to be believed. It would seem that all the next owner will need to do is to choose the destination of their next family, um, safari. The wagon is located in Quakertown, Pennsylvania, and the asking price for this classic Executive has been set at $25,000.
If this Pontiac is as original as the owner claims (it is), then it has to have been the recipient of some pretty careful ownership, because it is quite hard to believe that what we are looking at is a 53-year-old family wagon. The Montego Cream paint looks extremely nice, while the woodgrain vinyl appears to be free of any blemishes or marks. Rust doesn't appear to be an issue, although it is well to remember that the woodgrain could be hiding a few nasty surprises. Having said that, there are no signs of any bulges or bumps that could indicate trouble. One of the interesting features is the vinyl roof. This is something that you don't see on wagons that often, and I must say that when it is combined with the chrome roof-rack, it does add an extra touch of class to the wagon. The exterior trim and chrome seem to be in nice condition, while there are no obvious flaws with the glass.
When it comes to unrestored vehicles of this age, it is quite common for them to really show their age when you lift the hood. That isn't the case with this Pontiac, because the engine and its surroundings look to be exceptionally clean. What we find here is the 400 cui "regular" V8, producing 265hp. Hooked to this is a 3-speed Hydra-Matic transmission, while the Executive is also fitted with power steering and power brakes. At 4,594 lbs, the Safari is not a car that I would fancy pushing any distance if it suffered some form of mechanical failure. However, with 265hp at its disposal, the Pontiac really can get up and move. Any 6-seat family wagon that can gallop through the ¼ mile in 17.9 seconds really can't be a bad thing. Amazingly, it is also capable of pulling all the way to a top speed of 119 mph, making this one a flying sitting-room. The owner is a man of few words, but when he says that the Safari runs like a top, then I tend to believe him on that score.
I have to admit that I was a little surprised by the interior trim in this vehicle because for some reason I didn't expect to find it predominantly black. I will readily admit that I was expecting a lighter color, but there is nothing wrong with this anyway. Once again, the condition is impressive, especially for a family wagon. The upholstery appears to be free of any rips, tears, significant wear, or sagging. The dash is in nice order, while the pad is free of cracks. I have been trying to work out whether the carpet is faded, or if it is a different color to provide some contrast to the black. Either way, I really don't mind it. The Safari isn't loaded with luxury appointments, but Air Conditioning, an AM/FM radio, a rear power window, and a remote exterior driver's mirror are all nice touches.
It is a classic station wagon, so this 1967 Pontiac Executive Safari is going to be a vehicle that will undoubtedly be highly coveted. In 1967, Pontiac sold 35,491 Executives, but of this total, only 5,903 were 6-seater Safaris. That makes this a relatively rare car. As such, nice examples simply don't come onto the market that often, and when they do, they can command some impressive prices. A really nice one will often sell for $30,000, but higher figures are certainly possible. This particular car isn't the cheapest wagon that money can buy, but the asking price would seem to make it a very competitive proposition.
Gotta love the original sales brochures from 1967 – see pics.
Price: $25,000
Location: Quakertown, PA
Mileage: 116,000
Title Status: Clean
VIN: 256357C113441
List your classified here on Barn Finds!