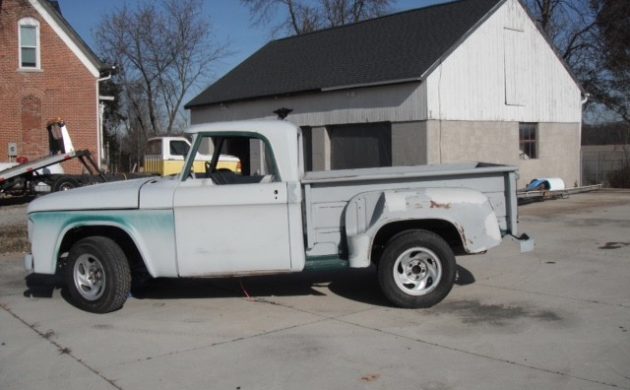 Seller's Description: Bill of Sale…Bill of Sale…Bill of Sale
No Title
This is a 1968 Dodge D100 Utiline, I purchased it for the farm about 1987 but after looking it over carefully I decided to save it. All of this work was completed about 20 yrs ago+ so this is as memory serves…, I removed the bed and cab prepped cleaned and painted the frame. Then had the body and bed sand blasted, treated and primed. I sprayed an additional two coats of Evercoat on it as well. Then installed new bed wood, I wanted a nice strong bed and used 1 1/8″ flooring plywood sealed with 6 coats of auto clear. The original drive train was gonzo, so it was replaced with a 1987 Dodge D250 Royal drive line and differential with 26k miles,??remembering?? This van was hit by a tornado but I drove it home.
The engine was cleaned and re-gasketed then installed with the transmission and rear end.
The 68 had some pin holes around the cab mounting points and those areas were replaced. As seen in the pictures I started to paint the truck green, which nobody liked. Some additional info, new starter, new Air Gap intake, recently had the bench seat reupholstered in the color Parchment and the tires look new however they are 20 yrs old with zero miles on them, one tire has a bad blem on the side. A disc brake kit was installed on the front, power booster NIB included with master cylinder.
What major areas need attention.
The brake system and plumbing.
Fuel system tank fill and plumbing.
All body and painting.
Electrical system and gauges.
What major parts are missing, Front windshield, fan and radiator, driveshaft…
There is surface rust in spots.
Like all old vehicles, they need to be inspected carefully and I recommend that here. I cannot remember all what was done completely.
The Dodge was gonna be a summer completion but now moved on to issues concerning the house. Some of the pictures are dark because this truck really is in a barn.
Price: $5,500
Location: Mendon, Ohio
Title Status: Missing
Seller's Listing: Here on craigslist
List your classified here on Barn Finds!