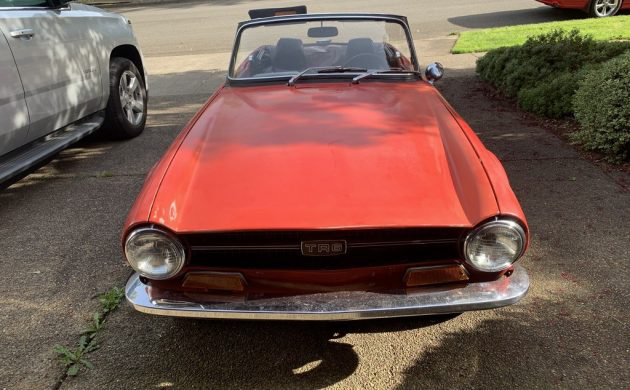 Seller's Description: 1971 Triumph TR-6 Roadster.
2.5 liter (2498 cc) inline, 6 cylinder ohv. Four (4) speed manual (non-overdrive) transmission. New tires. Lots of new parts. A lot of work has been done to this car to make it a reliable daily driver. Runs and drives well. Really fun to drive. I would not hesitate to drive it cross-country. All the electronics work, including the heater, fans, gauges, lights etc. Drives straight, transmission and clutch shifts smooth, brakes are good.
There's no way know if the 65,750 miles are accurate, however most cars of this vintage, one can't tell with certainty if its actual or greater. From what I've gathered, the car purchased new passed and from father to son. I bought it from a man in Eugene, OR who bought it from that son. The car had a Washington clear title and now I have a clear Oregon title in my name.
This TR6 was acquired as a second project car, yet I just don't have time for two project cars. The car mainly needs TLC, paint and body work. A rusty spot on the passenger floor has been repaired with fresh metal and welding. There are some easy to repair surface patina spots in various locations on the exterior of the body. I envisioned enhancing the natural patina of the car for that classic era rally roadster look. Your dream may be different. Either way, I've put some hard work into it to make it a reliable daily driver to enjoy, yet at the same time able to restore a steady or gradual pace.
Recently installed new parts:
Front windshield weatherstrip & chrome trim
Windshield wiper pivot mounts
Driver & Passenger body/door side weatherstrips
New heater control cables
New choke control cables
Rewired tail light ground wire
New fluids, brake, oil & coolant
New oil, air & fuel filters
New valve cover gasket
New thermostat & seal
New radiator and heater hoses
New heater water pipe & fittings
Rewired blower fan motor
Refinished wood dash trim
New door panels from British Parts NW
New carpeting from British Parts NW
New driver & passenger side upper outer door window seals
New driver & passenger side inner door window seals
New front & rear tires from Discount Tire. 195/60r15 in the front and 195/65R15 in the back
The car had new front brake rotors/pads & rear brake drums/pads (installed by the previous owner)
The car had new front suspension bushings & trunnion joints (installed by the previous owner)
Front end alignment (by the previous owner through Les Schwab)
New Parts, packaged & ready to be installed:
New Canvas convertible top
New convertible top seal kit
New driver & passenger side inner & outer CV joint boots
Many tune-up, carburetor and other chassis parts are included.
Includes repair books:
Repair operation manual
Restoration manual
Technical information bulletins manual
Selection of parts/accessory supply catalogs
Synopsis:
I put in a number of hours to get this TR6 running good and reliable. The engine fires right up has plenty of power and does not smoke or burn oil. The transmission shifts normally in all gears and the clutch operates perfectly. The brakes stops well and straight. The alignment is straight as could be.
The miles currently shows 65750, which is going up with occasional use. Due to the age of the TR6 and lack of full history, there is no way to know with certainty if the miles are actual 65750 or 165750. Once you examine the photos and or see the TR6 for yourself you can then come to your own conclusion about the authenticity about the mileage and the originality.
As I previously mentioned, I would trust this TR6 to drive anywhere. Does that mean its perfect. . . by no means. It's obviously a 49 year roadster and as with any vehicle, some parts/things will eventually wear out.
This TR6 tends to capture peoples eye. I've seen a number of motorists and people along the street giving me their thumbs up. I've also been approached many times by people admiring the car and reminiscing about one they or their parents owned.
Shipping/Delivery:
I can assist with open flat bed delivery up to 250 miles. Anything beyond that, then professional shipping would be the best option. If you choose this, then I can deliver the Triumph to a transportation terminal in the Portland, OR metro area. Or if you wish to fly in to Portland International Airport (PDX), then I can meet you there and you can drive it home.
Market Value:
Most all Triumph TR6's are demanding premium prices. Consequently the demand for decent entry level models like this one has also risen. If you want a "garage queen car" then look for one in the 25k price range. If you want one for a ground up restoration, then look for one that is significantly less.
$10,995.00 is a low to middle of the road price for like type condition TR6's. There are a number of like year models 1969 to 1973's selling for far more posted on this site as well as other well recognized sites across the Nation. Do your due diligence and hopefully you will see the value in this TR6. I'm open to reasonable offers, but please don't waste your time or mine with "low ball" offers.
Contact Info:
503.371.6800
Call the above posted number for more details.
Price: $10995
Location: Salem, OR
Mileage: 165750
Title Status: Clean
VIN: CC62806L
Seller's Listing: Here on Classiccars.com
List your classified here on Barn Finds!