SOLD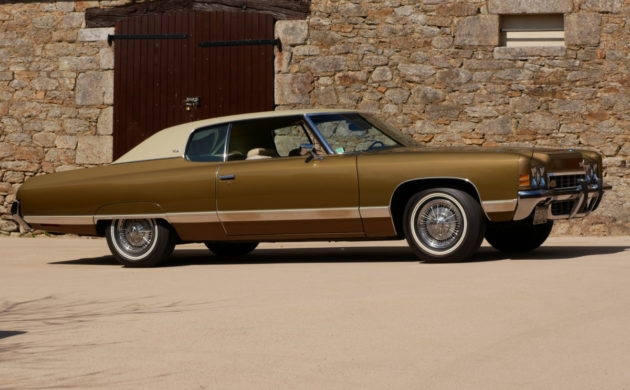 Seller's Description: 1972 Chevrolet Caprice Sport Coupe 26,041 Original Miles, BIG BLOCK Survivor.
Up for consideration is a 1972 Chevrolet Caprice that is in Factory condition with only 26,041 documented original miles. (Maintenance record until 1989).
1972 was the last year for the LS3/402 ( started in 1970-Done in 1972)
– 1. 010 125 Full-size B-Body, build in 1972, but only 6% were LS3/402 RPO codes.
– 65.513 Caprice Sport Coupe, built-in 1972, how many with LS3/402 ???
This 1972 Chevrolet Caprice is one extremely stunning well-preserved automobile. The total overall appearance of this incredible survivor Caprice truly dictates the pampered and wonderful care this automobile has had over the years. There is lots of documentation from brand new including the original owner's manuals, Protect O Plate, sales brochure, etc….
Finished in the beautiful Golden Brown Poly (code 57) with a very brilliant shine, the majority of the paint being original, with some very minor blemishes. The body is very clean, very straight and no rust. The all-original brocade Light Cover interior (code 819) with Brown accents looks like brand new in every way with no wear or fading of any kind. The original Cover vinyl top (code T) also looks like new. The undercarriage is extremely clean, was undercoated by Ziebart when new and a very nice job that has held up very well over the years. The total overall condition reflects that this automobile was stored in a climate-controlled environment. Also, there have been no modifications to this automobile of any kind, totally factory original, except for LS5 Chrome package.
The drive train consists of the Matching# Turbo-Jet 240 hp Big Block 402 4BBL V-8 engine complimented with the Matching# M40 3 speed automatic transmission, both perform perfectly with no strange noises or leaks of any kind.
Equipped with all the standard equipment with a host of great options for pleasurable and comfortable driving. All standard equipment and options work perfectly with no issues (included 8 track player and clock).
Come with rare first Owner special order: U46 Vigilite Lamp Monitoring (Fiber-optic light monitoring system),**Originals 400 emblems, never installed, new in-box.
A list of some of the maintenance that has been performed to preserve the incredible condition of this 1972 Chevrolet Caprice for pleasure and trouble-free driving follows. It should be noted AC-Delco original equipment parts were used in servicing.
Lube, change: oil and filter (white PF25) coolant antifreeze, brake fluid, greased ball joint, new gas filter (NOS part#854583GF61) new air filter (A348C), new BF Goodrich J78-15 Silverstown dual white stripe tires, new battery, new gas tank sending (NOS part#6428629), new exhaust muffler (NOS part#1240538), new wipers (NOS parts#PRL18 Trico)
What an incredible opportunity to own a true survivor 1972 Chevrolet Caprice BIG BLOCK in Factory condition with only 26,041 documented original miles and with one of the very best color combinations. A 48-year-old classic automobile that with extremely wonderful care has survived the test of time. Really does not get any better than this.
Clean French Title, clean MOT.
Make offer. (please keep ridiculous offers to yourself, I am not desperate to sell). thank you
Price: $33,706
Location: Quimper
Mileage: 26041
Title Status: Clean
VIN: 1N47U2J169065
Seller's Listing: Here on ClassicTrader.com
List your classified here on Barn Finds!