SOLD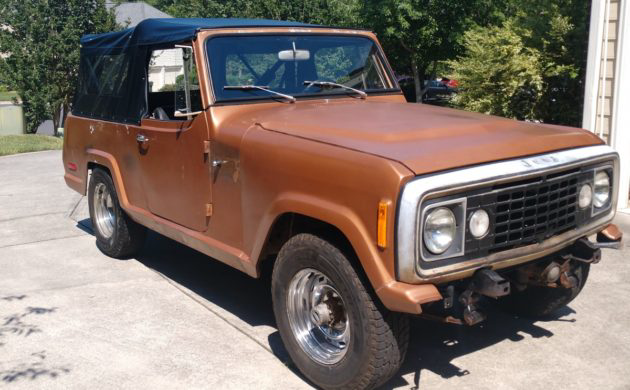 Seller's Description: This is a barn find from Georgia estate that I bought as a project car. I believe it to have just 63K original miles. It ran nicely from the start once I replaced the gas and the filter/lines and plugs. It needed brakes so I put a new conversion disc brake set on the front (from Just Jeepsters), new brake lines, and new brake drums and shoes in back, a new starter and alternator. I also added new tires and a new Bestop soft top (has hardtop in good shape) that I would also sell with it, and I have all the hardware for that.
This is a great and very rare vehicle that will turn heads. No smoke just runs great with its 4.2L inline 6 engine that runs forever. It has a smooth-shifting automatic 3 speed (column shift) with 4WD Dana tranny. She just could use some bodywork and paint for those that want to fully restore it. All the gauges work including the gas gauge with a new fuel sending unit.
Solid frame and body, with a little rust here and there – but not a rust bucket! Bumpers just back from chrome shop. Finish her up for a sweet ride or just drive it just as it is. Priced below what I have in it and what it's worth. Contact me as I expect to sell this one very soon.
Price: $5,900
Location: Cary, NC
Mileage: 62,560
Title Status: Clean
VIN: J3F89FVA28221
List your classified here on Barn Finds!