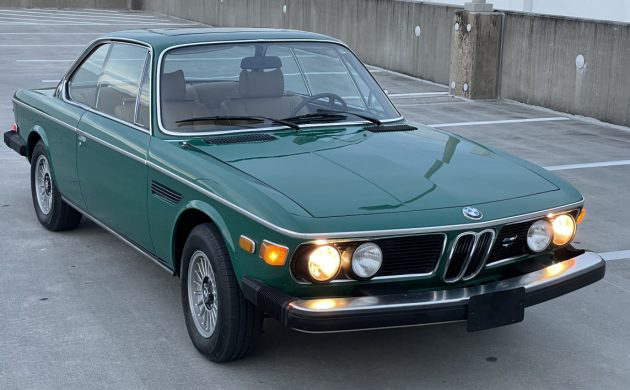 Seller's Description: 1974 BMW 3.0cs in stunning condition. The car is the most rust-free BMW of this era I have ever seen. There is no rust to be found on the unrestored exterior. The undercarriage is also free of any rust. It has been garaged its entire life and it shows. The exterior is virtually as new including all chrome and glass. No pitting no rust no Bondo all lines are just perfect. It is single stage paint and shines as new. The car is mechanically sound with stacks of recent service records including new brakes, exhaust, tune-up, etc. I have also upgraded the window motors with motors from a BMW 6 series. They work perfectly and are a bit faster. I completely restored the interior with the help of World Upholstery. It is stunning and has only been sat in a few times. The carpet seats headliner and door panels are all new. Coco mats complete the interior and I also had them make a trunk mat for it. The dash is crack-free and the wood is outstanding. There is a small section of the wood that was water damaged by a bad windshield gasket. Please see the photos. The rubber on the car has since been replaced. The cost of the interior restoration and rubber alone approached 18k. The car runs and drives and stops as it did when new. All lights switches turn signals etc work as they should. The AC system was completely gone through and converted to R134A. It will freeze your face off which is uncommon in these older BMWs. The color is jadegrun and the depth of shine is truly incredible. Again this is an original paint car. The last several quality 3.0 cars have sold for over 100k. They were all repaints and 5-speed tranny conversions. I have an appointment to do the 5-speed swap in California. Cost to convert is approximately 15k. The correct automatic transmission in the car has been rebuilt and shifts perfectly. All service records and the owner's manual still in the wrapper are included. Also included is a new pair of European bumpers. As you probably know the 74 cars got the US-required bumper car bumpers. This is a stunning example of a super rare sunroof coupe. It may be the best original paint CS in existence. This is my personal car and I am only selling it to fund a rare mustang fastback 428CJ car. Were it not for that I would never let this car go. It is that good. I have a very fair number in mind so first to say I do will get it. Please don't bid unless you have all approvals and intend to pay. I have 3 weeks to get funds for the fastback. I can be reached anytime at 813-777-7628. Good luck bidding. I reserve the right to end the auction at any time. More pics coming.
Price: $75,000
Location: Tampa, FL
Mileage: 109,000
Title Status: Clean
VIN: 4335415
Seller's Listing: Here on eBay
List your classified here on Barn Finds!