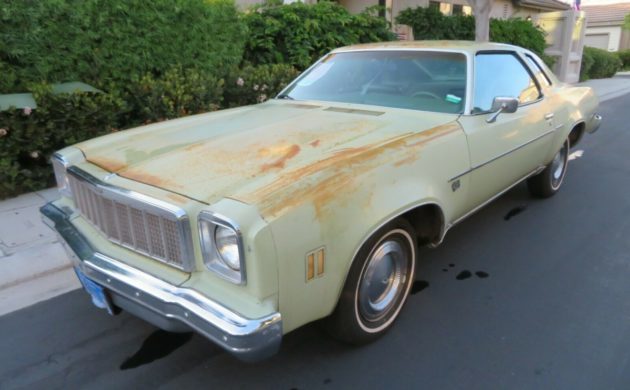 Seller's Description: UPDATE 2/3/2020 – I just relisted my Malibu Classic on eBay. I've switched it to an auction and lowered the price! Take a look and be sure to bid.
Only the 2nd original owner- for over 22 years! All stock and original engine/ miles- Under 120,000. Straight 6 Engine that runs amazing! ( Room for an 8cyl if want to change. ) The seats and carpet are new, but kept to original style. Dash paneling and gauges, headliner and door panels all original. Over $8,500 put into belts, hoses, fluids, battery, radiator, upholstery, 5 brand new tires, etc. Have all receipts. It's ready to go- just take the keys and drive off from sale!
Needs new paint job, but some people like the "patina" look, only has some surface rust. Super clean/ straight body & title!! Needs a small back corner area replaced, taillight cracked, and minor finishes. Even have the original car mats & all 4 hub caps. No smog needed & registration is very cheap. Can be a great starter car, especially if you like to work on cars without computers.
Hate to sell my baby, but am moving … but not in a hurry or desperate either. Only serious, non-low-ball, offers please. Once you see it and drive it, you'll understand the price is very fair and generous!
Location: High Desert, Southern California
Mileage: 119584
Title Status: Clean
VIN: D37D5R495628
Seller's Listing: Here on eBay
List your classified here on Barn Finds!