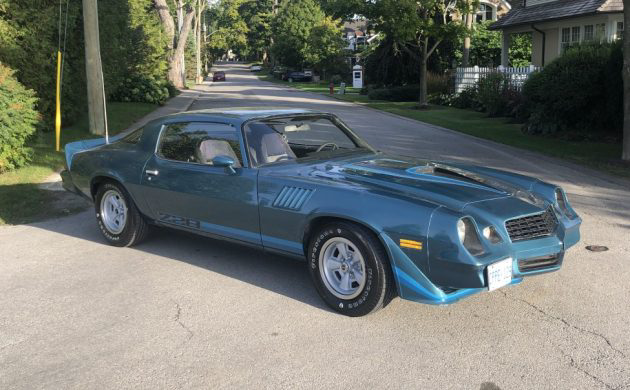 Seller's Description: 1979 Chevrolet Camaro Z28 4 speed. Remarkable survivor discovery – preservation class contender.
ONE OWNER FROM NEW.
Laid up nearly 30 years ago and untouched. Paint refinished over 35 years ago, interior, engine compartment, etc all as built-in July 1979. This is an Ohio built car.
NEVER WINTER DRIVEN AND RUST FREE.
Since discovery in July 2020 the car has been cleaned and remains untouched. The purple velour and check interior, carpets, seatbelts, dash are all finished as new.
Stunning original condition with a 4-speed transmission.
Recently passed Province of Ontario mechanical safety certification with flying colors. Only "discovery" tires changed to brand new and 2 brand new rear shock absorbers. All items have been kept and are with the car. The title still in the first owner's name. Original key ring and various books and information.
The car is officially ready for the road!
When discovered the ashtray was – and still is – full of cigarette butts and cassettes were in the glove box and still are.
Original jack and space saver spare wheel and gas canister and all road tools. Untouched and unused.
Professionally cleaned and decades-old paint fantastically restored by leading auto detailer who featured the work on their Instagram story.
Very difficult to imagine another preservation class survivor in such condition with so many untouched original features.
Price: $17,000 OBO
Location: Ontario
Mileage: 59,000
Title Status: Clean
VIN: 627438
List your classified here on Barn Finds!