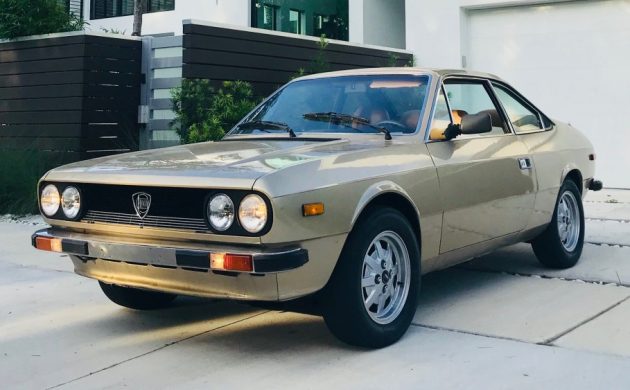 Price: $18000
Location: FL
Mileage: 47,000
Title Status: Clean
VIN: 828BC10610985
Seller's Description: A perfect, rust free and over restored 1979 Lancia Beta. I purchased the car in December, 2008, in San Fransisco. It was in excellent driver condition.
I held it for two years, sold it, and a year later, bought it back, when it underwent an insanely detailed restoration.
The weak 2.0 head and California carburetor were replaced with a free-flowing 1.8 liter head and a 34DAT carburetor. (The catalytic converter remains in place) In addition, the alternator was upgraded, along with the A/C compressor. (Yes, this Lancia's A/C blows cold. No excuses!)
While the motor was out for a complete rebuild, the subframe was cleaned up and repainted. The Koni struts were rebuild and repainted. The gear shift bushings were replaced. And so much more.
Of course, the bronze paint is new, along with the full leather seating. A rebuilt dashboard is as-new, and a Nardi steering wheel completes the picture
Oh, and I had a flight attendant friend smuggle European bumpers over from Milan. The stereo is upgraded, of course, with a modern unit. It occaisionaly goes out for a second or two. Honestly, that is the only issue with the car.
Hagerty lists a high end price of $17K for a concours Lancia Beta. I think this car is perhaps the best in North America. I'm open to offers, but if you can buy one that's been sitting outside by the ocean for less, feel free. I'm losing garage space, and it's time to thin the herd.
List your car here on Barn Finds for only $50!