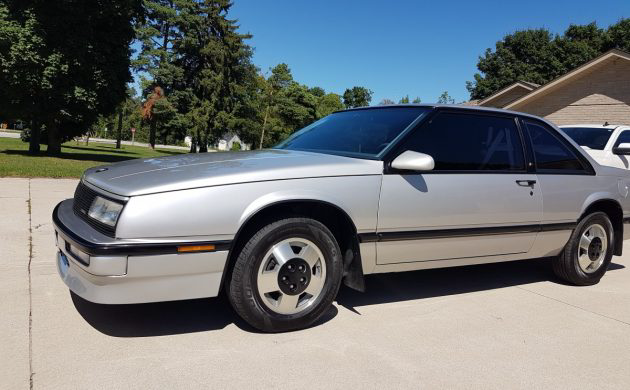 Seller's Description: Fairly rare cars which includes Grand National colored interior and steering wheel. Pristine car.
76,900 kilometers / 47,800 miles
Video showing the whole car here on OneDrive
– 3.8 liter V6 LG3 231, 150 HP
– 4-speed automatic Turbo-Hydramatic 440-T4
– Electric: seats, mirrors, antenna
– Power: steering, brakes
– Sports suspension
– A/C converted to R134A
– Mag wheels
– Original cassette radio
– Strut tower to tower brace added (cornering stability)
– Radiator to strut tower braces added (cornering stability)
– Heavy Duty radiator installed (only available with 88-89)
– Radiator A/C cooling fan added (only available with 88-89)
– No ABS brakes in 1987
– Window tint
– Car painted in 2017. Mirror finish.
Recently replaced in last 2200 kms / 1350 miles
– Belt tensioner
– Front-right engine body mount
– Radiator
– EGR solenoid valve
– Rear outer tie rod
– Cooper CS5 Grand Touring tires
– A/C compressor, drier and converted to R134A
– Rear brake pistons, pads and drums
– Brake fluid
– Power steering fluid
– Door seals
– Transmission pressure regulator
– Door speakers: Alpine SPS-610 coaxial 2-way 240 watts peak, 80 Watt RMS
– Hood and trunk emblems
– Idle Air Control valve
– Transmission fluid & filter
– Throttle position sensor
– Fuel filter
Needs done: Shocks/struts
From https://en.wikipedia.org/wiki/Buick_LeSabre:
After the end of production of the Grand National, a new sporting LeSabre appeared in form of the LeSabre T-Type, which was offered from 1987 until 1989. The LeSabre T-Type had many unique options that were styled after the Regal Grand National and Regal T-Type models. Some of those options included blacked-out trim, gray-on-black seats (1987 only), gray-on-black door panels, gray dash and trim, and T-Type specific front and rear spoilers.
More info on these cars: https://eightiescars.com/2019/02/12/1987-buick-lesabre-t-type-coupe/
Price: $12,000 CAD / 9,000 USD
Location: Tara, Ontario, Canada
Mileage: 76,900 kilometers / 47,800 miles
Title Status: Clean
VIN: 1G4HP1435HH498469
Seller's Listing: Here on Facebook Marketplace
List your classified here on Barn Finds!