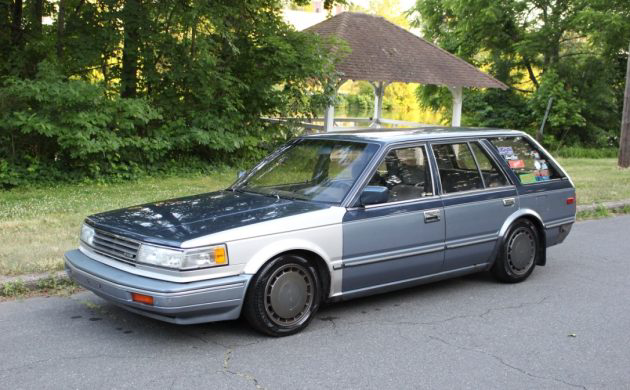 The seller has decided to lower their price down to $1,450! This looks like it would be a great affordable driver, so be sure to give it a closer look and make them an offer.
Seller's Description: I am the second owner of this vehicle and it sat for a bit before I took ownership. Because it sat, the body isn't perfect, but I was still excited to come across a wagon, since most second generation Maximas are sedans. After purchasing it, I replaced various items to make this roadworthy. Now it is a good and running vehicle that is a paint job away from being a head turner. This Maxima has a clean New Jersey title and it comes with a handful of extra parts, including new corner lights, tail lights, radio antenna, window switches, under grille valence, mud flaps, and more.
Exterior
– Decent overall condition
– Very little rust, recently repaired rear subframe and rear sway bar mounting points
– However, because it sat, there are some minor rust spots on the rockers
– Front fenders replaced with ones in better condition (original ones included with sale)
– Repaired and repainted gas filler neck
– No rear bumper – it was in poor shape
Interior
– Mostly complete and original
– Power functions such as seats, mirrors, and sunroof all work
– Interior could use good clean, small paint stain on driver's seat and rear seat has a small burn hole
– No glove box, but there is a fabricated metal pocket in place of it. Can still hold insurance and registration documents and looks discreet
– Equalizer for the original radio still in the car, but there is a non-working aftermarket stereo system in place of the stock one
– Mechanical
– V630E V6 and 4-speed automatic transmission
– 165,067 Miles
– Runs and drives excellently
– Recently installed new maintenance items include spark plugs, wires, distributor, brakes, rotors, gas tank, tires, shocks and top hats, but there is a small leak from the valve cover gasket
– No exhaust after rear subframe, but not too noisy
– A/C compressor needs replacement
I am looking to get $2000 for the vehicle and I am negotiable on the price. Thank you for reading.
Price: $1,450 OBO
Location: Ewing, New Jersey
Mileage: 165,067
Title Status: Clean
List your classified here on Barn Finds!