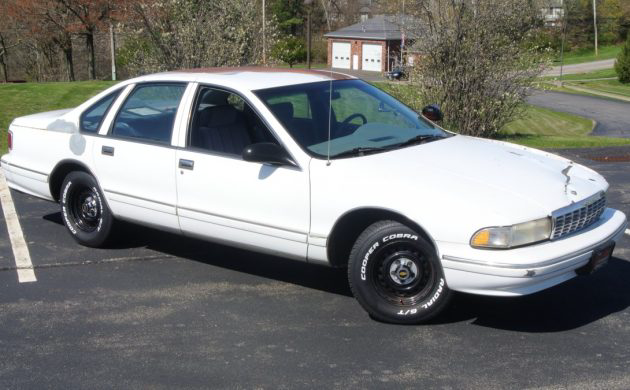 Price: $3,500
Location: Pittsburgh, Pennsylvania
Mileage: 145684
Title Status: Clean
VIN: 1G1BL52P7TR118045
Seller's Description: Down below is my 1996 Chevrolet Caprice 9c1 Police Package. It has the 5.7L 350 LT1. I bought on January 17th, 2020, and have slowly worked on it bit by bit! It currently has 145,6xx miles and will slowly go up as time continues. Over its time, it has been under very rigorous maintenance since brand new. Oil changes every 3,000 miles, transmission service every 15,000-25,000 miles, and coolant flushes were common. You can see all the work done in the records which come with it.
It was owned by a county school system in the state of Virginia where it never had any equipment, no hard miles, and no heavy idle hours. It was driven by a principal and other admins with the county. Why they bought police package cars with the 5.7L V8 and a spotlight, I have no darn idea.
Here is the list of the things I have done since ownership. All items have been documented as well.
New Cooper Cobra GT Radial tires
Transmission service
Fresh oil change
Changed valve cover gaskets
New steelies all the way around
New(er) upper and lower dash
Tons of smaller interior parts
Rear trunk carpet
Comes with (not put on or installed)
Transmission filter and gasket
Water pump
Brand new Fender
Seller's Listing: Here on Facebook Marketplace
List your car here on Barn Finds for only $50!