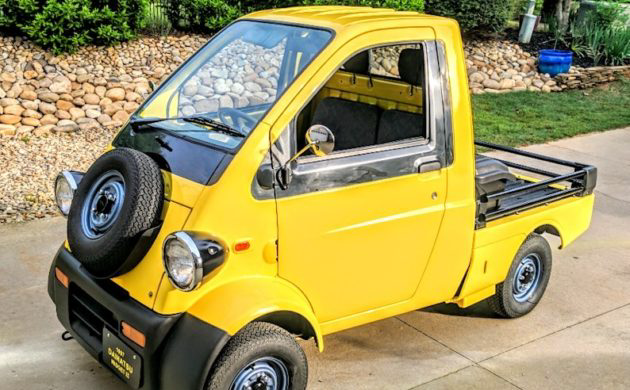 Seller's Description: Perfect mini truck to advertise your business, school, or commute cheaply to work. Daihatsu is a Division of Toyota. These are sold and used in asia and very few have been imported to the USA. Google Daihatsu Midget II for more photos. This is not a Chinese knockoff cheap vehicle. It has all SAE requirements like lights, horn, turn signals, flasher, windshield wipers, seat belts, etc. Its a real truck, just tiny, about the size of a Fiat 500.
Clear SC Title, insured, tagged and taxed as a light pick up. Legal on all roads, but better suited for secondary roads at less than 60mph. 50mpg, 60 mph, gasoline (carburator), 3 cylinder, 659cc, 30 HP, mid engine (under the seat), four wheel drum power brakes, rear wheel drive, automatic transmission, air conditioning, heater, radio (not yet installed). This is an eye catcher and you will not stop anywhere without a small croud gathering around. Right hand drive, but its so narrow that you are basically in the center, but there is a small jump seat for a passenger to the left of the driver. I weigh 200 and my wife is 100 and we fit nicely, (not luxureously), without cramping. Ideal for one person commuter. Park it anywhere, turn around in the street, keep up with traffic with no problem.
I Purchased about 3 years ago from a farm in Arkansas, brought it home and did the following since then:
New Tires and chrome lug nuts (5), oil change, new fuel pump and filter, removed and cleaned carburator, removed and cleaned fuel tank and sealed, pressure washed and painted some of the underside, new battery, new windshield washer motor, repainted yellow and black exterior, wheels, and coated pickup bed with bed liner material. Cleaned and painted all rubber parts (bumper, mudflaps, etc). New 3rd stop light added to rear of cab, new carpet and headliner. Custom Midget II Floor Mat and tool box in bed (very rare). I moved the battery from the underside of the bed (very difficult to access) to the tool box on the bed. A great start for someone who wants something unique, affordable, running, needing little work, and I can provide help finishing up the details at a reasonable price.
Faults: Black door window reveals need painting, small dent on left door (happened the day after I painted it), some body panels need to be color sanded and buffed, fuel gage does not work, runs well when warmed up, but hard to start when cold (working on choke adjustment). I have a Japanese Manual for a Daihatsu Hijet S83P Truck that is similar. Lots of photos and sketches of parts that were removed, cleaned, painted, and reassembled and pictures as found.. Lots of new fasteneers.
Please don't ask about trades, low ball offers, help selling, or curiosity visits. Serious inquiries only and payment by cash or check if you are willing to go to the bank with me. No warranty. Call for details after replying to CL Listing. I can meet somewhere close to Taylors to discuss and/or deliver for a reasonable price or arrange shipping at buyers expense.
Thank you for looking. Mickey. eight six four nine zero five two three seven three.
Price: $8,000
Location: Taylors, SC
Mileage: 46000
Title Status: Clean
VIN: V-K100P-EHDS
List your classified here on Barn Finds!