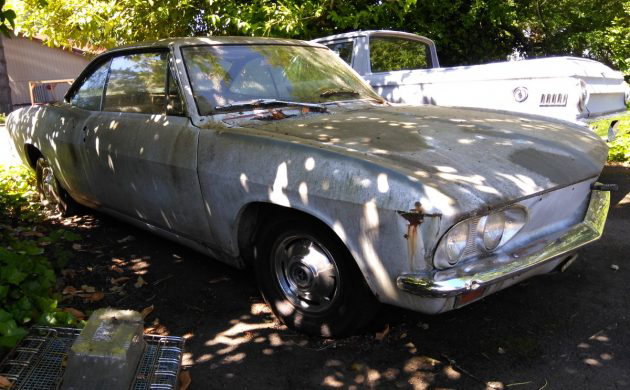 With Porsche 911 prices through the roof, the Chevy Corvair has become the poor man's 911. Just like the Porsche, the Corvairs' air-cooled boxer six engine is hanging out back, but unlike a 911 you won't have to sell a kidney to buy a Corvair. Reader Thomas A has decided to part ways with his running and driving Corvair Corsa 140 2 Door. It needs work, but could be a fun classic that won't break the bank! If you'd like to give this Corvair a good home, be sure to make Tom an offer via the form below!
Seller's Description: 1965 Chevrolet Corvair Corsa 140, 4-speed with the telescopic steering column. There's minimal rust and was last driven in 2016.
Location: Portland, Oregon
Title Status: Clean
Body Condition: It has a dent near the RH headlight. The paint is primer to prevent rust. No major bodywork was done. Battery box and related fender area need rust removed. Fender patch panel included. Some trim missing. Upholstery will need to be replaced. Dash pad recovered in 2016. Gauge cluster repainted and gauges tested. Quartz clock. Floor pans look good.
Mechanical Condition: The engine is 140 with 4 carbs. Has a sticky lifter that quiets down. All carbs we're re-kit. RH valve cover drips oil. electronic ignition installed (Crane). New brake dual master cylinder, slave cylinder, and new brake shoes. New front tires. Trans/Clutch are ok.
Tom's Corvair is seriously tempting and seems like it could be a great project! Corsa 140s are getting difficult to find and while the Turbo would offer more performance, this car would still be a blast. So, what do you think of the Corvair?
If you would like to sell your classic, you can list it with us here on Barn Finds!
List your classified here on Barn Finds!