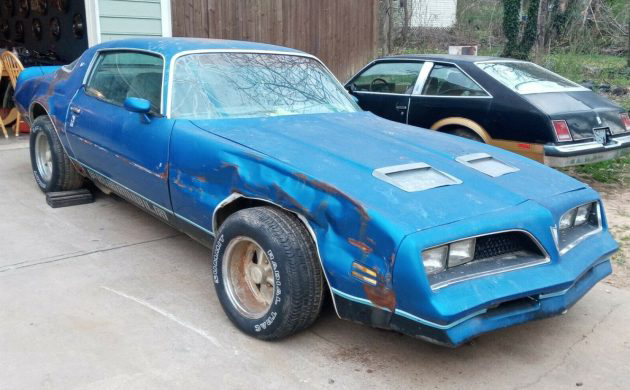 Lynn Anderson sung "I never promised you a rose garden" in 1970 which came to mind when I saw the description of this car and then saw its condition. This 4 speed Martinique Blue 1978 Pontiac Formula sounds great on paper but in reality it is a project in need of a buyer with deep pockets. We appreciate Larry D for bringing it to our attention. The car is listed for sale here on eBay and is currently bid to $2,500. The car has not met its reserve and there are 4 days left in the auction. Located in Rockmart, Georgia, the Pontiac Formula is a true 4 speed car that has been sitting for a long time.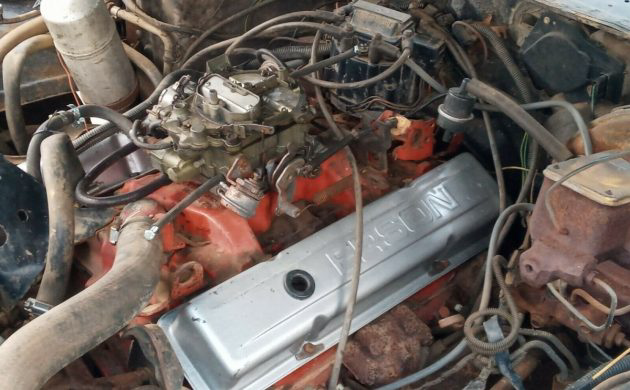 The original engine is long gone and has been replaced by a Chevrolet 350 cubic inch V8 engine that was reportedly taken from a 1973 Z28. The story is that the car was owned by a gentleman who let his son drive it and promptly swiped a guard rail. The car has sat under a shed since 1992. The seller states that he has been trying to buy it since 1993. The car was recently started and has a rebuilt Rochester Quadrajet 4 barrel carburetor but it is not roadworthy and will need to be towed or transported to its new home.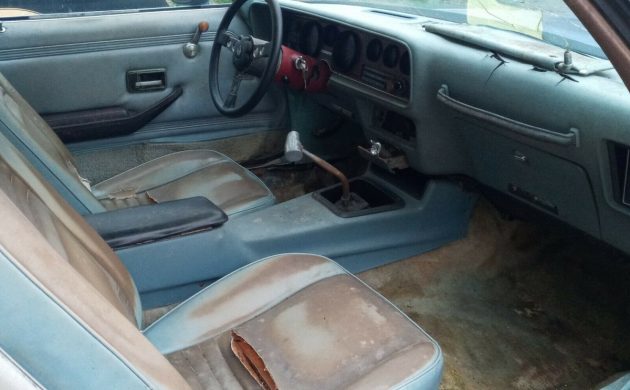 The custom interior is trashed with ripped seats and a cracked dash. It looks like it will need a complete restoration but the seller says the floor pans are in good shape. The odometer shows 56,000 miles but the car shows that was road hard and put up wet. The car needs a new windshield and it has some surface rust in addition to the repair work needed to the front passenger fender and door.
The Pontiac Formula was introduced in 1970 and has always been the little brother of the Trans Am. However, a buyer could always order the same engine and performance options on the Formula as the Trans Am. This car sits on rusted aftermarket wheels and worn out tires. Hopefully this one is salvageable and can be returned to its former glory.