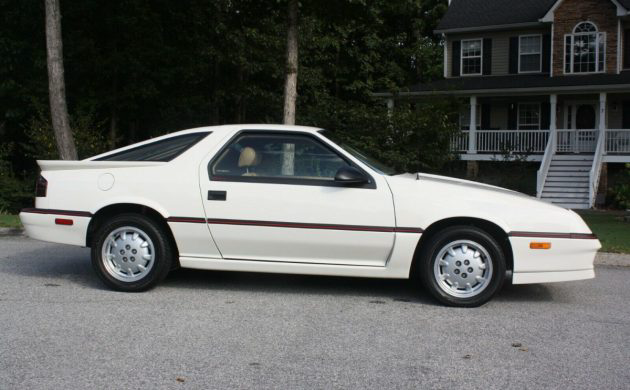 In the 1980s the domestic compact market was occupied with the first generation of front wheel drive cars. Although serving the role as a basic commuter car, these tended to be a learning curve for the later generation of front drivers. With the exception of a few models, very little emphasis was placed on performance. Here is an example of one of those exceptions, a super clean 1987 Dodge Daytona Shelby Z. Located in Hiram, Georgia and listed here on eBay with a buy it now price of $9,000 or make an offer option.
Carroll Shelby had an affiliation with Chrysler Corporation for a couple of years previously, and by 1987 Chrysler had managed to produce a turbo inter-cooled version of it's proven 2.2L engine. It generated some impressive numbers for the time, 175 horsepower with 12 pounds of boost. Chrysler even strengthened the bottom end to handle the extra pressure. The Z package gave further suspension, brake and wheel size upgrades. All this combined with the relatively low weight of the car put the straight line performance in the same league as classic muscle cars.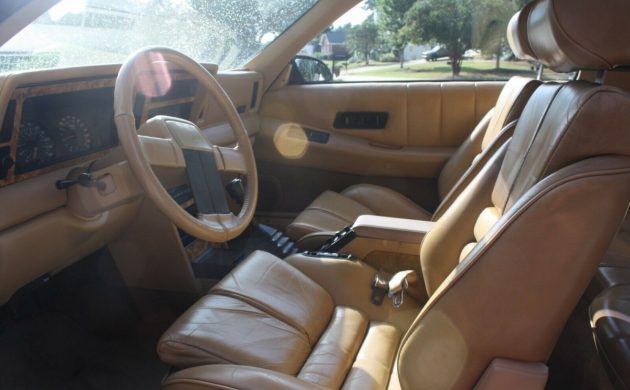 This car is a well-preserved example. A three owner car, it is said to have been garaged all its life. There is no reason to dispute this claim, the interior looks perfect with no sign of sun damage. The exterior of the car is nice and straight, no dents, rust or clear coat peeling. The underside looks just as good. The engine compartment shows another example of a perfect Georgia car. The seller has performed a lot of maintenance, including fluid changes, and a timing belt change. This saves a future buyer from guesswork, without knowing maintenance history a driver would have to baseline a lot of these tasks. Although the 2.2L is not an interference engine, these early timing belts were not known for their durability and replacement interval is a relatively short 60,000 miles. There is no mention of the turbo, but we can assume everything is functioning properly by the seller's description.
The shape and performance of the car would make it blend into modern traffic but with the colored body trim, it definitely screams the mid to late '80s. Average commuters probably would not take notice of it, but enthusiast will instantly recognize it as something special. Although not the original owners intended purpose, this car would be fun to use as a regular driver. The respect and subsequent resale value of these hasn't reached the level of traditional muscle cars, but they seem to be gaining traction. These cars are fuel injected, giving good driveability, and in some ways represent an era where automotive technology and serviceability were at their peak for the home mechanic or enthusiast. The owner of this Shelby gets to enjoy the benefits of fuel injection and the ability to diagnose and fix issues with readily available tools. The price on this car is at the absolute high end, but it would be difficult to find another at this level.