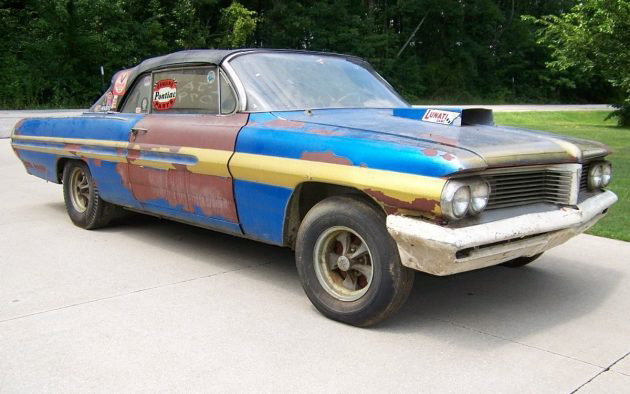 The terms "convertible" and "drag racing" don't typically go together, as convertibles often lack the rigidity necessary for high-powered drag racing. Nobody told this Pontiac that! It has a custom traction bar welded to the differential, and peeling paint aside this Catalina looks ready to hit the strip. Know locally in northern Ohio for bracket racing in the '60s and '70s, this Catalina convertible has been parked for 50 years and only recently brought out into the light. Vintage race cars are always a point of interest, but something this unique is bound to find a buyer. Find it here on eBay in Ohio with bidding at $3,050 and no reserve.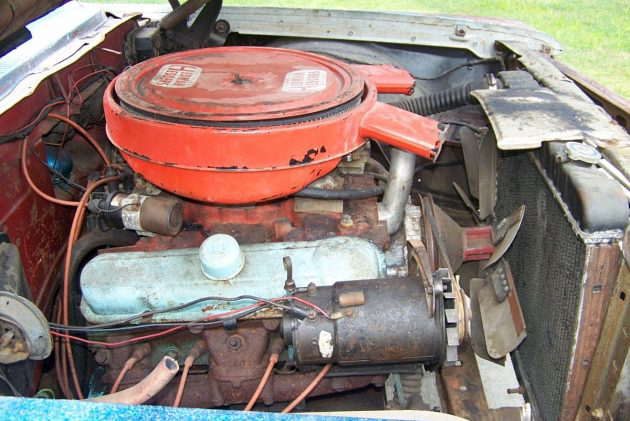 Strange looking air cleaner, isn't it? That's because there are three carburetors under there! Yep, this is a 389 Tri-Power. With a three-on-the-tree, this car must be quite the experience to drive! Imagining banging gears on the column in a car like this just sounds like an adventure. High-powered convertibles are my not so guilty pleasure, and this Pontiac really has my interest. The seller states that the car does not run and has not run since it was parked 50 years ago, however the engine is not seized. This is also not the original engine, as it is a 1963 389, but the seller believes the car was originally equipped with a 389 four-barrel.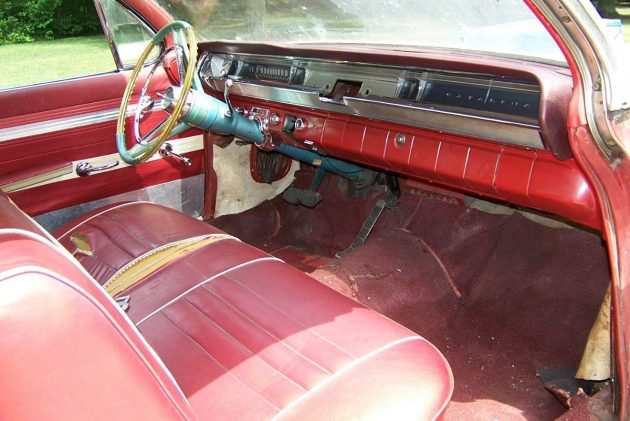 Although something of a roll-cage has been installed (visible in rear seat photo in the listing), with modern drag racing safety standards in place this car will likely need some rigorous safety updates in order to run on the track again. Interestingly, the person who built this Pontiac into a drag car kept most of the interior in place, with only the radio and ashtray missing. The interior looks complete and new carpet and upholstery would go a long way to make this a nice little weekend cruiser! This Catalina was originally painted Belmar Red with tri-tone maroon interior, though it now wears most of a custom flake blue and gold.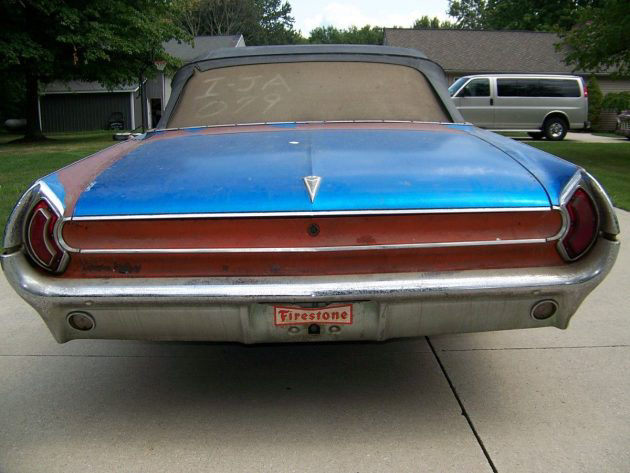 Although the cool custom paint looks to be falling off, based on the description this car has a little bit of rust but it sounds like it could be worse. The seller parted out another Catalina convertible of the same vintage, and includes lots of parts that would be needed to make this car nice again. This could be a great starting point for something new. This car could be restored back to mostly original, restored to how it was as a drag car, or built into an all new drag car. No matter what the new owner decides to do with it, this is a cool car with some really neat history. At the very least it is a conversation starter! What would you do with it?