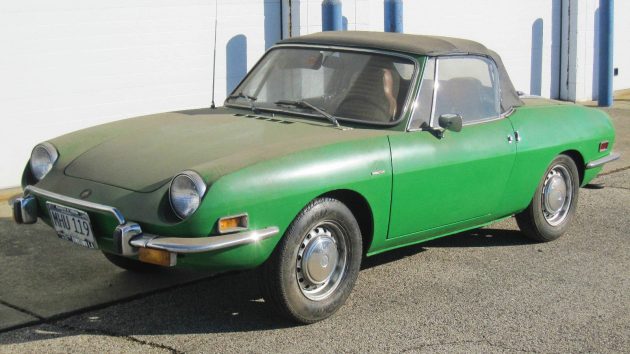 Those of you who have been around here for a while already know that I'm a bit of a Fiat fan. After buying my 124 Spider, I gained a serious interest in these fun small Italian sports cars. I also quickly learned how badly these things can rust, so when I spotted this 850 Spider here on eBay in Rockford, Illinois, I was quite surprised to see just how solid it is! The seller claims it has been in storage for the past 30 years, which seems likely given the lack of rust holes. These rear engined 850s can be a blast to drive, but given their low resale values and high restoration costs, it's always best to buy the nicest one you can find.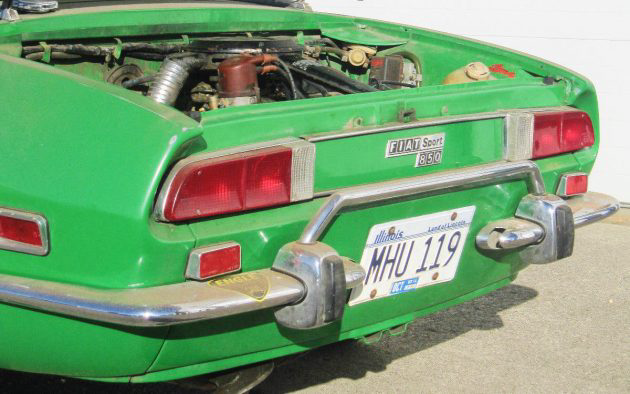 I really wish the seller would have cleaned it off for at least a couple photos. Don't get me wrong, I want to see the car all covered in 30 years of dust, but I also want to see it cleaned up so I know just what I'm buying. The paint looks shiny in the areas that aren't covered in dust and I don't see any rust bubbles. I do see one spot that paint is flaking off in the engine bay, with some bright red showing through. It's possible that it's primer, but it could also suggest that this car has been repainted at some point in time. If that's the case, it looks to have been a quality job, but I can tell you from experience that with these Italians a respray can be hiding some ugly repairs.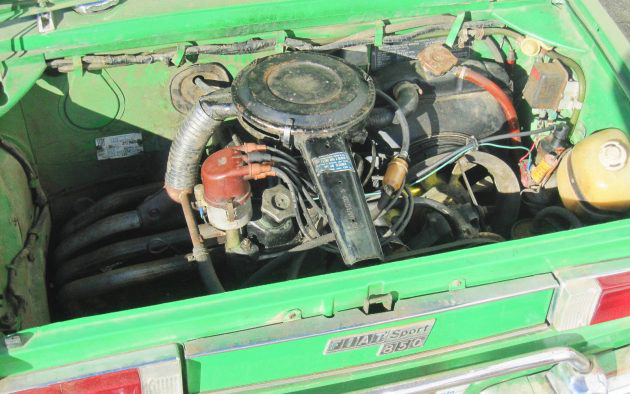 You would think this 850 would be powered by an 850 cc engine, but this '72 actually has a 903 cc engine in the boot. With 52 horsepower the top speed is around 90 mph, which is far faster than you would ever want to go in an 850 Spider. The seller hasn't tried to start the engine yet, but states that the previous owner tried to without any success. They claimed it wasn't getting power to the starter. It could be as simple as installing a new starter/solenoid or the engine could be seized and will need to be pulled out and rebuilt/replaced. I would definitely ask the seller to at least try turning it by hand before bidding. With a current bid already over $4k, you are going to want to make sure the engine isn't seriously damaged.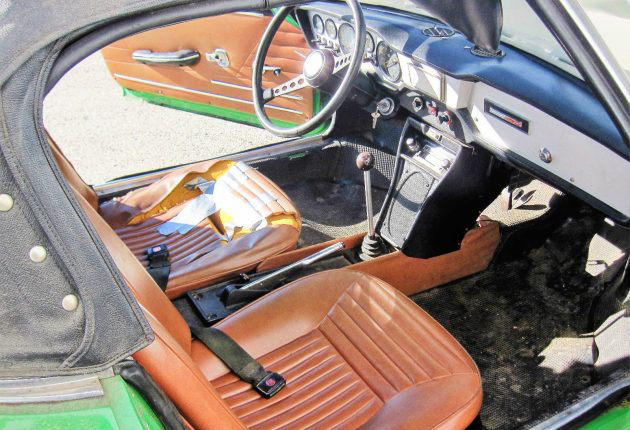 The interior is also going to need some work. The dash looks to be in great shape, which is a major plus. It's going to need a new seat cover and seat foam on the driver's side. The passenger's side doesn't look bad and could probably be left alone. A good cleaning would go a long way to improving the overall appearance of the interior. I really like the gauge layout and shifter in these, it looks quite sporty for a budget Italian. Again, it would have been wise for the buyer to clean things a bit, so we can see how the rubber and plastic bits are looking after all these years.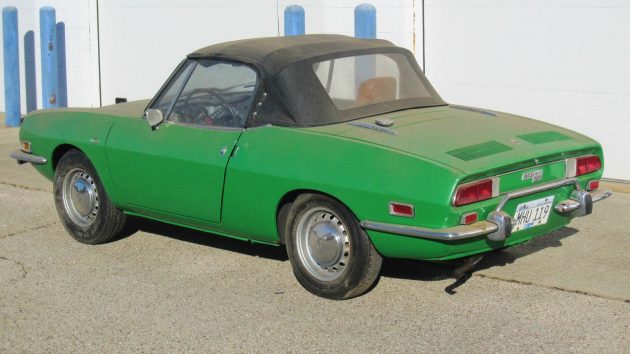 While I might seem overly critical of this car, I actually really do like it. I love the color, the 903 is a solid little engine and I even like the frog eye style head lights of these later cars. I just have lots of experience fixing poorly done rust repairs on my Fiat, so I've learned to be cautious with these cars. They can be great fun, are actually easy to work on and parts supply has greatly improved over the past few years. If the engine turns by hand and there isn't any rust in the floors, I think this could actually be a fantastic buy, but I would want to check it out closely just to be safe. So, would you have the courage to test out the claimed top speed?