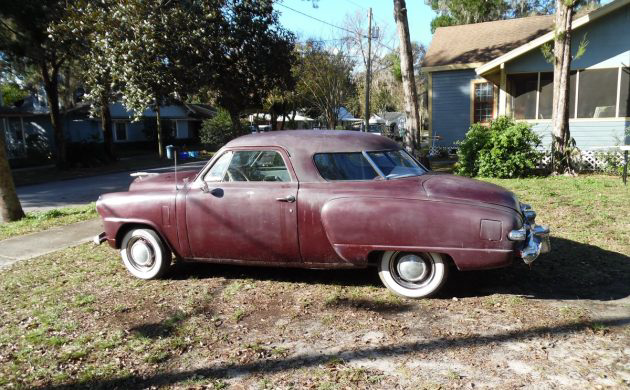 When Studebaker debuted the fully redesigned Champion in 1947, it made one heck of a splash. The styling was unlike anything else on the road, there were plenty of jokes about whether the car was coming or going with its unique rear window. While it might have been the butt of a few comedians' jokes, it helped Studebaker stay relevant and influenced automotive design for years to come. Reader Walter L has this 1949 Studebaker Champion Deluxe Starlight Coupe (could they have come up with a longer name?) running and driving after having spent much of its life in the original owner's barn. It still needs work but looks like a fun project. If you'd love to have it, you can find it in Dunnellon, Florida and you can contact Walter about it via the form below.
Seller's Description: 30 years barn storage by original owner. Note From Editor – The Studebaker Champion is without a doubt one of the most polarizing and futuristic designs of the '40s. That alone makes this Starlight Coupe special, but it's also a running and driving 70 year old classic.
Price: $$7,800
Location: Dunnellon, Florida
Mileage: 78,400
Title Status: Clean
VIN: G463449
Body Condition: The body is rust free with no signs of repairs, no dings or dents. It is a very solid car. It has a nice newer interior (NOT original). The chrome trim does have some pitting, but the stainless trim good. The glass is good, but both vent windows are smokey. The paint is faded, maroon, but could be refreshed. It also has the underseat heater and A.M. radio (not working?).
Mechanical Condition: The engine is a strong 177 C.I. 6 cylinder. It's paired to a three on the tree with O/D. The car drives, handles and shifts well. The brakes work well. The fuel tank should be flushed (35-year-old gas) and is operating now with an external tank. The tires are in fair condition with good tread, but cracks. Wheels have "beauty rings" option, which currently cost $500/ set of 4 to replace.
This was the first year for the Starlight Coupe name, prior to '49 they were called the 5-passenger coupe, and the last year prior to the redesigned bullet front end. While '51 saw the introduction of the V8, if we were going to buy a Starlight, this is the one we would want. The inline six is a good engine and the front end looks fantastic! So, will you be cruising town this summer in this Studebaker?
Do you have a unique classic that needs a new home? Please consider listing it with us here on Barn Finds!
List your classified here on Barn Finds!