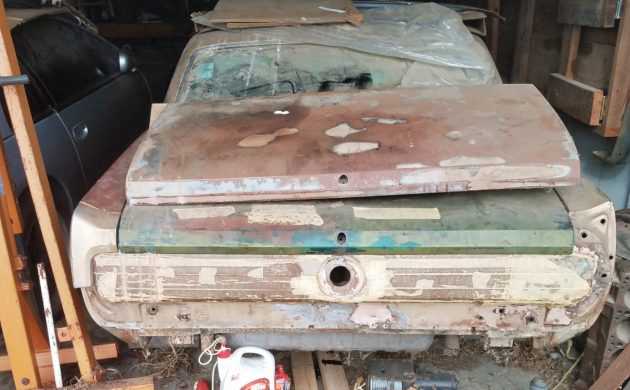 Reader Michael M saved this Mustang notch back from going to the crusher about 20 years ago. It needed a ton of work and over the years he's been working on fixing it up. He installed a fresh Police Interceptor 302 V8 in it and serviced the transmission, but other obligations limited his ability to finish the car. It's time to let this project go, so if you'd love to take it on, you can find it in Cedar Park, Texas for $5,000 and you can message Michael about it via the form below.
Seller's Description: This car was originally parked in a goat pasture in Liberty Hill, Texas by the original owner and subsequently sold to a salvage yard, headed to the crusher. I stepped up and bought it about 20 years ago. I have been working on it on and off, between taking care of my parents. My money pretty much went for their care. I have to sell it to pay off the rest of their bills, as they are no longer here.
Price: $5,000
Location: Cedar Park, Texas
Mileage: 68000
Title Status: Clean
Body Condition: The basic body is solid, but the passenger side floor pans need to be replaced. It is a 50+ year old car and will need a ground up restoration.
Mechanical Condition: The engine is from a police interceptor ( 302/5.0). The C4 transmission has been gone through with new clutch packs, seals, etc… The engine bay has been repainted and a new wiring harness installed. The brakes are brand new with only a few miles on them before the car was parked. A new stainless steel fuel line was also installed with the rest of mechanical freshening up.
Access to get photos is a bit limited, but Michael did his best to get photos of all the major parts of the car, so be sure to take a close look at the photos below. It's definitely going to need a complete cosmetic restoration. If the rust really is limited to just the passenger's side floor, it wouldn't be too difficult to get ready for paint. It looks like all the major parts are present and reusable. After finishing the bodywork, some paint and a new interior and this would be one fun machine. So, if you're interested in buying it, be sure to message Michael about it!
Do you have a project that needs a new home? Please consider listing it here on Barn Finds!
List your classified here on Barn Finds!