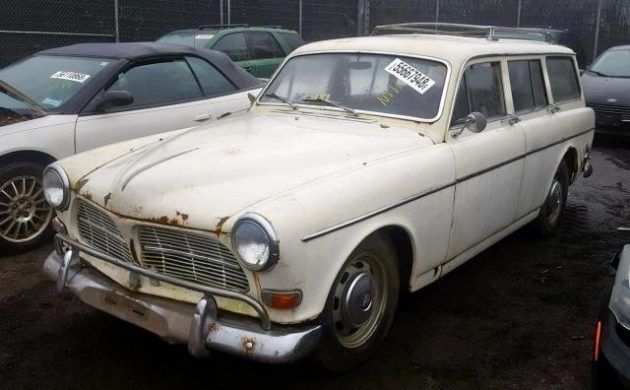 If you are into quirky, but durable classic cars, the Volvo 122S really should be high on your list of vehicles to own. The Amazon, as they are commonly called, is an icon to dedicated Volvo fans and for very good reasons. These cars have proven to be incredibly tough and have been used for everything from police duty to off-road rally racing. Well, reader Mike D found this relatively rare 122S Wagon and just had to buy it, but other projects demand his attention, so he's decided to let it go. It's going to need plenty of work to be a nice driver, but it could be a fun project. This Swede is currently located in Tampa, Florida and you can contact Mike via the form below.
Price: $4,500
Location: Tampa, Florida
Title Status: Clean
VIN: 40048
Seller's Description: This is an unrestored station wagon model with a solid frame. I found this Volvo at the Charity Company in Washington, DC and couldn't pass it up. I would say it's about 95% complete, maybe a couple of trim pieces missing here and there, but most everything is there. Since I've already restored a 122S previously, I've decided to let this one go to make way for other projects. There are some spare parts left inside by the previous owner. I have a clean title in hand and I'm actually working on getting it running, but I'm listing it as is and not running at the moment.
Body Condition: Some rust spots, but the body and frame are solid. It looks like the paint is original, but it's going to need to be restored.
Mechanical Condition: Not running at the moment. The 4-cylinder engine is paired with the optional 4-speed transmission. It has bad brakes and clutch master cylinder, so take that into account for transportation.
Given the car's previous location, it would be nice to see the underside of the car. It would also be good to see the data plate to confirm that the car has the 90 horsepower B18 engine. Overall, it could be a good project if Mike can get the engine running and the car moving. Having some experience with these cars, we recommend checking the rear axle to make sure there's no damage to the hubs, as it can make servicing the rear brake difficult if they are. Thankfully, the Volvo community is extremely friendly and willing to offer advise and help to a fellow Volvo owner that's in need! So, do you have any fond memories of cruising around in a Volvo 122S Wagon?
Be sure to contact Mike with questions or your best offer via the form below. And, if you have a classic project that needs a new home, please consider listing it here on Barn Finds!
List your car here on Barn Finds for only $50!
 
Have something to sell? List it here on Barn Finds!