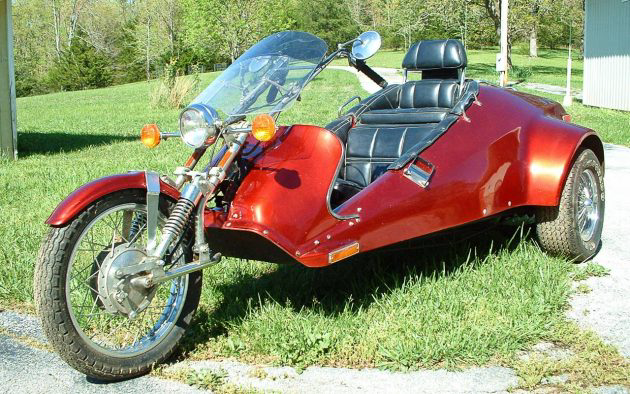 Update 6/16/17 – After having a buyer back out due to sudden heath problems, Glenn has decided to lower his asking price to $5,300! He also sent over photos of the Sprint parts car, which can be seen below. It actually looks decent enough to be a reasonable project car, so be sure to take a look at it too!
Now this is a rare and unusual find! And it's rather fitting given the other day's Runway Find. These three wheeled Rupp Centaurs are quite rare, just 1,200 were built. When they came out in '75 they were so unique that even Elvis had to have one! Well, this one didn't belong to the King, but it actually looks a lot like the one he owned. Reader Glenn E had big plans for his Rupp, which involved swapping the engine for something a bit more powerful, but life has gotten in the way and he has to let it go. If you'd love to have this rare three wheeler, he is asking $5,500 and it can be found in Ava, Missouri. You can contact him about purchasing it via the form below!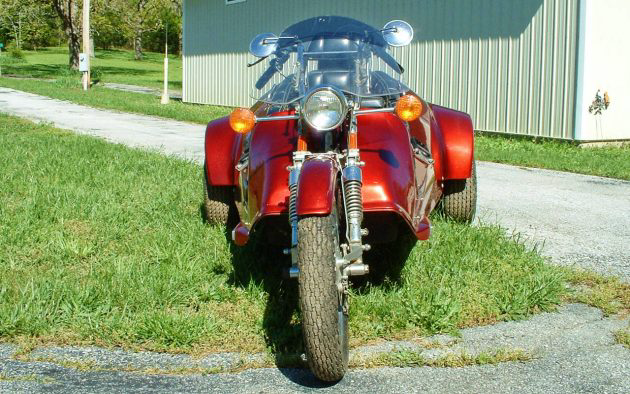 From Glenn – 1975 Rupp Centaur – I have the original rain cover for the interior which will make a good pattern, and the original trunk insert. The present engine is a Kawasaki 440 – 2 cycle in place of the original Rupp 440 – 2 cycle engine. It is not running due to sitting. Lot of extra parts including: two triple trees, one is on a cut off front frame piece, two radius rods, front fairing, trunk lid, two front fenders, one with mounting pieces, two sets of handlebars, set of shocks, gauge panel with gauges and controls, some wiring, headlight, gas tank and more.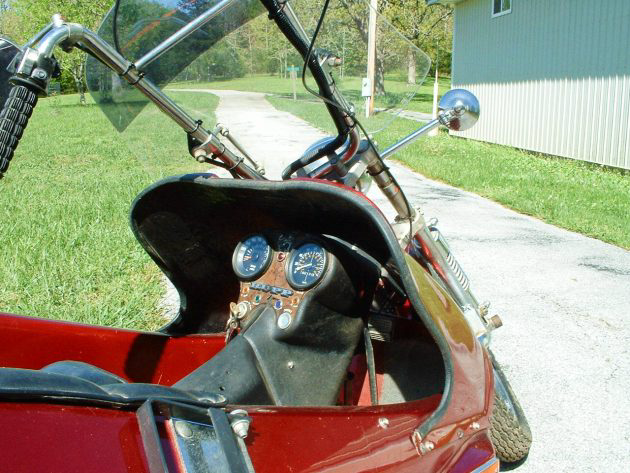 I was going to put a 1988 Chevy Sprint turbo 3 cylinder engine in it, if you want to do the same it is available. The history I have is only word of mouth, It was purchased new in Minnesota the owner changed the engine and parked it, I purchased it from the next owner, and bought it to Missouri, purchased a salvage vehicle (the Sprint)  with 2 engines, life got in the way, health problems etc. I would like this to get back on the road, and realize I will not get it done!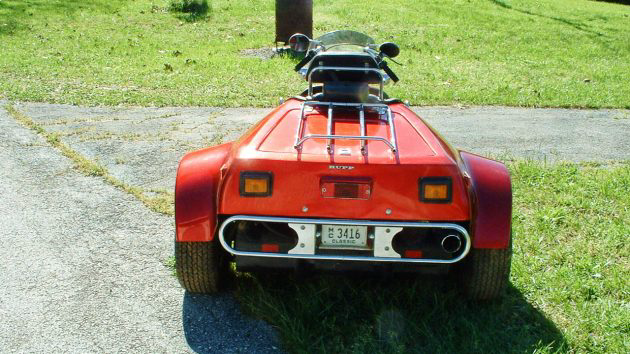 The Chevy Sprint turbo engine would be a massive step up in performance from the Rupp or even the Kawaski engine. The original engine was actually a Kohler two stroke. While it was definitely fuel efficient, it wasn't particularly powerful and it had serious reliability issues. Rupp originally designed these to use a VW Beetle engine and transmission, but they weren't ever able to make the deal work. Glenn will include the Sprint and all the parts that are with it for an additional $1,400. I know that's quite the jump in price, but the Sprint's Suzuki built 3 cylinder is good for 70 horsepower and 80 foot pounds of torque. That's not earth shaking power, but for something as light as this trike, it is more than enough power to get into trouble.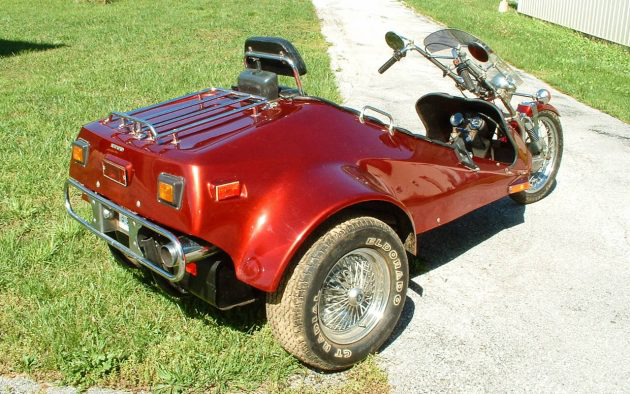 We don't get any photos of the parts car or the spares. If the Sprint is solid and not seriously damaged, it might actually be worth reviving it. They are getting quite hard to come by these days and while they aren't valuable enough to fully restore, if it's complete it would be worth fixing up! And if the spare engine is complete and in good shape, you'd still have an engine to install in this Centaur. I like the idea of having more power in this three wheeler, but I would want to reinforce the body before adding any more power (these were known to develop stress cracks due to body flex). It looks to actually be in great shape, so you might even want to leave it alone and just drive it! So have any of you ever experience one of these Rupps?
Special thanks to Glenn for listing his Rupp with us! If you have a cool oddball like this that needs a new home, please consider listing it with us!
Asking Price: $6,900 for Rupp with parts car/$5,300 for just the Rupp
Location: Ava, Missouri
Mileage: 2,131 on Rupp/90,135 on Sprint
Title Status: Clean