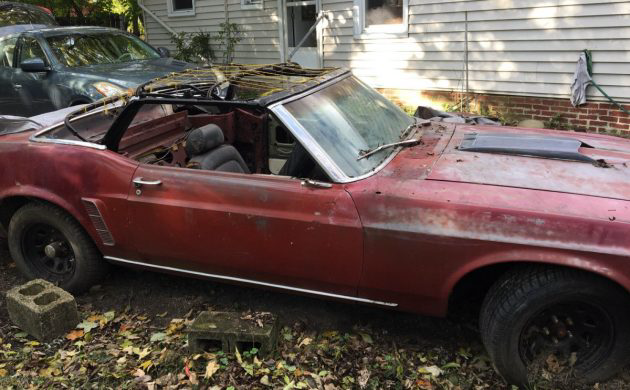 Sometimes the sentimental connection to a vehicle can far exceed its monetary value. That may or may not be the case here but the seller indicates this Mustang has been passed around the family and is now being sold after the passing of his brother. The ad does not give many details and the seller admits he is not a car guy, hopefully, this car is worthy of a restoration. Find it here on eBay in Cincinnati, OH with a starting bid of $3,000.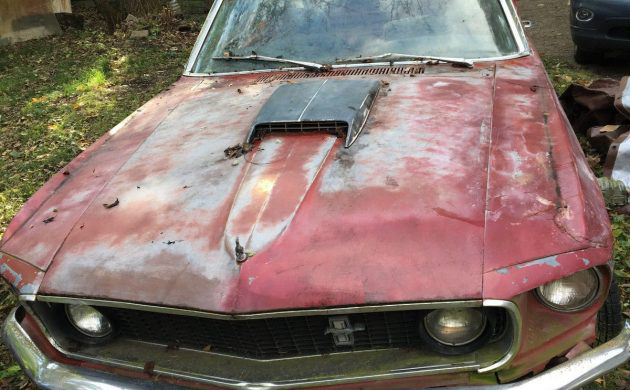 This car needs work for sure and the buyer will have to perform a full restoration which will be very costly and more than likely not be a good investment. 1969 is a popular year for the Mustang and the fact that it is a V8 convertible does add to the appeal. The '69 Mustang is very recognizable with a more aggressive front grille design and quad headlights that were used one year only. All of the trim in the front end looks to be intact and the grille seems to be in decent shape.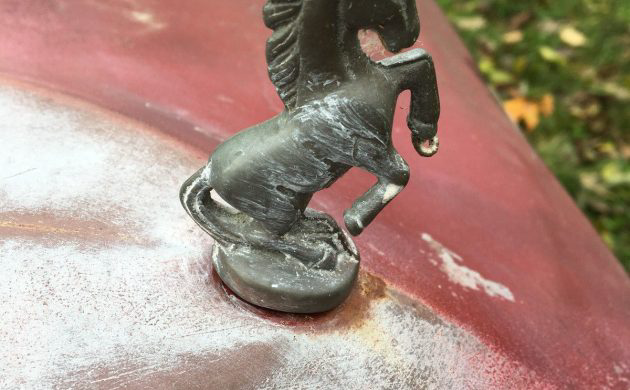 While on the subject of the front end, the hood is interesting. The scoop on the hood looks similar to a Mach One hood, but there are no external hood latch pins like the Mach Ones were equipped with, Mustang experts please give your input on that detail. The hood ornament is another area of interest, it's not factory but it is a cool touch, I wonder what the story is there. Maybe a period accessory?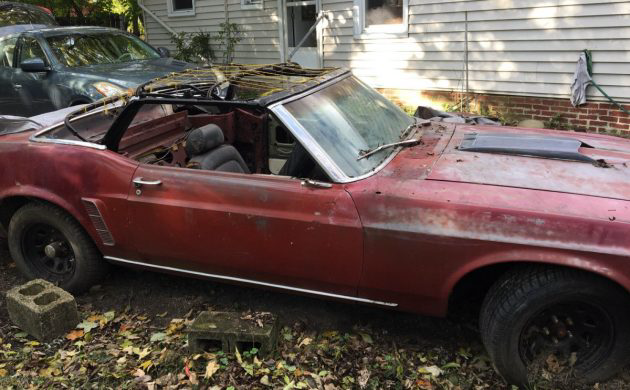 There are very few details in the ad, the car was shipped from Las Vegas to Ohio and put into storage. It sounds like the car was covered up outside. Rust is a problem with Mustangs and outdoor storage with a convertible is a recipe for disaster. The top and interior are obviously shot, let's hope the floor is good. Most of the trim looks intact and there is not any major visible rust from the limited pictures, the wheels would look better on a Jeep but at least it should roll.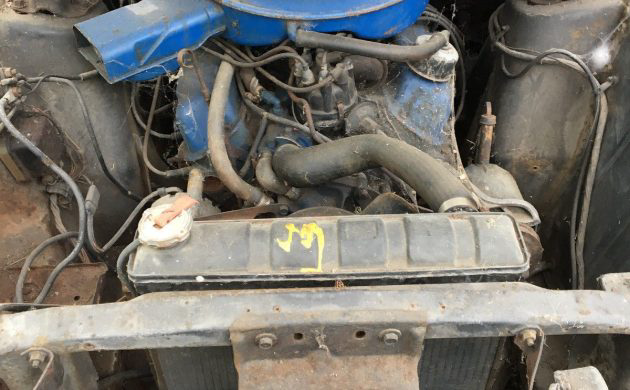 Under the hood, we have a 302 2V V8 which produced around 220HP from the factory. The engine was last running in 2012 and there is even a link to a video of the event, at that time the car was running on an external gas can so the car has been off the road for a while for sure. Hopefully, this car will be saved, but with the cost of a restoration, I'm not so sure it will. The asking price is reasonable if the rust hasn't taken over, I can't remember the last time I saw a '69 convertible on the road so maybe someone will make this a labor of love and enjoy it for many years.
Have something to sell? List it here on Barn Finds!