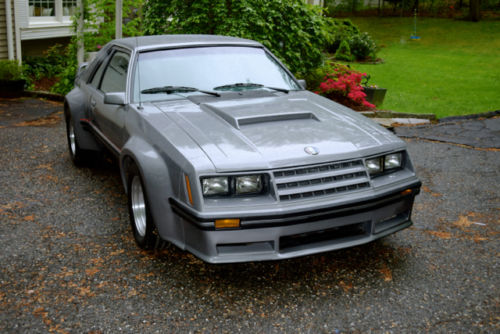 Though I usually prefer GM's F-bodies and Mopar's E-bodies, I do have a soft spot for Fox-body pony cars. Usually I look more at the 1987 to 1993 Fox-body Mustangs, but more recently the 1979 to 1986 Mustangs have caught my eye, especially the rarer models. This 1982 Ford Mustang GT not only features the GT package, it also features the rarely-seen IMSA flared wide body. Find it here on eBay in Brookfield, Connecticut, with a little less than five days left to bid.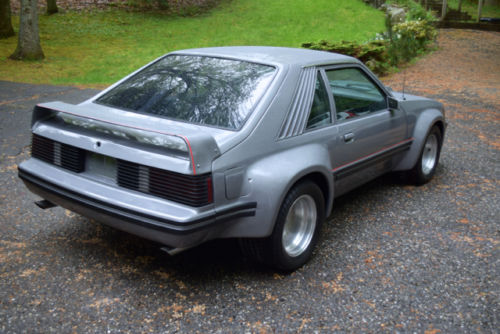 After being redesigned in 1979, the Mustang went through an unusual period for 1980 and 1981, perhaps suffering an identity crisis or something along those lines. By 1982, however, the Mustang recovered its identity and its dignity with a slew of upgrades and new options. One of those new options making a return was the GT package, which had returned after a 13-year hiatus. Conceived to replace the former top-model Cobra, the GT included the front air dam with fog lamps and the rear spoiler from the '79 Pace Car and the 1980 & 1981 Cobras, as well as  the smaller 1979 Cobra hood scoop on its hood. Only four colors were offered on the GT model and they consisted of Dark Red, Bright Red, Silver (the featured color on this car), and Black. Featuring a base price of $8,397, 23,447 Mustang GTs were built out of 130,418 Mustangs overall.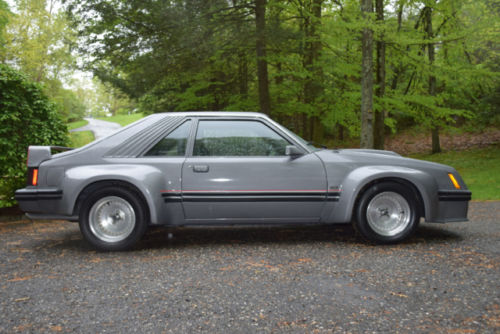 In addition to featuring the GT package, this Mustang features the rare IMSA package. Featuring a flared wide body and various appearance and handling packages, the IMSA Mustang is a rare sight today, and the only other one I've seen was for sale back in 2015. At first glance, this Mustang appears to be in great shape, and factoring in the flared wide body and the subtle gray color, the appearance screams aggression. I personally would swap the Centerline-style wheels for a set of BBS mesh wheels similar to the Mustang IMSA GTO race car wheels, but otherwise I would leave the rest of the exterior as-is, save for a set of stickier tires for the BBS wheels.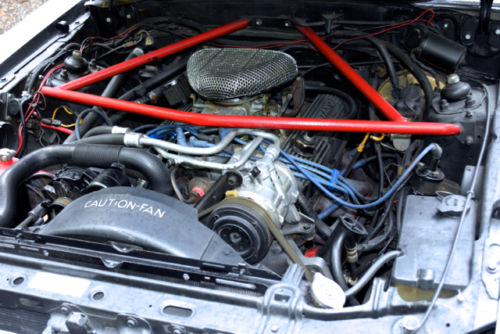 After a three-year hiatus, the 302 returned under the Mustang's hood for 1982 as an option, though it was standard for the GT. Rated at 157 horsepower and 240 lb-ft of torque, this GT's 302 is backed by a T5 five-speed manual transmission and, featuring the IMSA package, also benefits from 3.55 gears and a Koni suspension. At some point, the Mustang's 5.0 air cleaner was replaced by an aftermarket mesh one, and the engine bay bracing looks to be aftermarket as well. Since the 1982 5.0 is not much on power, I would throw a bunch of speed parts at it, swap in a stock 5.0 air cleaner, either paint the bracing black or source new black bracing, and build this Mustang as a corner-carving muscle machine.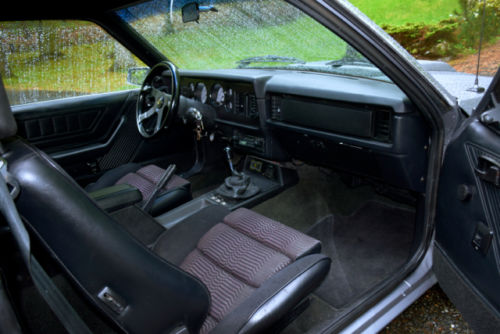 Aah, nothing like an early-1980s muscle car interior. Arguably the nicest part of the car, this Mustang GT IMSA's interior features a four-point roll cage, Recaro front bucket seats, a four-spoke sport steering wheel, and a short-throw Hurst shifter. I like the cloth inserts on the front bucket seats, and the IMSA interior modifications enhance the overall aggressive look. The interior appears to have little to no wear, and though I prefer manual windows, the power windows are still a welcome addition. Overall, this car is a unique and unusual sight to see, and though bids are high right now, the owner has another IMSA Mustang that is also for sale, and can be sold with this car as a package deal. What are your thoughts on this rare, unique Mustang GT IMSA?