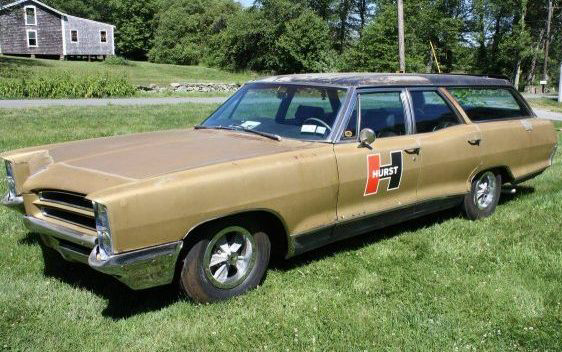 In terms of 1960s and 1970s American car culture, it seems that muscle cars and Hurst go hand-in-hand pretty well. Famous for its shifters and other high-performance parts, Hurst worked very closely with the Big Three of Detroit (GM, Ford and Mopar), but it especially had a nice working relationship with Pontiac. This 1966 Bonneville station wagon was not only purchased and built up by Hurst, it was originally sold by Royal Pontiac in Royal Oak, Michigan, and is loaded with rare and desirable options! Find it here on Hemmings in Little Compton, Rhode Island, with an asking price of $22,500.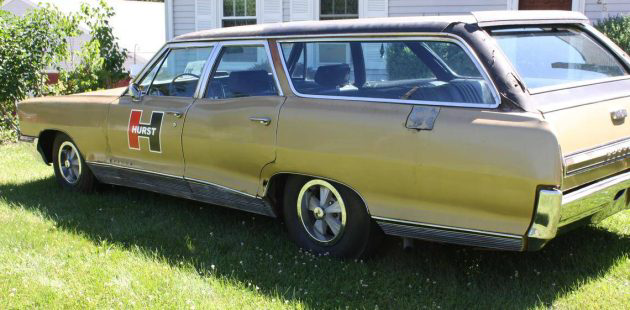 Hurst Performance, Inc. (originally Hurst-Campbell) began as an auto repair shop in Warminster, Pennsylvania when George Hurst (founder of Hurst-Campbell) was a young man. Initially, Hurst-Campbell started out manufacturing large aftermarket bumpers for Volkswagen buses; after VW began making its own large bumpers for the VW Bus, Hurst shifted (no pun intended) his business to shifters and shift knobs beginning in the early '60s. After gaining national exposure and notoriety in drag racing and custom car culture, Hurst began to work closely with Detroit's Big Three by fitting its shifters into the Big Three's high performance offerings. Hurst's relationship began with Pontiac around 1964, when Hurst's His 'N Her automatic shifter was available in Pontiac's full-size muscle car, the 2+2. The following year, Hurst decked out a 1965 GTO with special Hurst Gold paint, Hurst mag wheels, and a gold-plated Hurst shifter. Nicknamed the GeeTO Tiger, the loaded GTO was given away in a contest where participants had to listen to the song "GeeTO Tiger", featured on a special album recorded by "The Tigers", and count the number of times the word "tiger" was mentioned. Participants then had to write a 25-word paragraph on why he or she would like to be the winner of the grand prize GTO (the eventual winner was 19-year old Wisconsin resident Alex Lampone). This 1966 Bonneville station wagon was purchased by Hurst-Campbell from Royal Pontiac in Royal Oak, Michigan, and was subsequently modified by Hurst with gold paint, Hurst mag wheels, and other minor visual tweaks. At first glance, the car is a little weathered, but not in terrible condition. There is some rust on the car (the worst being the rear cargo area floorpan), but can be addressed fairly easily (though the cargo area may be a bit tricky). The vinyl top has seen better days, and there is a little rot-through on the pillars by the rear tailgate. Otherwise, the paint is a little faded, but still presentable, and the bumpers and rocker panel trim are in real nice shape. I would swap the generic blackwall tires for a set of black wall bias-look radial tires, fix the rust, touch up the paint, polish the Hurst wheels, and source and install a new vinyl top.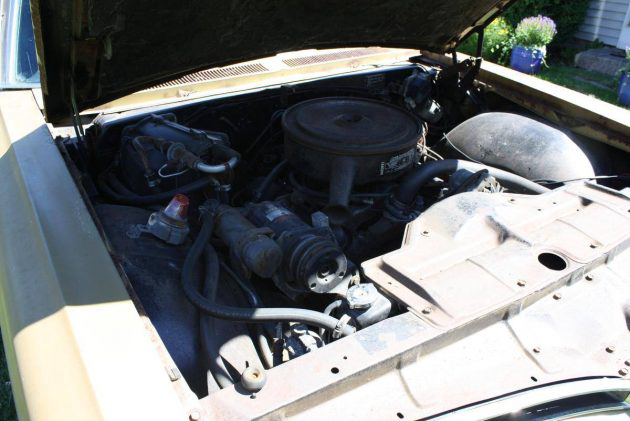 Though I would have preferred a 421 Tri-Power V8 in this wagon, the car is still equipped with the capable 389 4-barrel V8. Rated at either 325, 333 or 335 horsepower and 429 (325 0r 333 horsepower) or 431 (335 horsepower) lb-ft of torque, the 389 4-barrel is no slouch, but since this car is originally from Royal Pontiac, I think an engine buildup to Royal Bobcat specs would suffice. Backed by a three-speed TH-400 and spinning a Posi-Trac differential, this wagon, though heavy, should have plenty of pickup, and the seller says the car runs and drives well. I would build up the engine as previously stated, add a Gear Vendors overdrive to the TH-400, and detail the engine before venturing off for long, smoky burnouts on a quiet, straight road.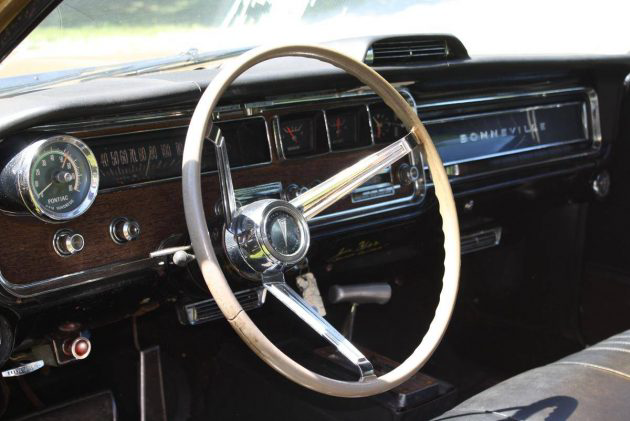 As stated by the seller, this Bonneville wagon is loaded, and the interior is no exception. Optioned with a three-spoke sport steering wheel, factory air conditioning, the rare factory tachometer (mounted to the left of the horizontal speedometer), and power windows. The car is also fitted with a Hurst Dual-Gate shifter with a T-handle grip, and the underside of the dash is signed by Jim Kerr, aka the "Shifty Doctor". There is also a Hurst sticker mounted inside the glove box door. Inside, the interior will need restoration, with a cracked dash and steering wheel, minor scratches and dulling on the chrome tachometer surround, torn door armrests, tears in the back of the front seat, misaligned power window switch operators, and missing headliner in the rear cargo area. I would carefully restore the interior as necessary, leaving the signature and sticker intact, and swap the T-handle for a black or white Hurst shifter ball. Overall, this car is going to need some moderate cosmetic work before it becomes show-worthy, but I would be tempted to show the car as-is before doing so. Afterwards, I would touch up the necessary areas, restore the interior, build up the drivetrain a little for high-performance and reliability, and show this wagon at the Hurst Nationals in Carlisle and MCACN in Illinois. What are your thoughts on this rare, one of a kind Pontiac Hurst station wagon?
Note from the Editor: We featured this wagon back in 2012, when it was being offered on eBay with a BIN of $12,750. You can read our previous post here.