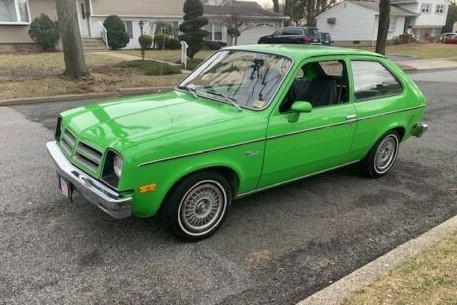 There's a song by Christian singing group Audio Adrenaline titled "Chevette". When I first found it, I thought, why would a Christian group be singing about a Chevette? The song came out about 1998, over 20 years after the car was introduced. The lyrics mention how the singer's father was a preacher, but he was a "rich poor man". His dad came home with a new car, a Chevette, about the only new car he could afford. The song tries to convey the message that we should be content with what we have. As the song goes on, he mentions "now it is up on blocks". This car did not receive the same fate as the car in the song. It is a true survivor with only 5,830 miles. Here is a 1976 Chevrolet Chevette 2 door hatchback for sale here on eBay in Paramus, New Jersey. Thanks to Barn Finds reader Jim S. for bringing this car to our attention.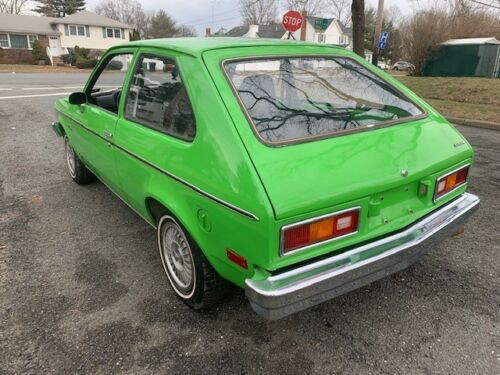 In 1976, if the Chevette wouldn't grab your attention, this color, Lime Green, would. Oh wait, it was 1976, colors were actually available in hues other than black, grey, white, and red. The paint is original so the buyer should expect some minor chips. There's also some discoloring where the hood, left front fender, and A-pillar meet. This Chevette wears optional sport wheel covers. The car has been garage kept and has only had one owner since new. As the eventual replacement for Vega, in its first year, the Chevette outsold that model with sales of 187,817 to Vega's 160,523. It was also smaller than Vega by 16.7 inches in length and weighed about half of what a 1976 Malibu Classic did.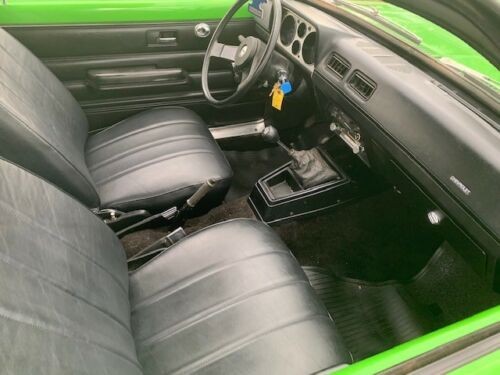 The interior, as expected, is pretty basic. It does have carpeting and black vinyl bucket seats. This car also has a 4-speed manual transmission shifter mounted in the floor. The exterior's Lime Green color extends inside to the top of the doors, rather than the vinyl door covering extending to the door top. This Chevette has a remote control driver's mirror. There is no mention if this car has air conditioning, so I would assume it doesn't, even though it has center vents. The interior is very clean.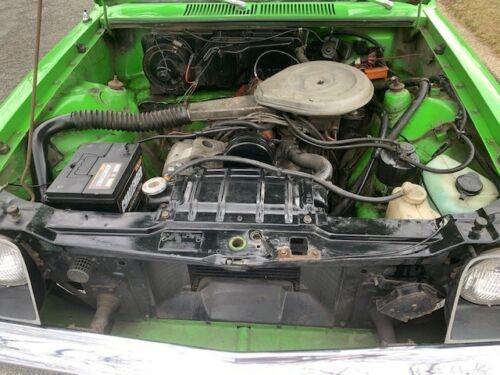 Now I've figured out why American cars converted to liters from cubic inches to describe their engines. That would be to confuse us so we wouldn't realize just how small the engines were, thinking we all had trouble converting from metric to US customary system. This Chevette is powered by a 4 cylinder OHC engine, either the standard 1.4 liter (85 cubic inches) or optional 1.6 liter (97.6 cubic inches), no mention which. It has a new alternator, timing belt, and battery. It starts right up, runs, and drives fine. As I write this, the Chevette has 28 bids up to $3,000, about the price you could have bought one of these new without options. Anybody up for a Chevette far from needing to be put up on blocks? Get bidding!
Have something to sell? List it here on Barn Finds!