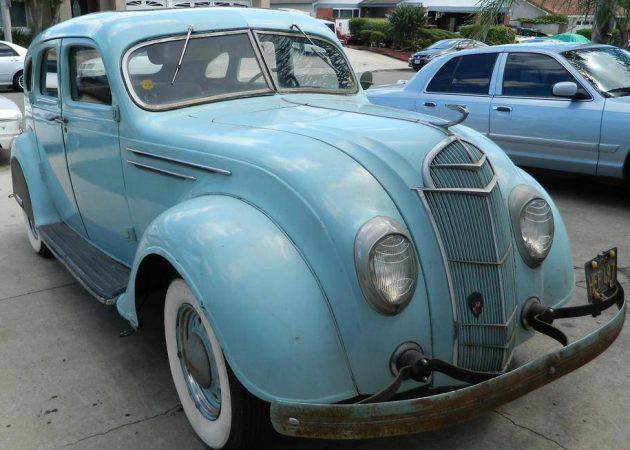 I've never understood why Chrysler's Airflow was so hated by people back in the 1930s; I've always dug its aerodynamic styling and unibody construction, which was light years ahead for its time. This particular Airflow is a 1935 Desoto SG, and though it has been parked since 1982, it appears to be in fairly decent condition. Find it here on Hemmings in Mission Viejo, California, with an asking price of $13,500 obo.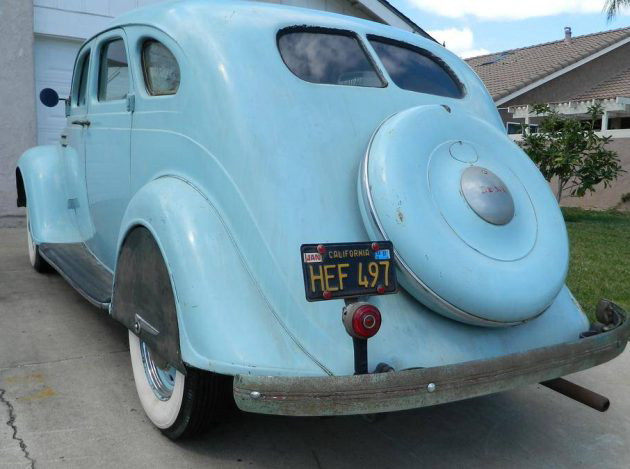 The Desoto Airflow's history can be traced back to to a concept car built by Chrysler back in the late 1920s. Carl Breer, Fred Zeder and Owen Skelton (referred to as Chrysler's so-called "Three Musketeers"), all three of which were a part of Chrysler's engineering department, noted that "both migrating geese and military aircraft flew in "V" patterns to optimize aerodynamics." Convinced that aerodynamics played an integral part in the process of automotive design, Breer consulted aircraft engineer Bill Earnshaw and Orville Wright (one-half of the renowned Wright brothers), and built a wind tunnel, albeit a crude one, specifically fueled towards designing Chrysler's next line of automobiles. After tests of conventional automobiles available at the time created huge amounts of drag (due to its upright design and body-on-frame construction), Breer discovered that a "body reversed on the chassis" and shaped "like the rigid airships of the day" would allow for easy air passage around its pointed nose, which made for a more aerodynamically-superior car. The problem was, despite the enhanced aerodynamics, styling was still a priority for car buyers at the time. A compromise came in the form of the 1932 Chrysler Airflow Trifon concept, which was kept on the hush-hush due to fear of public scrutiny. In 1934, the Airflow made its debut as both a Chrysler and Desoto model, with Desoto solely marketing the Airflow as its only car.
This particular Desoto Airflow is a 1935 SG four-door model and, with an original base price of $1,015, is one of only 6,269 SG sedans built for the 1935 model year. Overall, the body appears to be overall solid with only the passenger-side rear fender being a minor concern. Both bumpers appeared to have been painted at some point, so I would strip them down and have them rechromed. I would also have the grille and hubcaps refinished, and have the headlamp surrounds rechromed. The pastel blue is an interesting choice of color, but appears to be not factory-correct; Winchester Gunmetal or Platinum Gray would be a better-suited color. I would also ditch the wide-whitewall tires and swap in a reproduction set of black-wall tires.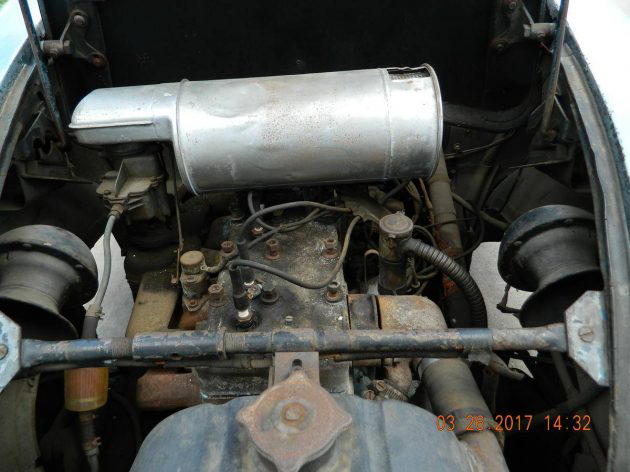 Powered by a 241.5 cubic inch flathead I6 rated at 100 horsepower and 185 lb-ft of torque (it was the only engine available in Desoto's Airflow), this car's engine is currently not running for unknown reasons. Backed by a 3-speed synchromesh manual transmission with overdrive, Desoto's Airflow can reach top speeds of 85 mph, so it can be driven just about anywhere once it is running again. I would inspect everything before an attempt of getting it running again, but from first glance it should not take too much for that to happen.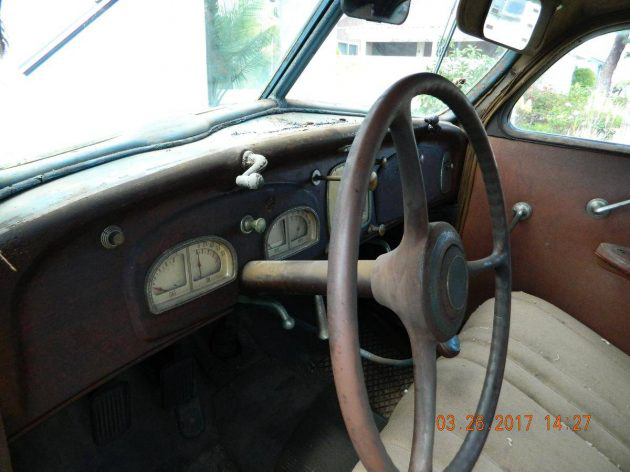 Though weathered, the interior appears to be original. The front seat does have some tears in it, so it'll need to be redone, as will the dash and steering wheel, and most likely the carpet and rear seat; the water spots on the rear package shelf and side panels in the back part of the interior indicate that those will need to be replaced as well. The odometer currently reads 07,286, but most like it has rolled over at least once. On the plus side, the gauges are in good condition, and the door panels look like they only need cleaning. I am curious as to what is on the floor in the back-seat area on the driver's side; it appears to be a speaker, but I have no clue what everything else connected to it is (if you know what it is, feel free to identify and explain it in the comments below). Overall, this car is going to need some mechanical and cosmetic work before it becomes road-worthy again, but once restored could sell for up to $50,000. I would restore it in either Winchester Gunmetal or Platinum Gray with an interior like this one. What would you do with this rare Airflow?