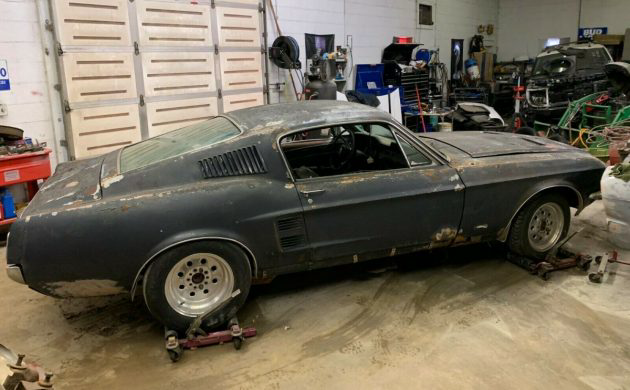 Ford enthusiasts have a definite advantage when it comes to researching and documenting the history of 1967-2012 Ford products. Original Ford documentation is available from an approved vendor to confirm the build date and supplied optional equipment at the time of production.  In Ford products, this helps out the investigative process for such things as determining whether the car is a real GT or not. Ford did not provide evidence of this package in either the VIN or data tag,  leaving it up to speculation as to whether it was a GT or not based upon options. No ambiguity exists in this featured car, the documentation shows a 67 fastback ordered with the GT package and an array of interesting options. Located in New Lebanon Ohio, it is listed here on eBay with two options, buy it now for $18,000 or best offer.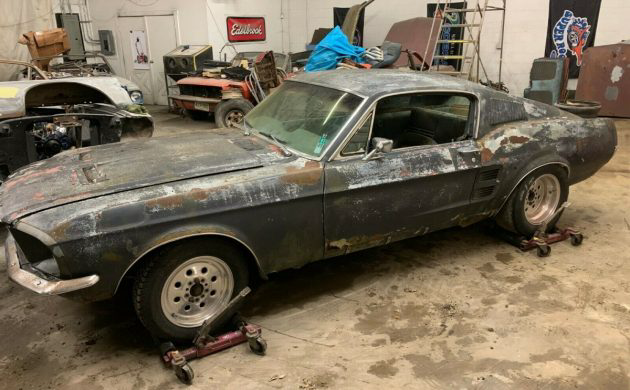 The location of the car is in a large shop with other early Mustangs, so clearly, the seller or shop owner is familiar with these cars and knows exactly what he has. He lists it as rare as verified by his documentation. Although this is somewhat true, those reports break down rarity by listing each option, mathematically eliminating different combinations. In an era when options could be ordered individually, there are a lot of possible combinations even with high production numbers. In fact, in 1967 this car could still be a GT with the 289  2 barrel carburetor, making it rarer but not necessarily more valuable than any other GT. The special or unknown paint code is interesting; it could have been a shade of gold based upon the interior.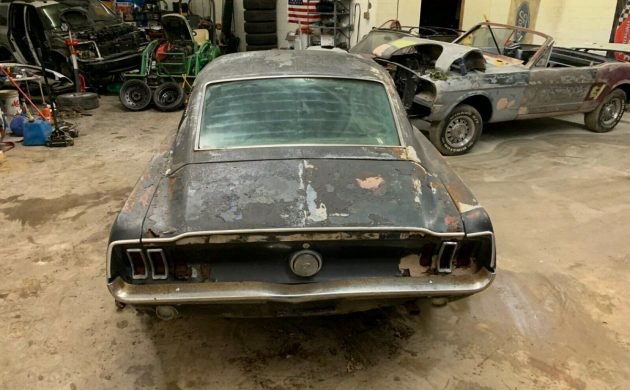 This project is an expensive entry point for the hobby. The seller admits floors, frame rails, and trunk all need replacement. Although not mentioned, the cowl is most likely rusted as well. This is a common failure causing water to leak on the floor.  A quick scan through the pictures will lead a buyer to believe a lot of exterior sheet metal will also need to be replaced.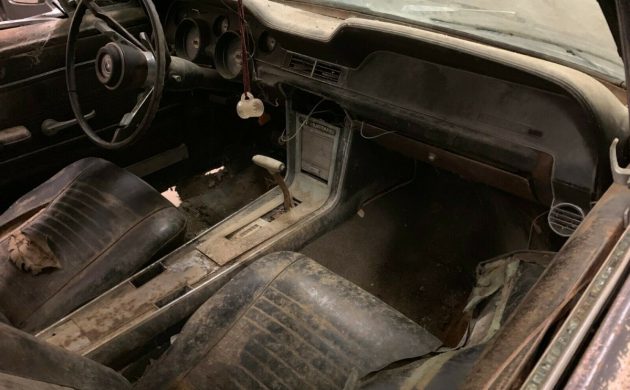 The good news about this car is much of the original equipment seems to present and accounted for. The interior, although badly weathered, is still intact. The engine is a 289, all original with the exception of the carb. Factory air is its associated equipment is still in place. The engine is said to "not run" and no indication given of why. However it looks like it was never disturbed, so a full rebuild is in order.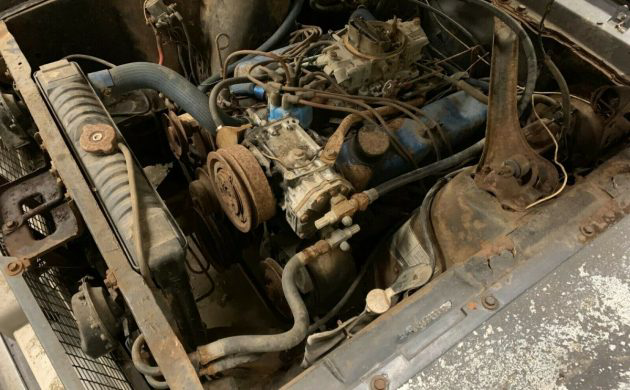 Obtaining replacement parts for an early Mustang are not the problem. They are one of the best-supported collector cars in the aftermarket reproduction, with almost all the necessary sheet metal, engine and interior parts available. The bottom line is I have a difficult time justifying the selling price unless the seller is willing to accept a significantly lower offer. Restoring this car would be a long laborious project; probably the owner of the shop has come to the same conclusion. Even though this car is complete, almost everything requires replacement or rebuild. Entire new fastback bodies have become available in the aftermarket, and transferring parts over may be an option. I myself don't know of the legality of transferring VIN's from a project car to one of these new bodies. Still another alternative would be to purchase a better car for more money but a lot less work. It could be the cheapest option in the long run. Have any of you tackled a project this big and come out ahead?