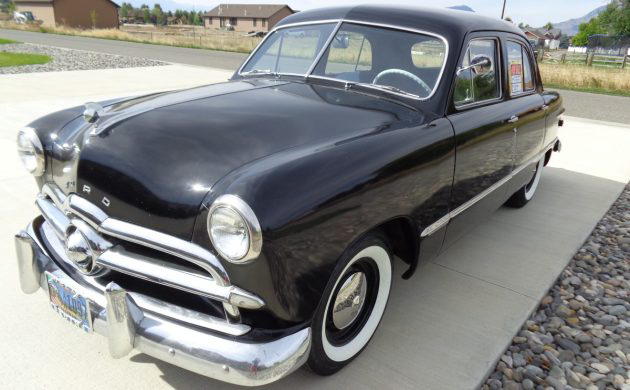 Most buyers want two doors, but if you are looking for a great classic that is affordable, fun and capable of hauling a few close friends, a classic four-door is a great option. Take reader Roger N's 1949 Ford Custom as an example. It looks to be a nice car with a flathead V8 that runs great. It needs a little cosmetic work but could be enjoyed as is. Roger is asking $7,500 or best offer for this Ford and it's currently located in Cody, Wyoming.
Seller's Description: This Ford was purchased on June 20th, 1949 in the little town of Cody, Wyoming, which is 52 miles east from Yellowstone National Park, from the Motor Sales Company. It has been in the Cody area all of its life.
Price: $7,500
Location: Cody, Wyoming
Mileage: 124,179
Title Status: Clean
VIN: 98BA634482
Body Condition: Body is very nice, looks like it has been re-painted many years ago, which is a very poor repaint job (patina type ). Seems to be mostly rust free, except for the lower rockers, looks like there might be some body-filler in these areas. Chrome and stainless are in fair to good condition. Interior is in good condition, all complete and all original. Will come with a new carpet kit from Trim Parts. New reproduction original style hubcaps are also included.
Mechanical Condition: The engine is a 239 V8 flathead, starts right up, runs very nice. The transmission is a 3-speed stick on the column, shifts very well, and there are no weird noises from the transmission. Brakes work very well with new wheel cylinders, master cylinder, and brake system was flushed out. Cooling system including radiator, water pumps, hoses, and belts are all new. New Coker tires are mounted on the original wheels (20 miles on the tires).
Seller's Listing: Here on craigslist
We recently featured a two-door Ford Custom and it's bidding is already considerably higher than Roger's asking price. Would it be fun to have the coupe? Sure, but it would be just as much fun to have this four-door! Plus, $5k+ premium would go a long way to making this car perfect (it would also buy some sweet speed parts for it). So, if you'd love to give this sweet Ford a good home, be sure to contact Roger via the form below!
If you have a classic that needs a new home and would like to sell it here on Barn Finds, you can read more about getting it listed here!
List your classified here on Barn Finds!