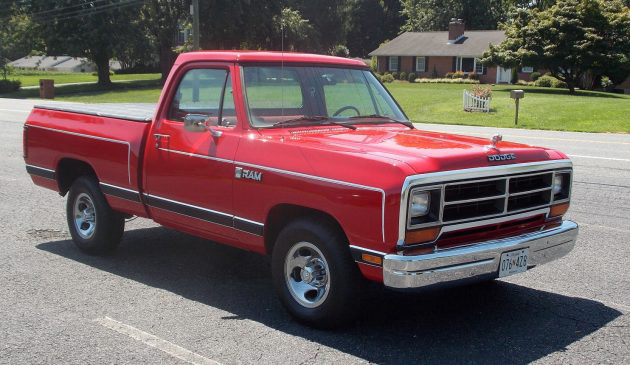 When I was a kid, my dad used to drive Dodge pickup trucks as a part of his fleet (he's a general contractor that works in southeastern Pennsylvania). From when I was four to thirteen years old, my dad owned five Dodge trucks: a 1983, a 1984, a 1987, and a 1988, and a 1974 Dodge D300 dump truck (aptly named Lousille). Eventually, he tired of Dodge pickup trucks, and switched to GM pickups. Despite this, I have a soft spot for Dodge pickups from the mid-1970s to early 1990s, and I've always kept my eyes peeled for a nice, affordable one. This Dodge D-150 is a 1987 model, and would be perfect as a shop truck and parts hauler. Find it here on eBay in Forest Hill, Maryland with reserve not met.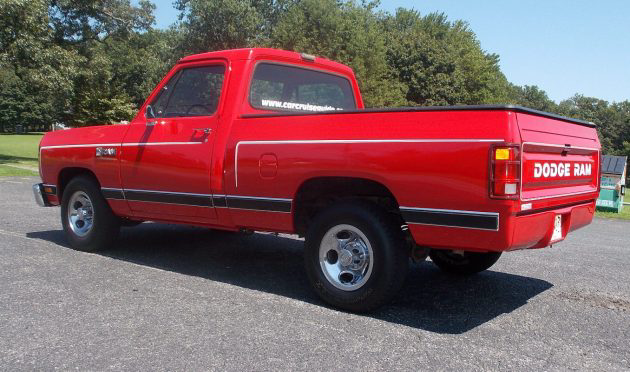 After Lee Iacocca took over Chrysler in 1979, Dodge's D-series pickup trucks was given a final facelift for its third generation. The facelift included an embossed "DODGE RAM" name on the tailgate, a new grille and hood, new taillights, and a slew of other visual changes. Furthermore, the body was also improved visually with addition of a "shoulder" line reminiscent of the GM competition, and starting in 1982, more corrosion-resistant steel was used in the construction of the trucks. This particular Ram is a 1987 D-150 (half-ton) model, which gained a new grille the year before in 1986, and was updated with minor visual changes. From 1987 to 2016, the truck spent its life down in Georgia (in a salt-free environment, no less) before being bought by the seller and brought up to Maryland. After being brought to Maryland, the truck went through a period of refurbishment, which included a new paint job and the installation of a new tonneau cover.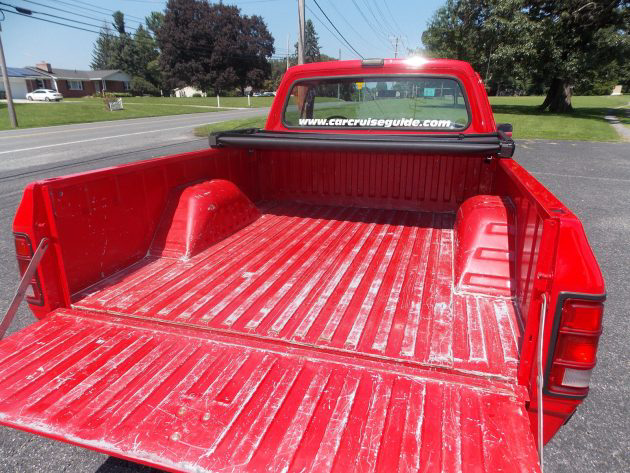 Unfortunately, the seller must have forgot to paint the inside of the pickup bed and tailgate, which is mired by a bunch of scratches. I would have them both painted to match the rest of the truck, and then take the necessary steps to protect them as much as possible. The red paint with the white pinstripes looks beautiful nonetheless, as does the skinny, tucked-in back bumper, which provides a muscular look to the truck. I would polish up the aluminum wheels a bit more and shine the tires to match the shininess of the rest of the truck.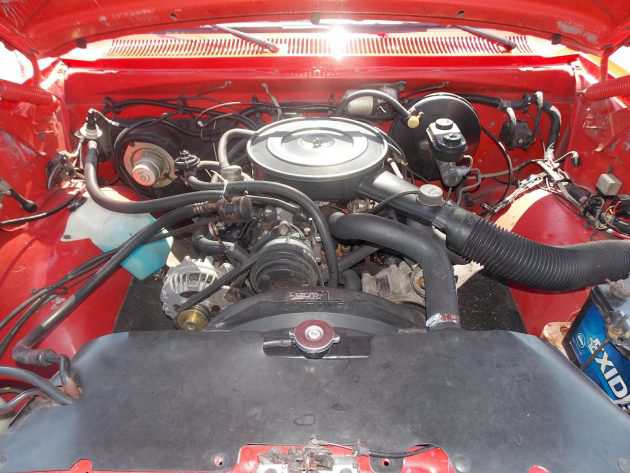 Though the 225 Slant Six was still standard for 1987 (my dad's yellow 1983 D150 was powered by it), this Ram is powered by the optional 318 V8. Featuring a two-barrel carburetor and backed by a three-speed Torqueflite automatic, the 318 V8 was rated at 120 horsepower and 250 lb-ft of torque. Visually, this truck's 318 looks to be in great shape, and benefits from recent maintenance that includes new hoses (the brakes were also serviced). The seller also posts a video of the truck being driven around recently, along with a photo gallery of the truck inside and out, which can be viewed here. I would build up the 318 by swapping in a four-barrel carburetor and throwing a bunch speed parts at it, install a dual-exhaust and a set of headers, add a Gear Vendors overdrive unit to the Torqueflite, and do some nice, smoky burnouts and cruising for a while before swapping in a built 360 or built 440 big-block.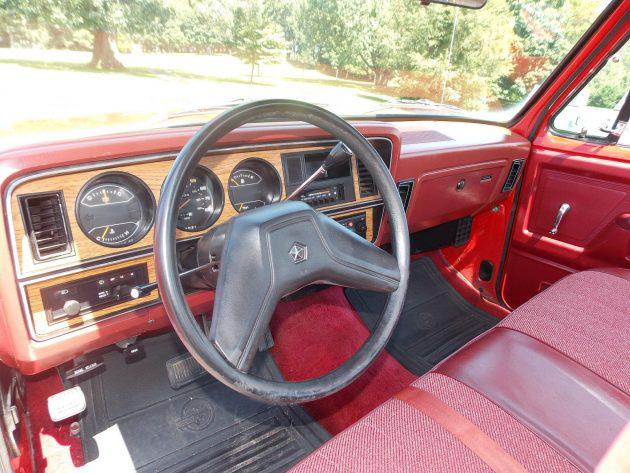 Inside, the truck is nicely spec'd with a red cloth and vinyl bench seat, red dash with woodgrain surround, manual windows with vents, air conditioning, and AM/FM radio. The seat has no tears or rips in it, the dash has no cracks, and the rest of the interior is in great shape; only the steering wheel with its wear on the grip is the flaw in this interior, but at this point I'm nitpicking. The seller says the A/C and radio work very well, and I love the manual windows with vent windows. The odometer reads 16,030 miles, but I'm guessing the odometer rolled over once. Overall, this truck would be a nice shop truck or muscle truck candidate that could be built up on the cheap; I could see a lot of burnouts being done once this truck is built up mechanically (if ever). What are your thoughts on this clean 1987 Dodge Ram D150?