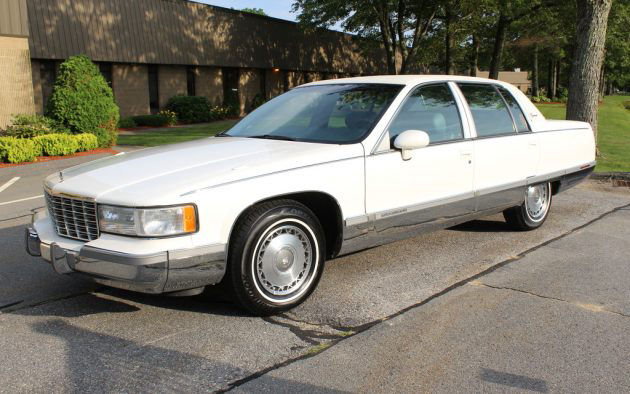 The 1990s was one of the great transitionary periods in automotive history, and although many of the vehicles produced during that time are now seen as dull or mundane, it is important to recognize the amount of vehicular progress was made. In the early 1990s, many companies were still using old designs from the '80s, and even the '70s. By 1999, every car sold in the US had multiple on-board computers, OBD (On Board Diagnostics) II, and fuel injection. Find this beautiful surviving example of the last "true" Cadillac here on eBay in Massachusetts with a whopping 53,254 miles and bidding at $4,700 with no reserve.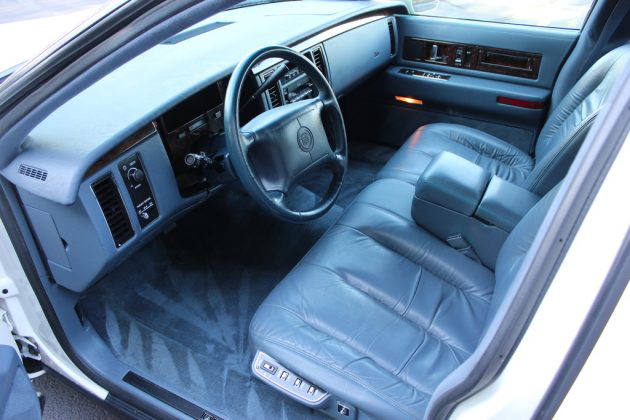 I don't know about you guys, but I can smell the interior here from. The seller claims it still has the "new car smell" and I believe him! Nothing beats a power leather heated bench seat in a Cadillac, at least for me. Scoff all you want, but if this car sells for under $10,000 its a steal! While the mileage is extremely low for the year, the cosmetic condition of this car suggests to me that not only did it see little use, it also had a meticulous owner. You can barely tell the seat has been sat in, and I'm a sucker for "90s blue" interiors. There are a LOT of pictures in the ad, and the seller has photographed nearly everything: it is all immaculate.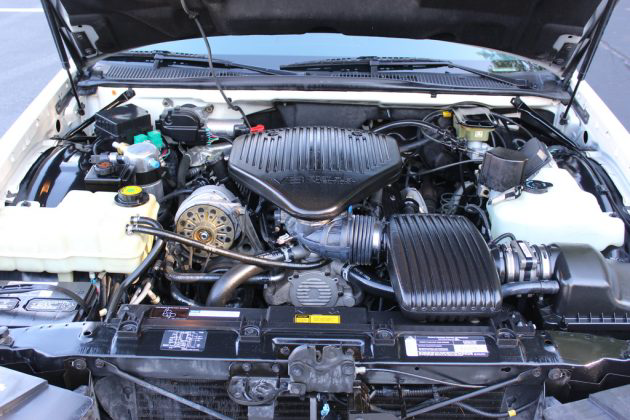 Why is this often called the last real Cadillac? That's why right there, the LT1 GM 350 that is hooked up to a driveshaft, sending power to the rear wheels. This car is on the same platform as the same era Buick Roadmaster and Chevrolet Caprice/Impala, and I suspect it rides like a dream. Although it has been cleaned up, the various metal and hardware under the hood show that this car has not had a rough life. I will warn the next owner that while buying a car this nice, this old is a great idea, be prepared to replace a lot of items. Having owned a vehicle purchased with similarly low miles, things that rely on rubber and seals do not last!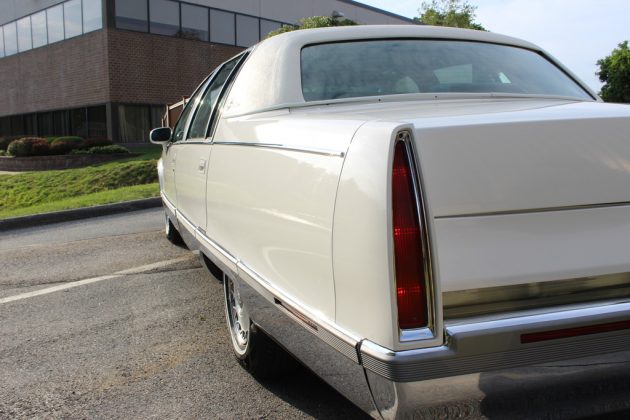 The seller states this car was shipped to Massachusetts from North Carolina, which would account for the lack of rust and other environmental damage. It was reportedly owned by an older couple who took great pride in it, and I believe it. This Cadillac is the Brougham, which gives it lots of nice options including the beautiful matching white vinyl top, which you'll notice is still very white. The chrome lower cladding, though probably dealer installed, is a nice touch and really helps this car to stand out. This Fleetwood is in absolutely flawless condition, on one of the most desirable GM platforms to date. I suspect this car will sell for a reasonable price, and serve its new owner well.