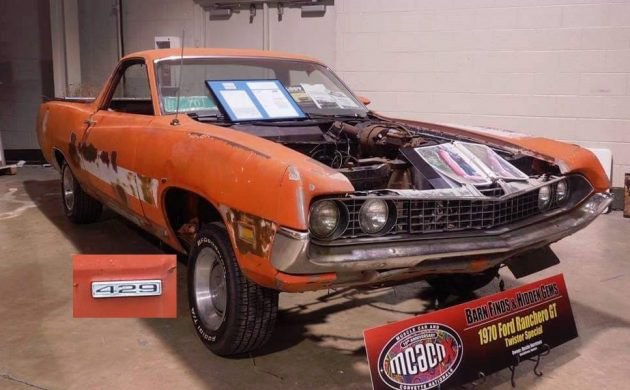 Any Ranchero ordered with a 429 cid V8 is wicked cool, but this particular 1970 Ford Ranchero GT Twister Special raises the bar as one of 201 Ranchero GTs built with the 429 Cobra Jet engine, one of 60 of those equipped with the Drag Pack, and one of two of those from a Ford sales promotion branding a certain cars in its Kansas City Sales District as "Twister Specials." Thanks to twisterspecial.com and  hotrod.com for details. Listed here on craigslist in Wichita, Kansas, this rare and interesting vehicle can be yours for the numerically sequential asking price of $1,234,567. On the surface this seems like a ridiculously high number, but who can put a price on this type of rarity? All kidding aside, this fictional price is apparently the seller's way of setting up a closed-bid auction where people with a real interest call in until an acceptable value is established. It's too bad there are no sites on the Internet accommodating the electronic auction of vehicles. Oops; did I say "all kidding aside?" Thanks to reader Sam A. for spotting this two-door ranch racer.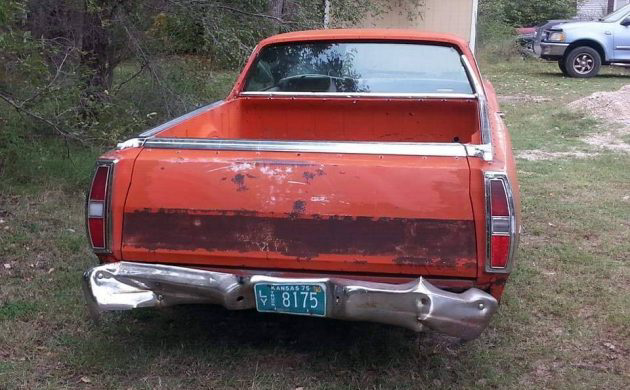 That rear bumper looks like someone picked a fight with a D9 Dozer and lost. Otherwise, this Ranchero shows mostly straight panels and trim with surface rust. Who knows what lurks underneath.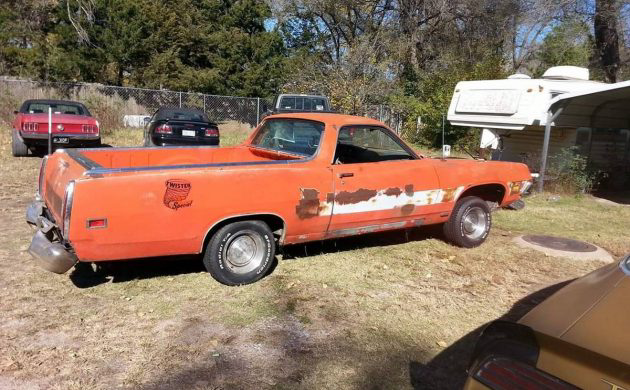 The Ranchero answered the call of buyers looking for a blend of car-like driving experience and styling with the utility of a pickup truck bed. This high-powered utility vehicle would have had no trouble passing tumbleweeds (and anything but a gas station) with its 370 HP 429 and 3.91 gears.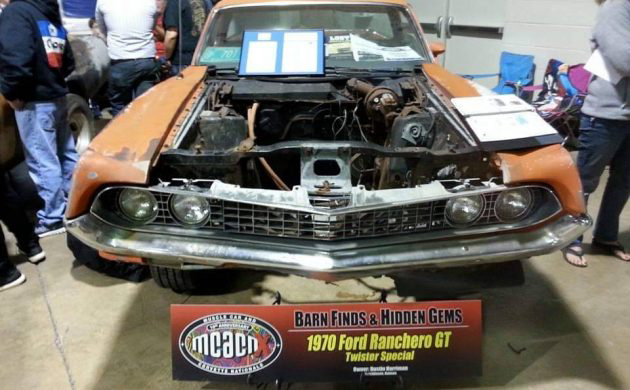 The 429 CJ motor and Ram Air hood apparently blew away some time ago. The seller offers a non-original motor and transmission, presumably at an additional cost. The perfect buyer might be someone who once owned a Twister Special, or always wanted one, or a local Ford dealer looking for showroom eye candy. That said, it would be a shame to restore this once-awesome blend of car and truck without letting it twist its tires into a smoky burnout once in a while. The optional hidden headlights would really put it over the top, but this interesting Ford is virtually unique as it sits. Who do you picture owning this Twister Special?