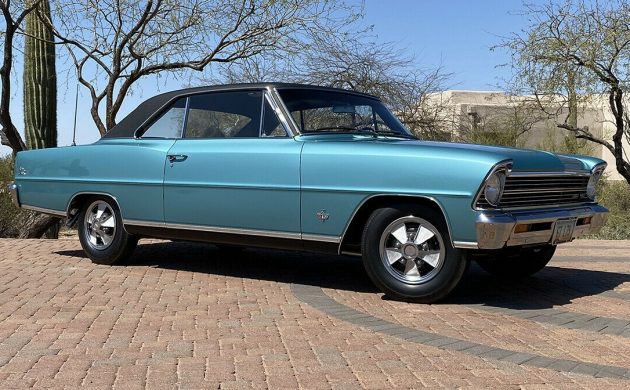 OK, let the debate begin! But first, let's set the background. For your review, is a 1967 Chevrolet Nova SS, equipped with a rare L79, 327 CI engine. How rare? It's universally agreed that there were only six produced out of a total of 106K 1967 Novas, but exactly when and why is at the center of the debate. This spectacular Nova is one for close study. It is located in Portland, Oregon and is available, here on eBay for a BIN price of $225,000 (double gulp!). There is a make an offer option too. Thanks to Larry D for this rare find!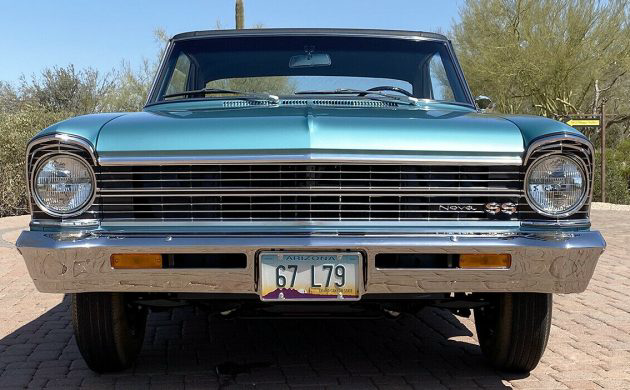 OK, so here's what I have learned over the years. Chevrolet introduced their L79 engine in 1965, it was a 350 gross HP, 327 CI V8 and available in the Corvette and Chevelle. In 1966, it moved from the Chevelle to the newly restyled Nova and it was a huge hit! Lots of high-winding horsepower in a very lightweight package. For '67, Chevrolet introduced an alternate version of the L79, rated at 325 gross HP for use in both the Nova and the Chevelle. Supposedly, the six L79 Novas were built very early in the model year, likely in September of '66, before Chevrolet's Marketing Dept. got nervous and jerky over the thought that the L79 Nova would rob sales from the brand new Camaro. That being the case, they stopped the availability of the engine in the Nova but allowed it to continue on in the Chevelle while the regular 350 HP version remained a Corvette option. I have seen numerous '67 Chevelles with this desirable engine as well as 1968 Novas and Chevelles where it remained an option.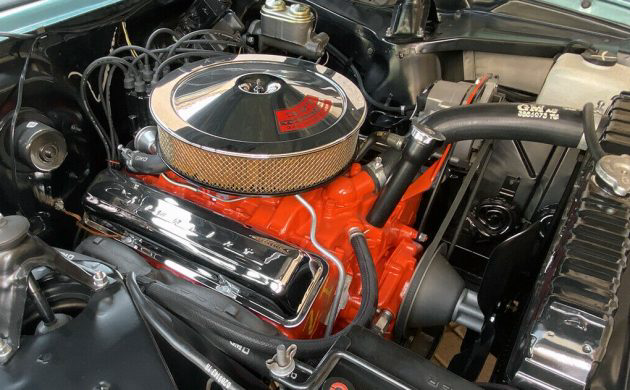 Here's where the debate starts, this Nova is claimed to have a June build date though there is no image of the trim tag. The engine's casting date is May 19th at the Flint foundry so it does line up with a June build date and its sequence number matches that of the car. As to what's responsible for the difference between the Corvette's 350 HP rating and the Nova/Chevelle's 325 rating it appears to be how it's measured. The compression ratio, valve size, carburetor, cam specs, and ignition total advance are the same for both versions but the Corvette's engine is rated at 5800 RPM, while the Nova/Chevelle's variant is recorded at 5600 RPM. No word as to how this four-speed manual-equipped $225K car motivates, perhaps at that price point it can't actually be driven.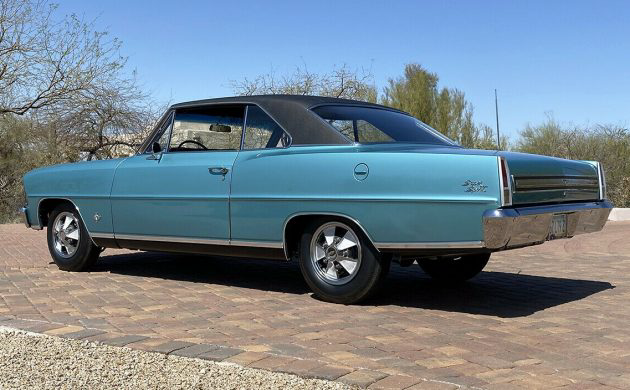 So, what can you say about the exterior? Nothing really as it's perfect. The seller claims 4,860 hours were invested in this Nova's restoration. This Chevy is resplendent in its code K finish, Emerald Turquoise Metallic paint. And once again, we find a set of authentic Chevrolet mag-style wheel covers. The seller adds, "Concours rotisserie restoration by Jack Duer with amazing results including the highest scoring restored Nova in the history of "National Nostalgic Nova. Gold Certificate winner and featured in multiple magazines". And found here on Steve's Nova Site is a thread about this Nova, written by Jack Duer in 2010.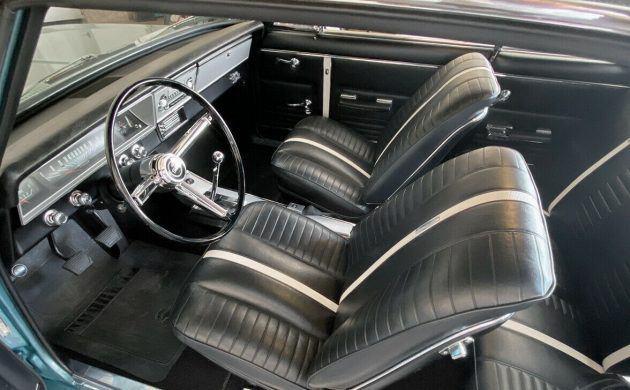 Inside is like outside, what's not to like? Novas of this era are plainly attired with simple, functional interiors. The "skunk stripe" upholstery, labeled as "cheerful" in the Nova sales brochure, is a Nova trait and is, as expected, in perfect condition. While bucket seats and a center console were an option in the Chevelle SS by '67, they were standard fare in the Nova SS.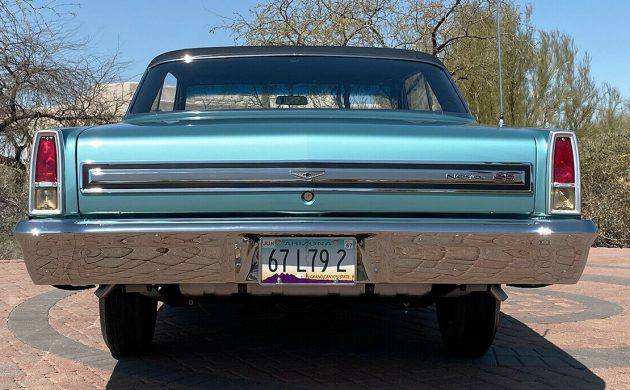 So, digging around further, I discovered this L79 Registry site and there is one 1967 L79 Nova listed and it is claimed to have a fourth week of September (09D) build date, more in line with the original research that I uncovered years ago. But wait, there's more! If this Nova is too pricey for you, the seller, known as the Northwest House of Hardtops, has two more, a total of three! The other two are available for $135K and $195K, such a deal! There are additional images of our subject car on the website including the previously mentioned missing trim tag which confirms the June build date. Actually, all three have June '67 build dates. Time to blow the dustballs off of the checkbook and go for it?