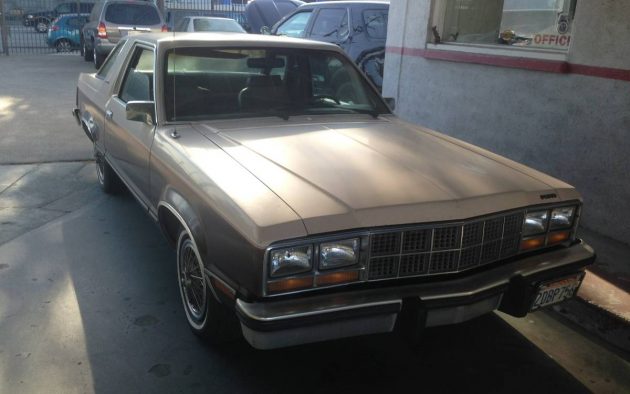 Where did all the Fairmonts go? Once FoMoCo's best selling model, it seems like all the original Fox bodies disappeared about twenty-five years ago. They were reliable, sturdy, economical, over one million were made, and just about the perfect car for anywhere America. So why aren't they today's automotive cockroaches? Find this 1980 Ford Fairmont Futura here on Craigslist for $2500 in Los Angeles, CA.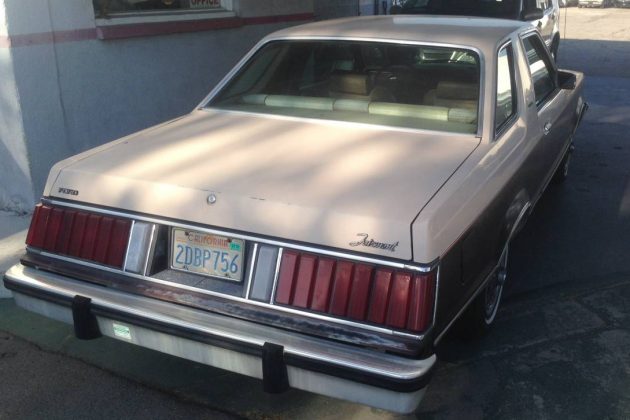 Other than missing a V8 or turbo 4 and alloys, this might be the most loaded Fairmont I have ever seen. Power windows, locks, and seat, cruise control with tilt luxury wheel, two tone paint, wire wheels, Futura Interior Decor Group, clock, AC, and more means someone ticked a few extra boxes when ordering up this 'Mont. Always enjoyable to see a low priced car optioned up like a luxury model. Could definitely picture this two-door coupe sitting inside on the showroom floor circa 1980 while the powder blue base models lingered outside.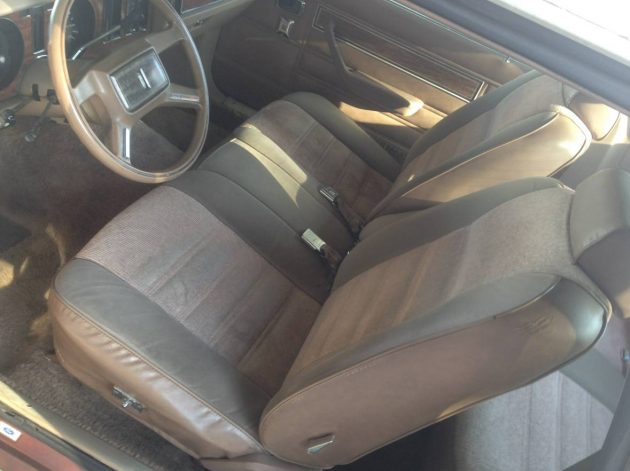 Looking under the hood, Ford's tried and true 3.3L, 200 CI inline six is seen under miles of vacuum hoses and grime. Said to run great with no unusual noises or smoke, this sturdy engine should last many more miles matched to its Select-Shift automatic. One curiosity, I thought Ford switched to gray painted engines after 1981? Any experts out there? Either way, don't expect to beat out any Chevette's at the next red light drag race. Even the smaller 2.3L four was quicker than the one barrel 3.3L six.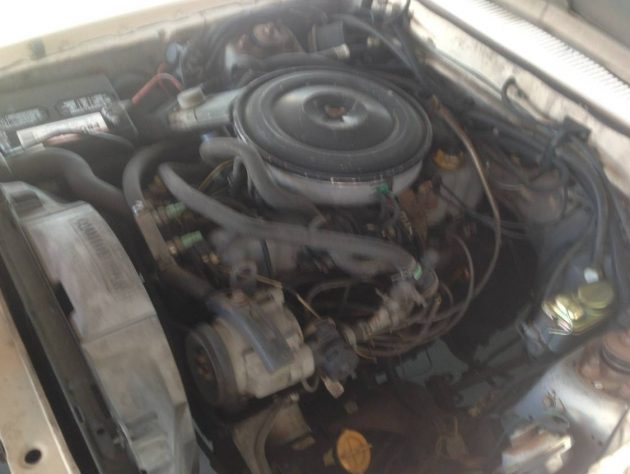 The two tone cream over brown paint looks dull but original and should polish up nicely. The aluminum bumpers still retain their extra cost moldings and all four wire wheel hubcaps are accounted for. Interestingly, the standard for 1980 Futura hood ornament is missing and I don't see any mounting points on the hood. Maybe it was a delete option? Or maybe this Fairmont is a later 1981-83 model that lacked this feature. That would explain the gray engine and the Medium Fawn interior which I believe become an option starting in 1981. And I am going to further guess this is a last year 1983 model, since that was the only year the cruise control switches were on the bottom spokes of the wood-toned steering wheel. Sorry about my Fox body OCD! The Futura didn't change much in its 5 year run so it is hard to truly tell the year without the VIN. Inside, the interior could use a deep cleaning but the top-of-the-line cloth looks rip free and the crack prone steering wheel looks pristine. So back to the original question? Why do we no longer see Fairmont's today? They came in 5 different body styles (if you include the Durango), 5 different engines, not one body panel changed during its run, it spawned dozens of different Ford models, and are simple to work on and RWD. My theory is, one too many people went to honk the horn with the steering wheel hub, forgetting the horn was on the turn signal stalk, causing an early demise! Not one of Ford's 'Better Ideas!'