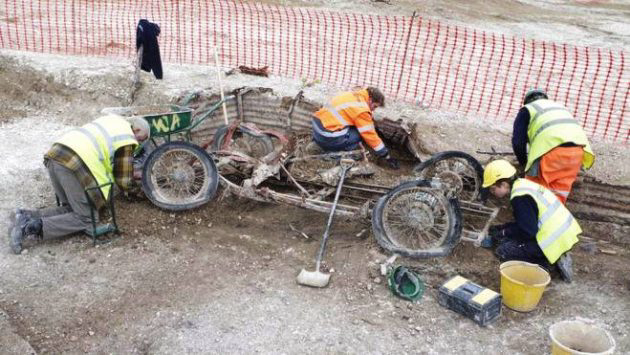 We've often talked about how discovering a barn find is like uncovering a little bit of history or in some ways it's like being an automotive archaeologist of sorts. Well, in the case of this 1932 MG J2 it really is auto archaeology as it was discovered buried in the ground at an old military base on the Salisbury Plains of England. It was just recently uncovered by actual archaeologist who were surveying a World War II artillery position turned weapons dump site in preparation for new development at the base. While there isn't much left of the car, it's still sitting on its original wire wheels and even manages to support its own weight. Special thanks to reader Scott S for this tip!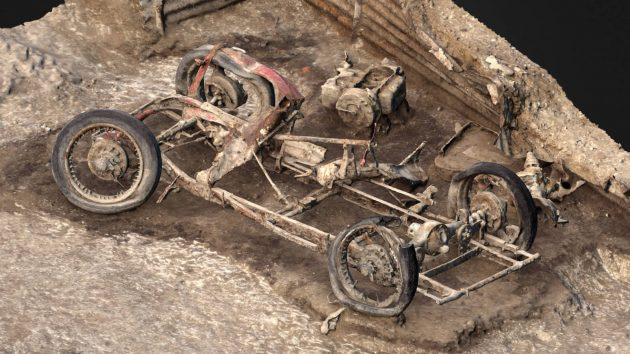 There's no word on what exactly will happen with this old MG. J2s are rather rare with just over 2k being built. Chances are it won't ever see the road again, but hopefully it ends up being preserved in a museum. While the archaeologists still aren't sure what the car's story is, they believe it was likely used by troops who were training at the base in the '60s. The drivetrain was found next to it, so we can only assume someone was working on it and then for whatever reason, it was forgotten and eventually buried.
It's hard to know for sure what happened with it, but hopefully someone who trained the base is still around and can shed a little light on this find! You can read more about this MG at BBC News or at Wessex Archaeology (they produced the neat 3D of the dig site you see above, so be sure to check it out).