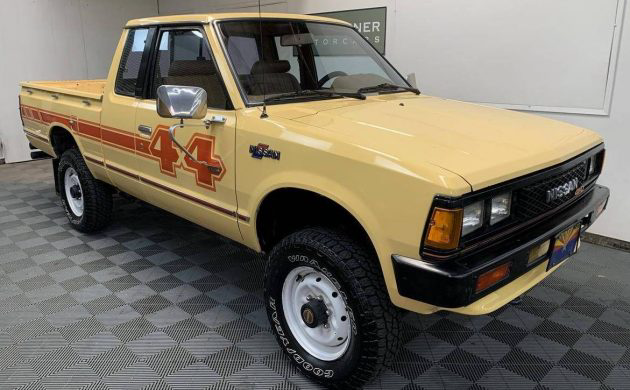 Survivors in any form are generally appreciated by enthusiasts, but survivors that wear their original graphics kit and factory decals in near-perfect condition occupy a particularly warm spot in the hearts of gearheads. This 1983 Datsun 720 King Cab DLX pickup is a super clean example that wears its original paint and graphics proudly and is also in shockingly rust-free condition for a truck that is not known for its high survival rate. It's listed here on Hemmings for $18,900 with indicated mileage of just under 110,000 and located in Santa Ana, California.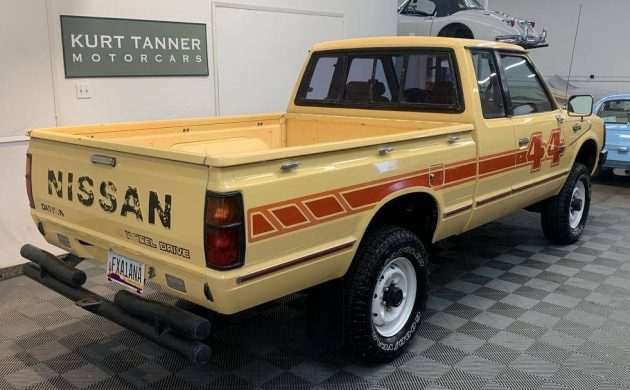 Thanks to Barn Finds reader Mitchell G. for this "time capsule"-grade find. The Datsun is a well-equipped example, with the long bed, four wheel drive, and extended cab body. If you bought this truck new in 1983, you were waltzing off the Datsun dealer lot with one of the most loaded-up models the company sold at the time. While the smart money is on a short-box design with the same other options checked, I doubt there's much of a swing value-wise considering how few of these Datsuns exist in this sort of condition and aren't a poverty-spec two wheel drive example.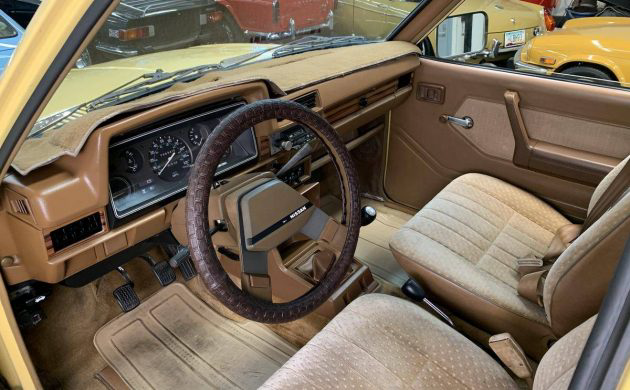 The interior is downright gorgeous for having over 109,000 original miles and given they didn't exactly feature high-grade materials when new, it's impressive that the tan upholstery and carpeting has survived the way it has. The steering wheel has one of those silly-looking wraps around the perimeter, but that can be removed fairly easily. The dash may be cracked; these were brittle dash pads when new and if it spent any time baking in the Arizona heat, it's likely perished. Still, since the paint job doesn't look too weathered, there's a good chance it lived inside. The A/C is said to need charging.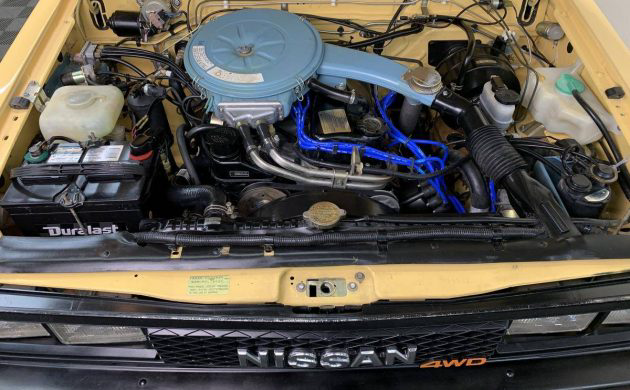 In fact, the seller speculates that some of the few dents the body has likely stems from garage storage. The truck's paint looks consistent across the inner fenders, firewall, and cowl panel, removing any doubt that the paint job isn't original. The seller doesn't provide much detail on engine health, other than noting the hoses and belts look fairly new and that the drivetrain idles smoothly once warmed up. The asking price for this Datsun is all the money and then some, and while I can appreciate the seller's desire to get top dollar, I'm just not sure the Datsuns have appreciated to that price point just yet.