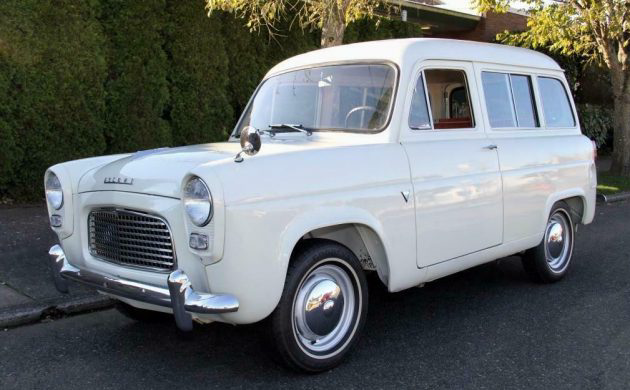 We have covered quite a few station wagons on Barn Finds but most are domestic behemoths like an Impala, Country Squire, or Fury. Across the pond, things were done quite a bit differently, mostly in terms of size, and featured today is an example of a British station wagon, circa 1960, in the form of a Ford Anglia 100E. It is located in Portland, Oregon and is available, here on eBay for a current bid of $5,100, reserve not yet met. Thanks to Larry D for this discovery!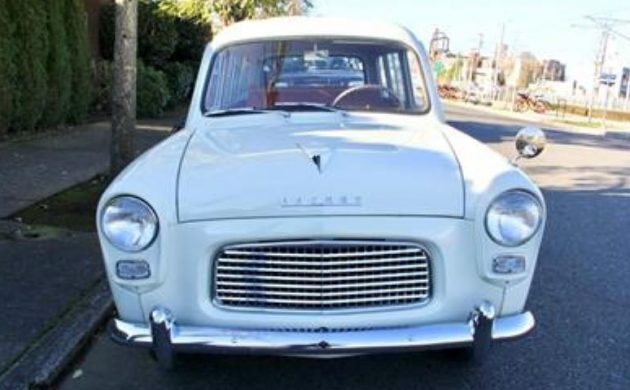 The Ford Anglia was a Ford UK product offered from 1939 through 1967. Body styles abounded including two and four-door sedans, tourers, panel trucks, a coupe utility (a small Ranchero), and station wagons known as an "Estate" model. Our subject car is one of  345K model 100E's that were built between 1953 and 1959. Total Ford Anglia production, over its twenty-nine-year run, stands at about 1.5 M vehicles.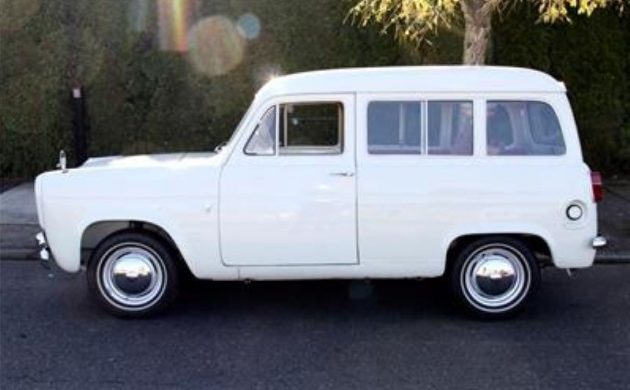 While the 100E ceased production in 1959, this Estate was a late U.S. import and titled as a 1960 model. It is a 19K mile example and has been in a private collection since 1987. The seller describes this Ford by stating, "Body is straight, accident-free and rust-free. Paint is excellent and shows beautifully. Excellent original chrome".  That certainly appears to be the case, nothing is out of order; the paint trim, chrome, glass, all of it, shows beautifully! The seller proclaims, "Comfortably sized with plenty of room inside. Overall length 141.5″ (less than 12 feet.) 87″ wheelbase. Overall width: 60.6" Any way you cut it, that's small for a wagon but the upright boxy attitude of this English Ford should lend to its utility as in "less can be is more".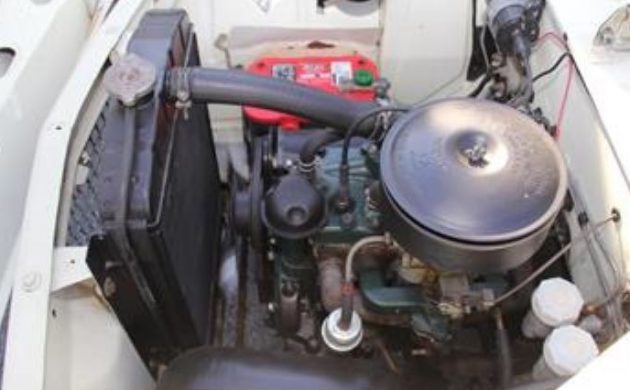 Motivation is provided by a 36 HP, 71 CI, in-line, four-cylinder engine engaging a three-speed manual transmission. Here is a video of the engine in an operational mode as well as a general walk-around. It is easy to believe the mileage claim after reviewing the spotlessness of the engine. The air cleaner is notable as it displays an "AC" logo that dates back to GM's former "Albert Champion" parts division. The only "issue" that I spied via the video is the muffler, which looks like it has developed a hole.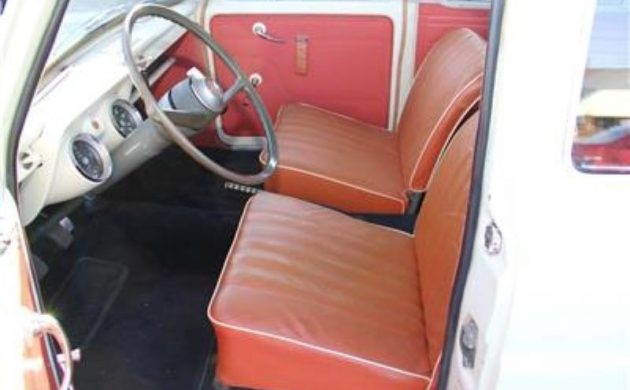 The interior is spotless and typical for a car of this era. The seats are showing a bit of fade, at least as their color matches that of the door cards – they look fine, they're just showing their age. Surprising to see is the carpeting, I would have surmised rubber mats, not carpet, in a car of this stature and era. The goodness continues in the rear cargo era, a place where if there is going to be wear, it will be evident – nothing here to see. Oh for this kind of automotive simplicity again…
Well, he can't live in the past and shouldn't attempt to, but it's nice to have reminders of how things once were. This Anglia would be fun to own but it's almost too nice to drive and is certainly too clean to use for the intended purpose. It would, however, make an excellent addition to a British car collection and certainly garner plenty of attention at a car show, don't you think?