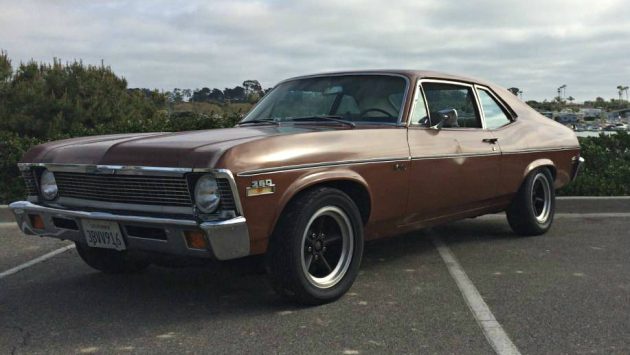 Perhaps it is just me, but it seems there aren't nearly as many Nova survivors as there should be. This 1972 model is a 2 owner car, and the original owner was a "Grandma." Between the two owners this Nova has only seen 70,000 miles in its lifetime. Relatively clean, with a few blemishes, this Nova can be yours for $11,500. Find it here on craigslist out of Costa Mesa, California. Thanks to Rocco B. for the submission!
Tried and true, the Chevrolet 350 is a grand engine that is hard to beat in performance, cost, and parts availability. Equipped with air conditioning, power brakes, and an automatic transmission, this Nova will be easy to live with. Slightly dirty, the engine and the bay has some minor surface rust, but would probably clean up nicely. The air conditioning would certainly be a welcomed feature on those hot summer days at your favorite car event.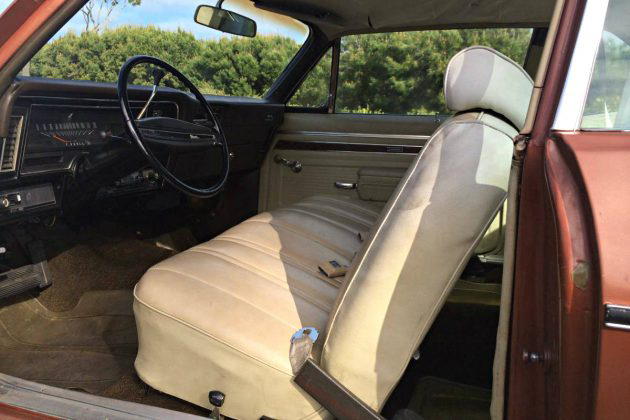 Although not my first color choice for the interior, the interior of this Nova is beautiful. Cream with the mocha brown carpet is actually a beautiful combination, and the best part is the condition. There is no real evidence of any damage or wear on the interior. The dash looks excellent, as do the seats, carpet, and door panels. The only thing worth mentioning is the headliner has a rip, and looks to be hanging in a few areas, otherwise this interior is gorgeous.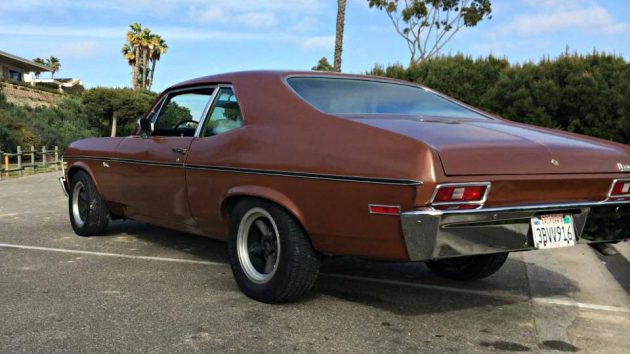 Moving to the exterior, we can assume that Grandma didn't select those wheels, but they play the part nicely. There looks to be no rust and the seller mentions none. The only downside to this Nova comes in the form of a dent in the driver door, and some damage to the driver rear corner. The door could likely be taken on by a dent wizard, but the rear damage is more extensive, even though it is easily overlooked. The quarter has no rumples, but there is a minor crease at the very end of the quarter. There is also a wave in the rear taillight panel just to the right of the driver side taillight. Also the bumper is slightly bent on that side indicating this Nova has been bumped at some point. It's a shame really, as the car almost looks like a "perfect" survivor. Granted this damage isn't the most obvious at first, so it takes very little away from the cars appearance. Something that may be more concerning is that this Nova now has a "Salvage title" which for some states can be an absolute nightmare.  Beyond the bump and the title, this Nova looks like a clean example that would be a great driver to enjoy. Would you pick up this muscle classic?