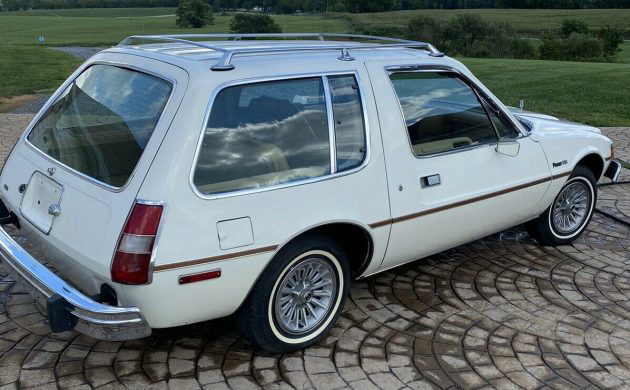 By most measures, the non-symmetrical AMC Pacer was considered a goofy looking car. Imaginative? Absolutely! And AMC gets credit for allowing it to see the light of day. Controversial? Yeah, that too. But today we have found a Pacer DL station wagon and that's a slightly different story. This beautifully kept 1979 example is located in Charles Town, West Virginia and is available here on eBay for a current bid of $5,100, reserve not yet met.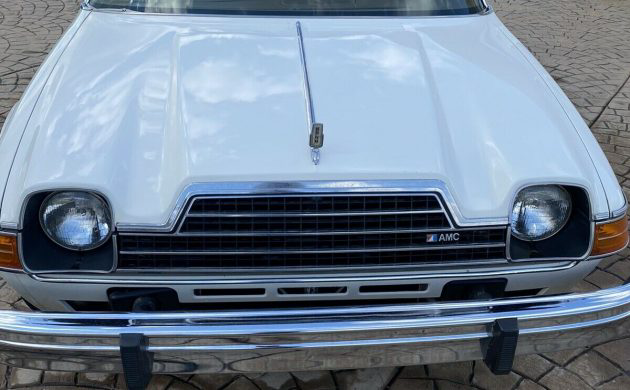 Introduced in February of 1975, AMC's full line sales brochure is Pacerless. A separate brochure was published at reveal to detail the Pacer's attributes as well as its positive comparatives to its perceived competition. The attention-getting exterior was designed by Dick Teague, of Jeep Cherokee fame, and approximately 280K Pacers were built between 1975 and 1979 at AMC's Kenosha, Wisconsin assembly plant. The station wagon version, like our subject car, was in production between 1977 and 1979 and added an additional 5 inches to the coupe's overall length. The effect of the extended length of the wagon has a tendency to knock out some of the "orbness" of the coupe version.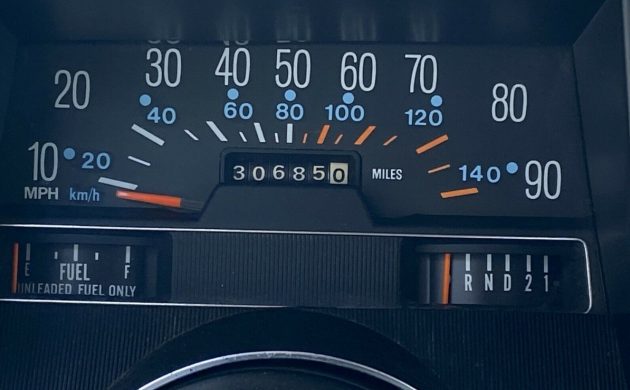 Our 31K mile example's listing has a confusing opening as the seller states they have owned the car for five-plus years but purchased it in 2000. It is stated as an always garaged vehicle and it looks it. The finish has held up quite well and there is no sign of crash damage, weather degradation or any of the other mayhem that can, and usually has, affected a 41-year-old vehicle. As is so often the case, this Pacer is afflicted with ugly, protruding five MPH Federal bumpers but that's how cars rolled in those days; at least they are straight with a very reflective chrome finish. And in true station wagon form, there is a luggage rack attached to the roof that's probably never seen a suitcase but it completes the picture.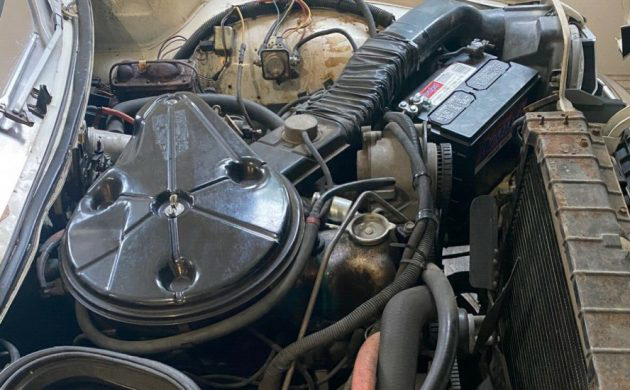 Pacer power is courtesy of AMC's tried and true, optional 4.2 liter, in-line six-cylinder engine, developing 100 net HP. The smaller 3.8 liter (232 CI) in-line six was standard. The seller has little to say about operations other than, "The vehicle is driveable". There's a ringing endorsement! And a red flag at the same time, just driveable? By 1978, AMC's 304 CI V8 did find its way under the Pacer's hood and that had to be a kick in the pants enhancement! An optional three-speed automatic transmission handles gear changes.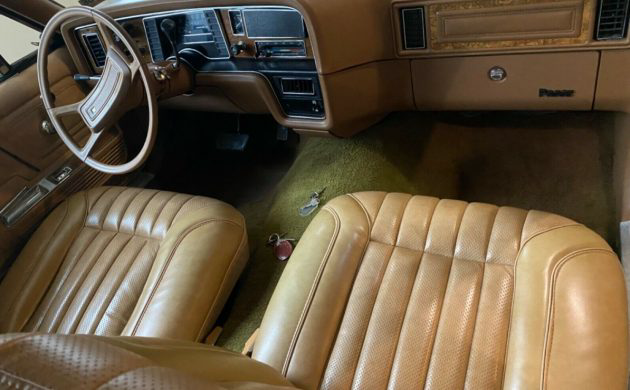 The tan vinyl upholstery shows about how you would expect that of a 31K mile car to show, one that has seen little use and has been properly stored. The seats, which actually look pretty comfortable and allow for a size comparison with a GM intermediate of the era, are showing no wear. Same with the dash pad and carpet though the carpet could have some not surprising fading going on, typical with age. Cheesy looking '70s fake wood is in accented places on the dash and instrument panel, and yes, the original radio is where it should be. This is an A/C equipped car, no word if it is operable.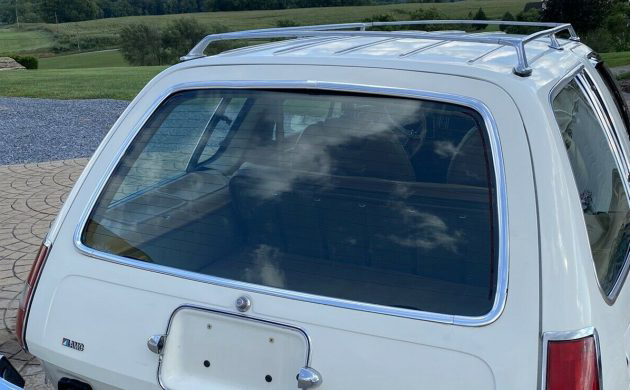 The Pacer will probably never escape its Garth Algar legacy from "Wayne's World"; it continues to be the butt of many automotive jokes and truly the Rodney Dangerfield ("I don't get no respect") of cars. In this case, that's unfortunate, because this Pacer is in such magnificent condition and the extended station wagon styling soothes some of the visual shock projected by the coupe. Speaking of the coupe, that would be a no-go for me, but this wagon? Not bad and worthy of consideration. Let's hear from any current or prior Pacer owners, was what it like to own and drive one of AMC's most memorable cars?