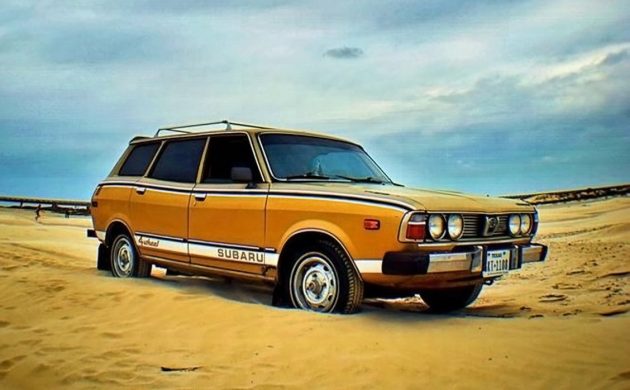 I don't know what it is about the first-generation Subaru Leone wagon that brings out the artist in people. Maybe it's because artists tend to gravitate towards them but it's a rare online listing that just shows photos of a 1979 Subaru 4WD Wagon without most of them being heavily-filtered or otherwise set up like artwork. This cool wagon can be found here on Craigslist in the last place on earth where I would have expected to see it: Katy, Texas. I don't think of Texas as a hotbed for vintage Subarus, other than maybe Austin, but I must be wrong. The seller is asking $3,700 or best offer for this 4WD wagon. Thanks to Pat L. for submitting this coolbaru!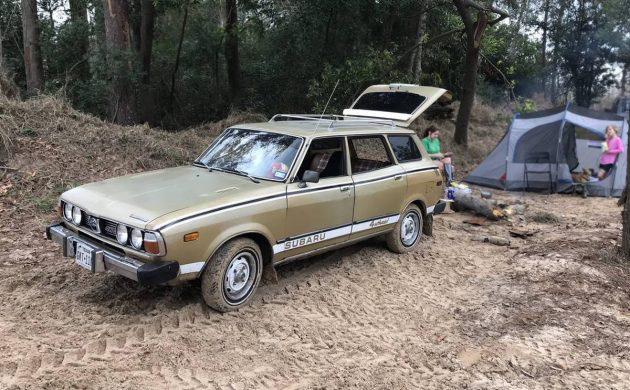 As cool as these photos are, and a few of them look like vintage advertising pieces which is what the seller may have had in mind, it's nice to just see some plain, boring photos showing everything inside and out so potential online buyers can assess the condition and make a decision whether to gamble on buying something sight unseen or not. That being said, the photo above is super cool, it looks like a Subaru brochure photo from '78 or '79. A lot of us have it in our heads to use our vintage cars as they were actually intended to be used, but most of us are worried about getting them dirty or muddy or driving them in the rain or, worse yet, the snow.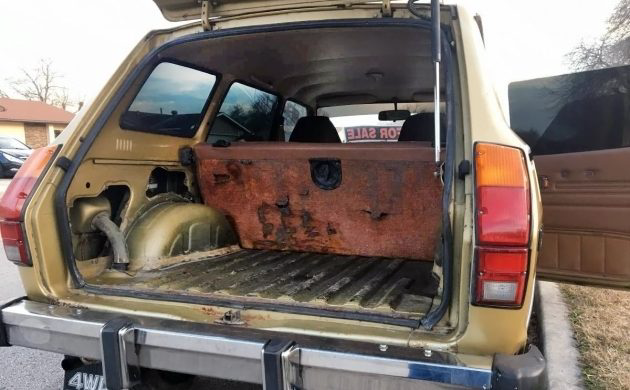 This is the only photo showing the rear of the car and other than a couple of missing panels in the rear cargo area, it doesn't look too bad for a 40-year-old station wagon that has been used as a station wagon. The seller says that this is a barn find and that they are "the 3rd owner. First owner was from Denver and his distributor went out while on vacation in Dallas and it's been in a garage since 1989 and finally saw the light of day in 2015 when the second owner purchased it and fixed her up and daily driven for a couple years. I snagged it from 3other lined up buyers and glad I made the 4hr trip, she did perfectly fine at 70mph back home and I've been daily driving her up until a few months ago."
There are no photos showing the front seat area at all other than one showing the gauges, but you can see the back seats and the seat covers on the front and make your calculations accordingly. I recently found a fantastic upholstery shop and I'm now much less worried about interior work than I used to be. Matching the sweet 1970s plaid pattern may be a challenge, but somewhere there is a fabric that'll work and nobody will be the wiser. This car, as with all old Subaru 4WDs, has a push-button 4WD system for engaging the rear wheels when it's needed. I think that's a great system but now with AWD vehicles getting 30+ mpg even though they weigh much more than this 2,200-pound Subaru wagon weighs, maybe it's not needed anymore. The seller has it listed as a DL but I would have sworn that this was a GL because of the four headlights and fancy plaid interior.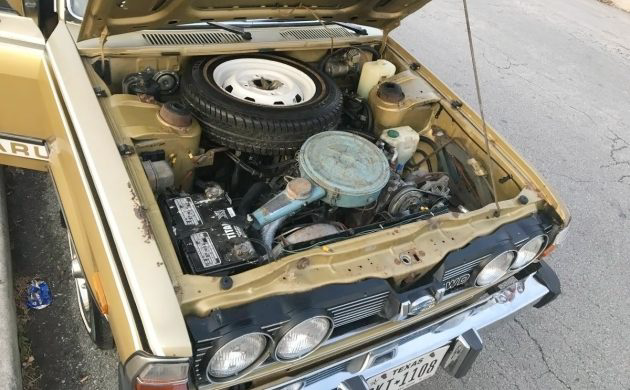 This engine should be Subarus famous 1600, or a 1.6L boxer-four with just over 70 hp. It's low enough that the designers and engineers had room to put the spare tire in the engine compartment. That's always a good conversation-starter. The famous "third-eye" passing headlight would have come right after this car on the 1980-1982 models so that big center badge is just that, a badge. The AC works great, according to the seller, that's fantastic and probably rare in a car of this vintage. Have any of you owned a first-gen Subaru 4WD wagon?
Have something to sell? List it here on Barn Finds!